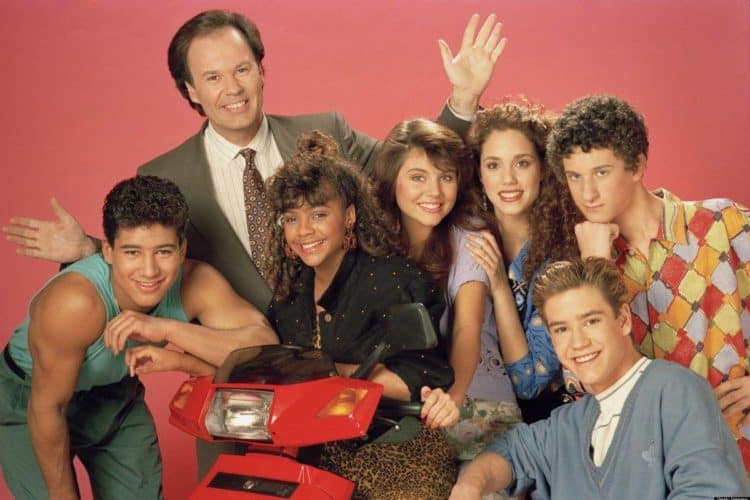 It always comes as something of a surprise when it's made clear that some actors have never seen their own shows or movies. Mark-Paul Gosselaar never having watched an episode of Saved by the Bell though isn't exactly that hard to buy into since if he's anything like his character, just a bit, he would have moved on and given the show little thought in the years following the show. But now it sounds as though a podcast will be setting up that will have Gosselaar watching the show and taking notes on it, kind of, in order to figure out just what he remembers of his time on set and possibly to help the chances of the reboot that's coming out eventually. While Gosselaar will have a limited role in the reboot other cast members will be returning as Mario Lopez will be a regular character while Tiffani Thiessen and Elizabeth Berkely will be making their way back as well. Lark Voorhies and Dustin Diamond won't be coming back apparently but there a few reasons that neither of them has been asked to return, though it is enough to make the fans wonder why there would be any reason to say no to valued cast members from the past.
One reason that a cast member might not watch the show to be realistic though is that actors live the shows and movies they're making. It definitely feels that their experience is different and that they don't get to see the full picture more often than not, but the fact that they're making it come to life is a good excuse why some of them might not take the time to sit down and watch themselves afterward since they've been there and done it. A lot of us might think that it would be a lot of fun to be in a movie or a TV show and get to see ourselves as one of the stars, but the one thing that anyone needs to remember is that the stars do tend to have their good and bad days just like anyone else, but on set they have to make sure that they look and sound as professional as possible, meaning that the smiling faces we've seen on TV might have, at times, been hiding a very bad and agonizing day. While it's not an excuse that Gosselaar has given, another reality is that what we see as a finished product on TV is sometimes the result of hours of filming spent trying to get everything right and everything down the way it should be. Very few things are ever one hundred percent perfect when it comes to filming, as there are plenty of takes, plenty of mistakes, and a lot of stuff that goes on behind the scenes that we don't tend to get to know about until later, if then.
But having Gosselaar sit down to actually watch the show might be interesting since it could bring back a lot of memories for him and a lot of revelations that he didn't think about when he was younger. Maybe he'll start thinking that Zack Morris really was a jerk character if he hasn't thought that way already. Realistically Zack was a pretty big jerk at times and he did say and do a lot of things that would appear to be worthy of a karmic beatdown at one point or another. But amazingly enough, the show kept on allowing Zack to get away with pretty much anything since it's easy to create a jerk character and have them keep rolling as though nothing ill is going to befall them. In real life that's not always the case. It might be interesting to hear what Gosselaar has to say after watching himself for a while though, and it's almost guaranteed that he'll get a good laugh out of the show one he sees enough. The reboot is still apparently on schedule to be released sometime this year as there's been no real update as of yet other than to remind people that it is coming and that it will be a continuation of sorts of the original show since the original cast will be involved.
On a stranger note, one has to wonder how a character such as Zack would take the role that he'll be playing in the reboot, which is the governor of California, a title that might make a lot of people cringe when thinking of the Zack from the old days. But if one wants to take a look at our politicians now it's not too far off the mark, is it? The reboot is set to be something that might bring the show back to prominence or will make it clear that it was better off being left alone. We'll have to wait and see.