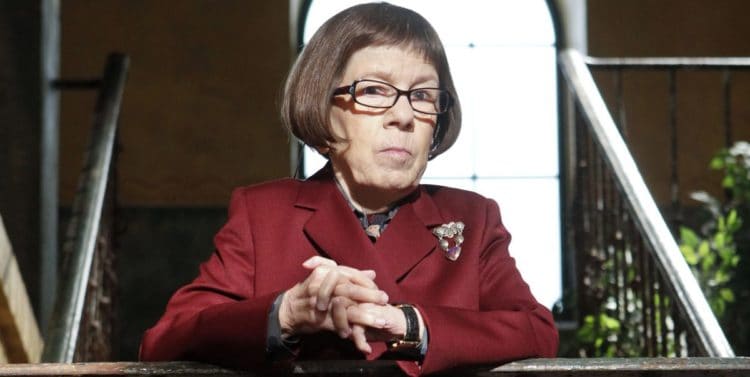 Be honest with this one, when you look at Hetty from NCIS: Los Angeles you don't normally think 'badass' if you don't know her that well, though she might be familiar from other movies and even TV shows since Linda Hunt has been around the business for a while. When you get to know Hetty as a character though you definitely get the feeling that she's not the person to mess with since even if she's not much of a physical threat on her own it's her wit and intelligence that will end up shutting a person down in a big way when she really applies herself. Hetty is the kind of character that teaches us not to judge based on looks and size since those are only a couple of aspects that any individual can use to their advantage. But imaging NCIS: LA without her is kind of difficult since she's been around long enough to have become a fan favorite and have been someone that's sorely missed when she's not around. Those that have been watching the show lately might have noticed however that she hasn't been around that much, as Lea Van Der Merwe of Looper has mentioned. The reason behind that is pretty simple, but the reason why that absence might become permanent is harder for a lot of people to accept.
When it comes to being replaced though one has to wonder just who has the clout in the office to take on the position, since Callen is already of the mind that he doesn't want to take over from Hetty, though Nell, for all her intelligence, is not the field agent that Callen has been. Sam and the others are already kind of convinced that since he's been around since the start of this group, it probably should be Callen that takes over when Hetty finally calls it quits. In reality Linda Hunt has been on the screen since the late 70s, so she's starting to get to the point where retirement might be a real option either because of her health or because it's just time to think about stepping away and calling it a successful and memorable career. After all she's taken on some interesting roles in her time and Hetty is just one among many, perhaps one of the most memorable because this character is also the most current. But Linda was involved in a car accident that occurred in 2018 and forced her to take extra time off from NCIS despite being pumped to start filming. It might have been around that time that she could have realized that she's not a young woman any longer and might have to one day think about handing over the reins of the show to someone that could accept the responsibility.
It's funny to think of this since the parent show, NCIS, has gone through this a couple of times in the history of the show, twice when it was more than a little traumatic considering who they brought in and their relationship to Leroy Jethro Gibbs, who, in a way, is kind of like a male Hetty, but a little less witty and a lot more dangerous when it comes to being physical. Both Hetty and Gibbs have their own specialties, but both have been the type of agents that are invaluable to this show. At one point Gibbs had to work under Jenny Shepard as the Director of NCIS, which was tense at most times since the two of them had worked together in the past and even been intimate at one point. After Shepard's exit from the show he had to deal with Leon Vance as Vance broke up his team for a time for reasons that would eventually be revealed. Hetty however has been around as the Director of the LA branch for as long as anyone can remember since there was only one woman that was set in place as the leader of the group for a while, but her character was terminated during an episode. Thinking that Callen could possibly step into the role and do it justice would be the most logical way to go, since Chris O'Donnell has become a rather solid TV actor that had big aspirations to be a big movie actor.
On the big screen he was okay, middling to good really, but throughout the years as a part of NCIS: LA he's been even better as he's gotten older and been able to mesh with the rest of the cast in a way that's been appreciated by the fans. He's not going to be the same as Hetty, that much is obvious, but he's also going to bring his own style to the position and could even steer the group in just as efficient a manner.