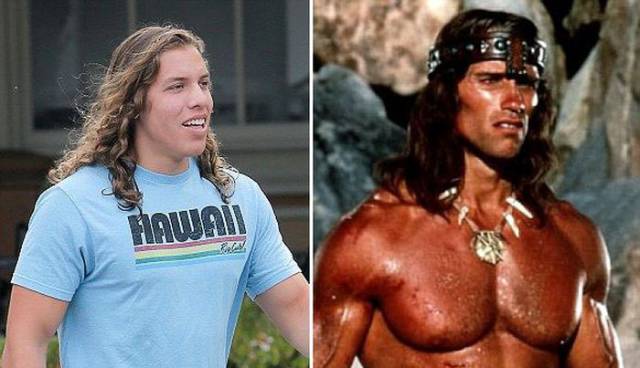 One of the perks of having a famous parent is that certain doors are open to you automatically. After all, we've all heard the saying that it's 'not what you know, it's who you know'. For many children of celebrities, it is a no-brainer to take advantage of this level of access. Others, however, are determined to carve out their own paths and not build their careers based on their family name, Joseph Baena is part of the latter group. In fact, if you were to see Joseph Baena's name, you probably wouldn't be able to guess who his father is. However, those who have been following Baena's career know that he is the son of the legendary Arnold Schwarzenegger. Even though the last name Schwarzenegger would immediately get Joseph lots of recognition, he has made a conscious decision to use his mother's last name instead. Keep reading to find out why Joseph Baena doesn't use his father's last name.
Who is Joseph Baena?
Before we talk about why Joseph Baena doesn't go by Schwarzenegger, I thought it'd be a good idea to discuss who Joseph Baena is in the first place. As mentioned earlier, he is the son of Arnold Schwarzenegger. However, Joseph's mother is not Schwarzenegger's ex-wife, Maria Shriver. Joseph is the son of Mildred Baena, a woman who worked as a housekeeper in the Schwarzenegger household for many years. She and Arnold had an affair and she was pregnant with Joseph at the same time Maria Shriver was pregnant with her youngest child. In fact, Joseph, who is now 24 years old, was born less than a week after Arnold's other son, Christopher. Joseph's mother was also married at the time of her and Arnold's affair. Arnold claimed not to know that the child was his for several years until he started noticing a resemblance between himself and Joseph. However, Arnold has since taken full responsibility and has supported Joseph financially for many years. Arnold's support hasn't just been financial, though. It appears that Joseph and Arnold actually have a very close relationship. It's unclear what kind of relationship Joseph has with his half-siblings, but there's no doubt that news of the affair between Arnold and Mildred shook the Schwarzenegger family to its core. Arnold and Maria eventually divorced in 2017. Throughout the years, it doesn't appear that Joseph's mother has spoken much about her relationship with Arnold.
Why Joseph Baena Doesn't Use His Father's Last Name
With so many similarities to his dad and the fact that he's trying to break into the same industries, many are surprised that he didn't attempt to get by off the strength of his last name. The main reason, however, is very simple. Joseph doesn't just want to be known for being Arnold's son, he wants to make it on his own. Still, his dad continues to be one of his biggest inspirations. According to Entertainment Tonight, Joseph said, "I mean, my dad is a stallion. He's a man's man, I like to think, and I look up to him a lot. So in a way, he's influenced a lot of things: the path that I have taken with acting, with fitness and my physique and the many other things that I'm doing". Additionally, there's a good chance that Schwarzenegger isn't actually Joseph's legal last name since Arnold wasn't known to be his father at first. As Joseph's career continues, it'll be interesting to see whether not using the last name Schwarzenegger helps or hurts his career. That said, his choice to use the last name has earned him lots of respect. After all, showing that you can do something on your own is definitely a great way to start building a solid reputation.
What's Next For Joseph Baena?
Not only does Joseph somewhat resemble his famous father, but it looks like he's also following in his footsteps. Joseph is very into bodybuilding and he has a chiseled physique much like his dad's. On top of that, Joseph has also shown an interest in the entertainment industry. He made his TV debut in 2021 in a TV series called Off the Grid. He also has a couple of other projects in the works that will hope him establish himself as a talented actor. If Joseph is able to prove himself, he may one day go on to have an awesome career just like his dad. Even without the Schwarzenegger name, Joseph is going to have to work extremely hard to prove that he deserves the opportunities he's getting.