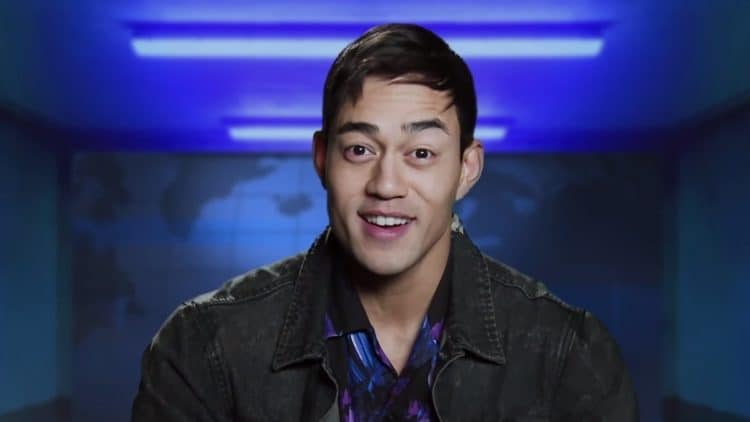 Not to be confused with the makeup artist of the same name, Nam Vo is one of the latest people to join the cast of MTV's The Challenge and he's already made a big wave. Nam's flawless physique has his competitors feeling a little antsy and it's clear that he came to win. If he doesn't look familiar with you it's because The Challenge: Double Agents is his first time being on MTV. Prior to doing the show, Nam's claim to fame was participating in the Netflix competition show Ultimate Beastmaster. Needless to say, Nam isn't stranger to stiff competition and it'll be interesting to see how things go for him throughout the season. Keep reading for 10 things you didn't know about Nam Vo.
1. He Is From Germany
Nam was born and raised in Germany although he does have Asian ancestry. Unfortunately, there doesn't seem to be any information on his ethnicity or family. The fact that Nam speaks mostly German will likely prove to make his time on The Challenge a bit more difficult.
2. He Is An Actor
Reality TV isn't the only place in the entertainment industry where Nam is trying to establish himself. He is also working toward having an acting career. His IMDB profile lists that he currently has one acting credit for a TV series called Zaps, Inc. It's unclear when the project will be released.
3. He Is Likely Single
Nam's handsome face and washboard abs certainly haven't gone unnoticed by viewers and Challenge contestants alike. It does without saying that his Instagram DMs are probably flooded with people who are looking to shoot their shot. The good news for those people is that it looks like Nam is single. There's nothing on his profile to suggest that he's in a relationship, but that doens't necessarily mean he's looking for one.
4. He Is A Brand Ambassador
Nam has built a significant social media following over the last couple of years and having lots of followers has paid off for him. He has gotten to partner with some fitness brands to help promote their products. Most recently, he shared a post sponsoring a brand called Multipower.
5. Viewers Think He Will Be A Fierce Competitor
During each season of The Challenge, fans like to come up with theories on which competitors they think will have the best shot at winning. So far, it looks like there are a good amount of people who feel very confident in Nam's ability to go all the way. Since The Challenge is usually full of twists, however, there's really no way of knowing how things will pan out.
6. He Has Some Modeling Experience
Nam loves being in front of the camera and he clearly has a knack for it. In addition to the work he's done on TV, he is also trying to establish himself as a model. He's already got some professional photoshoots under his belt. Most notably, he appeared on the cover of Men's Health Magazine in May 2020.
7. He Has An OnlyFans
The internet has given people all sorts of creative ways to make money, and OnlyFans has become one of the most popular ways for people to earn cash for creating content. The platform allows people to charge a subscription fee for access to special content. Typically, this content is of the x-rated variety. Nam is currently charging $20 a month for his OnlyFans.
8. He Loves The Outdoors
Spending time outside can be a great way to clear your head. Nam takes advantage of this feeling as often as he can. He enjoys the beauty of nature and likes to incorporate it into his fitness routine. Some of his favorite outdoor exercises include biking and swimming.
9. He Sells Personalized Shoutouts On Cameo
Nam Vo is doing his best to make the most of his time in the spotlight, and connecting with fans has proven to be a good way to do that. In addition to being active on social media, he also has an account on Cameo where he records and sells personalized video shoutouts. Unfortunately, it doesn't look like he is taking new orders at this time.
10. He Is Fairly Private
Despite the fact that he loves being in the spotlight, it doesn't appear that he likes putting his personal life on display. Instead, he prefers his privacy. Everything that Nam shares online typically connects back to his brand and what he has going on professionally. Perhaps during his time on The Challenge he'll open up a little more.
Tell us what's wrong with this post? How could we improve it? :)
Let us improve this post!