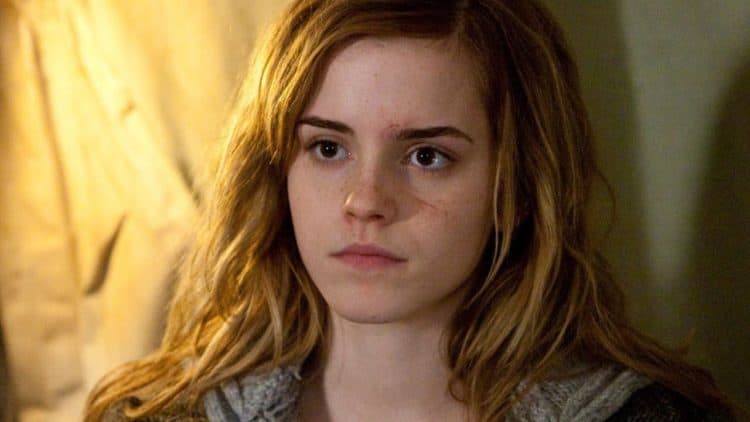 There's a very simple reason why J.K. Rowling stated that she wouldn't have wanted Emma Watson as Hermione had she met her first, and it likely would have driven a lot of people to angrily protest the movies had they known about it from the start. The reason was this: she was too pretty. Sadly this is one of those Catch-22 cases in which you're damned if you do, damned if you don't since Rowling wanted a girl that had an overbite and was a bit plain-looking for Hermione, but while Emma was able to frizz out her hair and look at least a little plain she couldn't work with a prosthesis as she couldn't be understood with the fake teeth that would have given her the look that Rowling wanted. Despite this however Rowling was invited to talk to Emma over the phone before meeting her, and enjoyed her immensely after speaking to Watson for a bit. She approved of her after that but upon meeting her was pretty firm in stating that had she met her first that her looks would have been a deal-breaker. Whether people want to hear that or not it's a part of what went down and why the current Hermione has been somewhat criticized over the years since in the books Hermione is not exactly a swan from the start, though her looks do change as she progresses and develops into a young woman.
Emma Watson's early claim to fame in the Harry Potter movies became the only way that people knew her for a while and even now the few movies that she's done belong more to the fans that fill the niche that each movie resides in, apart from Beauty and the Beast which helped her fame to rise even higher. Starring with Tom Hanks in The Circle was supposed to be a step forward but the movie more or less kind of fizzled out, while The Perks of Being a Wallflower is one of those niche movies I'm talking about. She hasn't been unpopular in the least since her rise to fame, though among certain crowds her popularity has dipped ever since she became a very empowered and stoic activist. There's nothing wrong with the stance she's taken on many issues as in many cases she's attempted to do something positive with her life and fame, but she has ruffled a few feathers along the way and despite not needing to be apologetic about it there is the feeling that Emma has become yet another of many that feel that having an opinion of something is less than favorable when that opinion appears to go against what she and so many other stand for. The fact that she and Daniel Radcliffe have taken a stand against J.K. Rowlings' remarks, which is funny since not too long ago one might have thought that these three, and even Eddie Redmayne, another actor that owes his part in the Potterverse in part to Rowling, would have stood together on most issues. If you need more of a basis for this the Independent has plenty of story to go on.
As of now though several of the actors that starred in the Potter movie are now speaking out against the author in a very firm manner since she decided to speak her mind on trans issues and, in their eyes, was extremely insensitive without any due cause. There's no doubt that Watson is still playing the part of Hermione but in real life as she seeks to stand up for everyone and prove that her viewpoints are coming from the absolute truth and moral high ground that is unassailable and cannot be marginalized or forced to compromise. Meanwhile, those of us that realize that at one time the views of Watson and Rowling might have been closely linked are reaching for the popcorn and figuring that this is as good a show as the movies ever were. It's doubtful that Rowling is wishing she'd never allowed Watson to be cast in the first place, especially since Emma did a great service to the role as she was haughty, snobbish, and altogether possessed of a superior attitude that didn't really soften until she had her illusions shattered along with everyone else. Read into this what you will, but as soon as the school, her safe place, was violated, Hermione became not unlike the rest of those in the wizarding world, just another lost soul needing a way to survive and stay strong until things could be made right again. But all credit due to Watson, she did play an incredible role, even if she wasn't bound to be the first choice if Rowling had laid eyes on her first.
As far as anything else goes with Watson, she's entitled to her opinions just as Rowling is to hers, which is a lesson that a lot of us appear to have forgotten in short order.