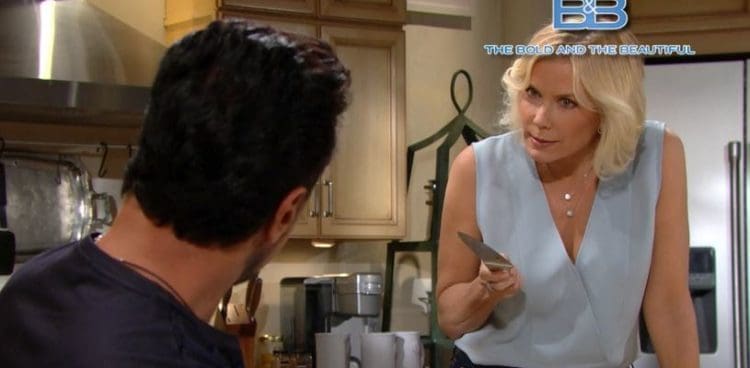 The Bold and the Beautiful fans just don't feel good about all that is going on with Hope. She's a mess, and we did call that she would not change. She had a very heavy heart when she visited with Steffy and the baby, and she seemed like she was going to do the right thing by leaving behind her issues and making sure she was good to go, but she's taking the fact that Steffy seems to not want to marry Liam into her hands and running with it. She's convinced herself that this might mean she has another chance at getting him all to herself, and she's going to use that. She has no idea what Bill did, but they should all know that Bill is behind all this. And Steffy needs to be honest and tell her fiancé what happened so that they don't end up alone again. She won't, though.
And now we also get to see how this is going to play out for both Wyatt and Sally. They hooked up, his mother caught them, and now things are definitely heating up. They both blame Bill for their issues, and that is one of those things they cannot seem to change about their lives. They have to figure this out, but we don't know how they will do that and make it happen. They are so upset by so many things right now, and we think there is a good chance that they will make some mistakes in their situation. They have to get this under control, but we don't see how they will make that happen for themselves. Things won't go well for them in the meantime, but we like seeing them together right now. It works for us, and we like it.
What's Happening on the Bold and the Beautiful
RT if you love seeing Wyatt smile again. ❤️ #Wally #BoldandBeautiful pic.twitter.com/5mbSaNHu1r

— Bold & The Beautiful (@BandB_CBS) June 26, 2018
Fans don't seem very amused that there is so much drama once again between Steffy and Liam, but things are also heating up in another manner as well. Fans are loving every second of the Wyatt and Sally pairing, and it's one that makes us smile, too. The show's Twitter page blew up with people responding to seeing the two together, and it's been good for them. Perhaps this is the coupling she's been waiting for. She didn't do well with Thomas or Liam, but maybe Wyatt is the man she's meant to be with after all.
What's Next on Bold and the Beautiful
TODAY: Liam confides in Hope that Steffy wants to push back their wedding. #BoldandBeautiful pic.twitter.com/ZS5hSk0v30

— Bold & The Beautiful (@BandB_CBS) June 26, 2018
Hope has been a pain for everyone lately, and it looks like Eric is going to make her feel a bit of karma coming her way. He's going to go out of his way to add Sally to the Hope for the Future line, and he's not going to take her no for an answer. He doesn't seem to care much at all what Hope has to say, and it's working for them in a way that is more fun for us to watch. They have some issues, and we think that they are going to get those issues under control. He wants to add her to the project, and he's not listening to Hope when she protests.
Wyatt will love it, though. He is always a fan of things that go his way, and this is a good excuse for him to spend more time with her. Being part of the family line is not something many people want to see happen, but they are going to have an opportunity to let this all work out. Sally wants revenge, but this time it's not on this particular family. She's going to love working with people who hated her before, and this might be her chance to make a name for herself that's separate from her grandmother's name and all she's done in the past. It might be her moment to shine, and she's not going to let that pass her by in any capacity. She might just be able to grow much closer to Wyatt's family, too.
Stay tuned for more The Bold and the Beautiful and be sure to check out TVOvermind daily for the latest The Bold and the Beautiful spoilers, news, and updates.