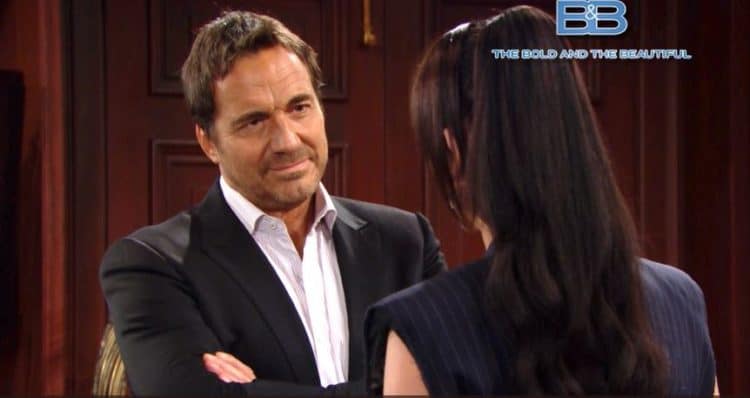 The Bold and the Beautiful fans know that some things never change. The fact that Brooke refuses to see the truth for what is rather than what she wants it to be is amazing to us, but that's who she is. She wants to believe that Liam loves her daughter more than anyone, and that he chose to be with her above being with Steffy. The fact remains that Steffy made this choice for him. She knew he would never do it himself. He's like the Bachelor. He's gotten rid of the other 23 girls all vying for his love and affection, and he's down to the final two. In the show, they know about one another and they just wait and hope it's them that is picked. But this time, it's like real life and he's stringing along these two women with whom he has babies or a baby on the way, and he just can't. And they always make it all right for him.
Steffy finally grew up, which is what her fans wanted her to do. Hope is still in that situation, though, and she will never find true happiness with him. He doesn't have that to offer since he really did not make a choice. It was made for him, and he just took what was left. We all know this, and she knows this deep down on the inside. She will never be happy with that, and we get that. She's not the kind of person who can make changes like that, but it's what it is right now. And her mother is all right with that. Brooke encourages it. And then there is Emma, who is very upset with Xander for his lack of upset that Zoe is now their coworker. She's afraid, and we don't blame her.
What's Happening on The Bold and the Beautiful
Hey #BoldandBeautiful fans – We see you, we hear you, and we want to thank YOU! The B&B stars would like to share their gratitude for the kind words you tweet every day. ✨ pic.twitter.com/IfjvJp8GYt

— Bold & The Beautiful (@BandB_CBS) August 8, 2018
Who doesn't love a kind word or two? We have a video here of B&B star Scott Clifton (Liam Spencer) sharing what it is he is appreciative of that fans have to say, and he is followed by his fellow castmates who are all reading the kind words that you, the fans, have to say about them and their acting skills. It's amazing to see them and their appreciation, and we think it's genius that the show is doing this to showcase their returned appreciation for you. Check it out now!
What's Next on The Bold and the Beautiful
TODAY: Bill and Liam are impacted by each other's words. #BoldandBeautiful pic.twitter.com/rHrPp7dNbE

— Bold & The Beautiful (@BandB_CBS) August 8, 2018
There is a situation that is going to shock fans here in the next day. There is going to be a piece of news shared by none other than Steffy. What she has to say to Hope and Liam is going to be shocking to them in a way that few other things are shocking, and she's not going to care that they are hurt and upset by what she has to say. We don't know what she's going to say. We will be honest there telling you that there is nothing we know about this, and we will tell you that there is a good chance that what she says will affect her, Hope, and Liam for the rest of their lives. Is it a child support situation? Is it a custody situation? We would assume it has to do with the fact that Kelly is here, but we don't know. All we know is that it's shocking.
And then there is the fact that Ridge and Brooke are finally going to make a good decision about where they stand with one another. They are finally going to agree to stay out of the personal lives of their daughters because it's not wise, it's not healthy, and it's not good for their own marriage. Not to mention, their kids are certainly old enough to make their own poor decisions without relying on them to make them any worse or better. But, will they stick to it as the weekend comes to bring them some closure, or will next week turn out the same?
Stay tuned for more The Bold and the Beautiful and be sure to check out TVOvermind daily for the latest The Bold and the Beautiful spoilers, news, and updates.
Tell us what's wrong with this post? How could we improve it? :)
Let us improve this post!