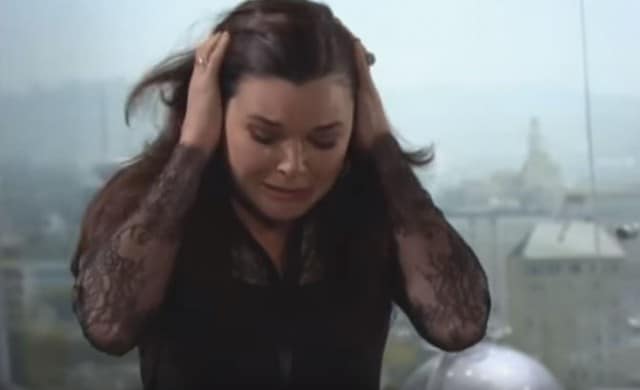 Tuesday on The Bold and the Beautiful, we learn more about what is happening between Bill, Brooke and Katie. This is the moment of truth as Katie just found out on Monday that her sister is in love wither husband. She overheard the two of them standing in Bill's office as she approached the door. Inside the office, Brooke declared that she never wants her sister to find out what she is in love with Bill and that he is the love of her life. Katie began to cry and she was clearly hurt. Her heart broken, she didn't act right away on Monday's episode. However, it appears that she has a lot to take in right now. One of the things she has to take in is the fact that she is married to a man who is the love of her sister's life. It's not that her sister said that Bill is someone she's attracted to. No, she said that he is the love of her life. Katie never knew about the history that these two share, though she is going to learn all about it now. It's not looking good for Bill and Brooke as Katie will likely approach them in this episode and ask them what is going on; and we don't think she's going to be able to ask without doing some crying and probably a bit of yelling.
The problem won't be easily resolved. Katie has no idea that Brooke is telling Bill she cannot be with him, just as she has no idea that her husband is actually in love with Brooke, too. He's been spending entirely too much time since Brooke showed up to work for him about the two of them in very intimate positions and in very intimate locations. However, that's what she wants and what he wants. However, Brooke rejects him as a way of making sure she doesn't hurt her sister. Unfortunately, it's too late since Katie heard it all.
What will happen with Bill? Will he do whatever he can to save himself on Tuesday's episode, or will he stand up for Brooke? We know that he will react when Katie confronts him, and it could go either way. We think that at this point when she collapses on Tuesday, it will be his interest to go ahead and deny an affair, lie to her and tell her that nothing is going. Either that or he will paint the sister as the bad person and tell his wife he is not interested in Brooke. Either way, he is going to do whatever he can to make the most of the situation for himself. But now that he has a choice to make, will he stick with this mother of his child or will he leave her for his sister?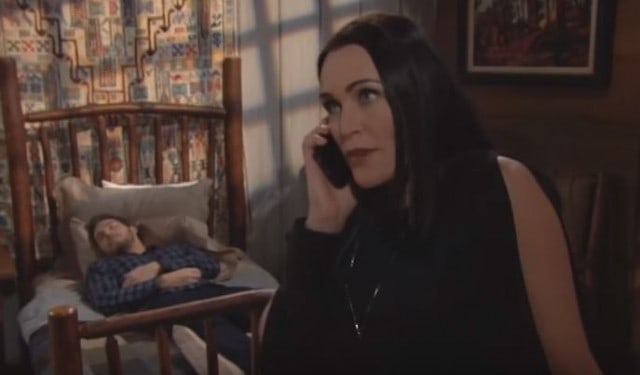 Quinn is all over it with Liam. She tried to wake him up on Friday. She needs him to wake up because she has to figure out what she is going to do with him. For now, though, she is working hard to ensure that she keeps him as far away from Steffy as humanly possible. She has every intention of ensuring that he is not able to get near her so that she can spend all the time with Wyatt as possible. Quinn is desperate for her son to spend more time with Steffy and make that love connection. She wants her son happy, but more than that we suspect she just wants him to win and come out the victor on top of everything that Liam has accomplished in his life.
She is ruthless, and she's kind of losing it in her quest to keep Liam away from Steffy. Her decision to take him home with her and not call the hospital and get him there as quickly as possible could become a huge problem for Liam and his health. Additionally, she's been using his phone to send texts to everyone he knows, including his father and Steffy. On Tuesday, she does the same. She decides that it's an appropriate time to respond to Steffy. We don't know what she says to her in the text from Liam, or why she bothered. However, we do suspect that she has motives that might include not allowing Steffy to become suspicious by Liam's absence and lack of response.
Photo Credit — YouTube