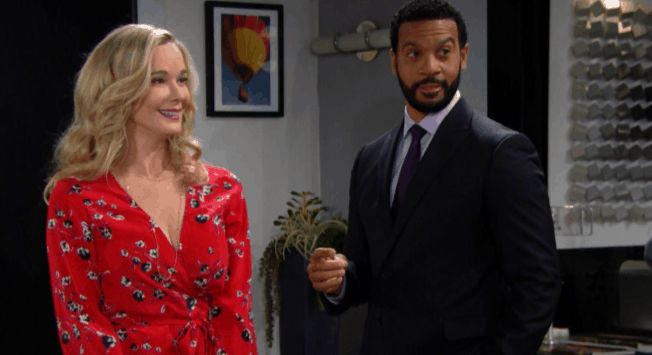 The Bold and the Beautiful fans don't have villains in the traditional sense. You see, most people here don't do the kidnapping, killing, awful torture thing that other people do. Their primary goal in life is to steal people from other people and have romantic issues with one another. They want love, sex, and power, and they don't care about anything else. And that means that their villains are often the least tragic. Bute, that doesn't mean that the people in LA don't have bad guys working against them sometimes. We thought we might go through the list of villains who come and go and figure out which one is the worst and which one is just bad. We're ranking our favorites from bad to the most awful imaginable. Do you agree?
Brooke Logan
We start with her for a reason. She's not the worst, but she's a villain whether you like it or not. She's a woman who only looks out for herself and what she feels is important and good in her life. And that means getting in the way of her family. It means getting pregnant by her daughter's husband. It means sleeping with her daughter's young boyfriend. It means stealing men from her sister, her friends, her family, and everyone in between. It means making deals she should not be making. It means doing what she feels is right and then playing it like she is the victim and everyone else is out to hurt her — she's dangerous because she firmly believes her horrible actions are a direct result of the way other people behave.
Deacon Sharpe
He was not a nice guy, but he's gone now. He isn't the most dangerous, but he did a lot of stuff that made us wonder if he was the kind of guy we could trust. Obviously, he is not that kind of man. He hurt a lot of people, blamed his issues on others, and did what he could to get his way. He used people, he hurt people, and he did anything he could to be on top of his own game. He was dangerous because he had a life mission he was not going to look away from or try to deal with in any manner other than to make sure he got what he needed to get. And that's where he feel short.
Quinn Fuller
Quinn is just a little crazy, and that's why she gets to go on the list. She's not a thinker, but she does get in the way of things that are none of her business. She firmly believes that her way is the best way, and she doesn't care how anyone else feels. She's not concerned with their way of life, their situation, or their feelings. She's not in the middle of things to get anything other than her own way, and she will do some sketchy stuff to make sure her son is happy even if she has no idea what will really make him happy.
Sheila Carter
She's just crazy, and she's crazy on two shows. She's out for blood anytime she is in town, and she will do some crazy things. From kidnapping kids to doing horrible things like locking people up and threatening to kill them, she's not afraid to change her life, make mistakes, and do what she feels is the right thing to do. She's not someone who has much else to deal with other than her own situation, and she will come and go as she sees fit until she finds a way to make her life better.
Bill Spencer
He isn't so much a villain as he is just a man who does what he wants, when he wants, how he wants. He's not someone who makes up stories or fabricates excuses. He does his thing, he makes it a point to do it his way, and he doesn't apologize for it. He's dangerous because he is honest and open about his life, and he will do anything he can to get his way with no regard for anyone else. And he has no problem with that at all.