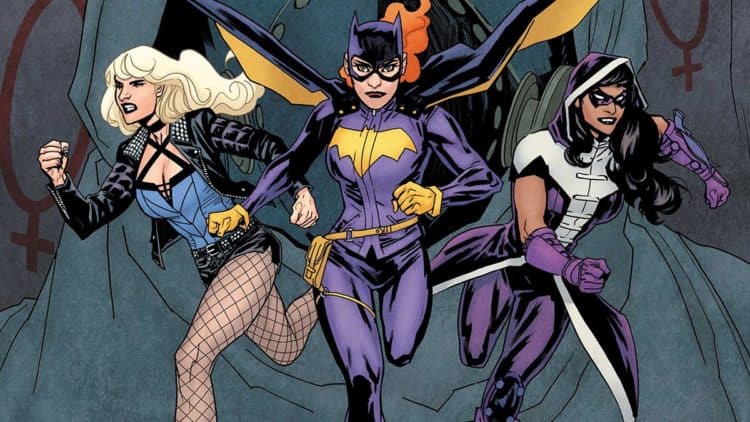 One of the most underrated characters in the DCEU so far is Helena Bertinelli, aka Huntress. She was one of my favorite elements in the Birds of Prey movie for many reasons. For one, she was just simply and utterly badass. Out of all the femme fatales of the group, she was the most dangerous, with her rage issues and signature crossbow. Unfortunately, she was also one of the most underutilized elements of the film, considering she spent a lot of time in the shadows. To me, the Birds of Prey movie was a good set-up for Huntress to develop into a more significant character. In my opinion, Huntress is capable of getting her own series on HBO Max. The Birds of Prey movie introduced her, gave her a purpose and her signature costume, and now it's time for this fledgling super heroine to spread her wings.
If I'm going to make my case, I'll have to start from the beginning. For those of you have seen the Birds of Prey movie (or Harley Quinn movie, depending on how you look at it), the film covered her origin story pretty well. Huntress is essentially a female fusion of the Punisher and Batman. As a child, she witnessed her family being gunned down by criminals, then dedicated her life to finding those responsible. Sounds a lot like Batman, except she had a more Punisher approach to dealing with criminals. Just like in the movie, she eventually found her parent's killers and brutally killed them. She likes using all kinds of weapons, but her favorite is the crossbow (not a bow and arrow), and she's not afraid to use it.
Much like Batman and Punisher, she has problems playing with others. That's why she spends more time with the Birds of Prey, instead of the Justice League. She has often found herself teaming up with the more "ragtag" superhero groups and actually has a rather contentious relationship with Batman. From his point of view, Huntress is an unpredictable and unnecessarily violent vigilante. However, given their similar tragic backstories, he also sympathizes with her. It was actually Batman who sponsored Huntress to enter the Justice League, and for a time, she became a valuable and respected member. However, she never truly escaped her violent nature and was forced to resign after she attempted to kill an already-defeated Prometheus. Much like Batman and the Punisher, she just works best when she's solo.
In the realm of the DCEU, Huntress is in the early stages of her crimefighting career. Her personality and motivations closely resemble that of a young Batman, aside from the killing. As I watched Birds of Prey, I thought of Scott Snyder's early Batman stories, or Geoff Johns' Batman: Earth One series. Their take on Batman was a younger and more fallible character, who was more obsessed with fighting for revenge, rather than justice. This reflects the DCEU's Huntress almost perfectly, because that's essentially who she is. Throughout most of the Birds of Prey movie, her goal was to avenge the deaths of her family. Understandable motives, but she was far from a heroic character. Much like the Batman of Earth One and Snyder's version, she had a lot of anger. These Batmen were driven by their anger, but they eventually realized Gotham was suffering.
Their crusade soon became more about saving the city and less about their personal vendettas. This is the kind of character development Huntress can go through if she gets her own series. She's brutal and angry, but under the right guidance, she can become a better hero. What made her stand out among the other femme fatales was her palpable social awkwardness. My favorite example of this is when she was the only one who laughed when Harley Quinn stole Black Canary's car. Awkward moment for her, but also a funny one. I don't think this makes her a weird character. It actually makes her stand out. She spent most of her life training to become a killer and her only communication was with her trainers. Compared to the other Birds of Prey, her childhood was certainly the most isolated and tragic, so her being socially awkward is understandable.
Now that she's a part of a team, Black Canary and Renee Montoya can help with that. Black Canary is more level-headed than she is, while Renee Montoya is the oldest and the wisest. They are the positive reinforcement Huntress needs to become a more noble crimefighter. Oh, and maybe improve her social skills along the way. Speaking of which, a more sociable Huntress can eventually find love. This can lead to a particular DC duo couple that is one of my favorites. This one goes way back to the Justice League Unlimited days, with Huntress finding love in an even more atypical crimefighter. I'm talking about the seemingly faceless detective named Vic Sage, aka The Question.
After watching them interact together in the episodes, Double Date and Grudge Match, they've become one of my favorite superhero couples. I mean, come on, they took on Green Arrow and Black Canary together. The Question is the kind of weird that Huntress would be attracted to. In a way, he's serves as her moral compass, albeit a strange one. As far as the social awkwardness goes, he probably even more awkward than she is. However, he has a cool head, something that Huntress can learn and benefit from. Seeing their chemistry work in Justice League Unlimited makes me want to see more of them. Having The Question make his DCEU debut in her show would make for a very fitting introduction. Where one character can come in, others will follow.
There is a particular element that can be explored in a Huntress series. This is something that has been a staple in almost all Batman stories and the best DC storylines. Huntress, much like Batman, is always fighting the criminal element of Gotham. They're both feared vigilantes in a city rife with crime and they do whatever they can to neutralize it. Since the DCEU Batman is spending more time with bigger heroes like Superman, the scum of Gotham need someone to keep them at bay. Huntress can be that hero, but unlike Batman, she won't be afraid to spill blood. Think of it as the Punisher for HBO Max. The most interesting aspect would be flushing out the criminal underworld in the Gotham City of the DCEU. She'll be fighting and probably killing many violent criminals, while also building relationships.
Huntress has the Birds of Prey, but if she has The Question, she can have a boyfriend on top of it. All of this will lead to some intriguing character development. Which Gotham crime lords can she go up against? The answer is a lot. She can take on the most popular like Penguin, an obvious choice. Or she can challenge the absolutely grotesque, particularly the Great White Shark. Now there's a character who has never been in a live-action movie before. We can get even more out there and have her take on Maxie Zeus. He's a cult leader who thinks he's the real Zeus. No, seriously, he believes he's THE Zeus. He's the kind of villain that fits the tone Birds of Prey set and his bizarre nature can be perfectly played out in a Huntress series. Don't hold back, just go for it.
Anyone else game for a Huntress series? I reckon HBO Max will shoot for more shows that focus on solo stories. When that happens, Huntress should be on the top of the list.