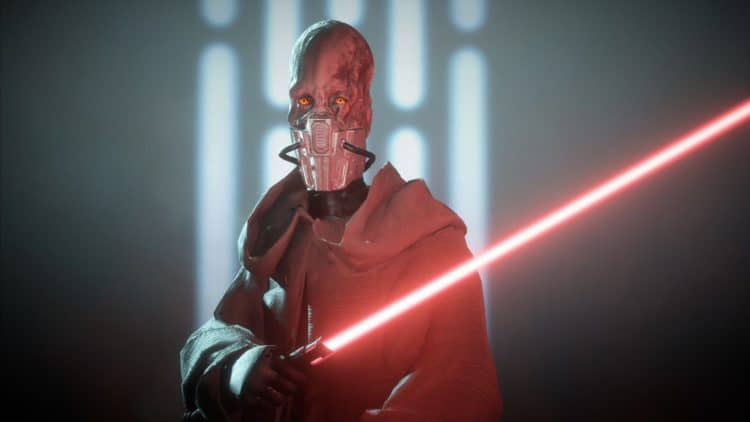 People have heard plenty of Darth Plagueis the Wise, but we haven't really seen anything of him other than the book and the mentions that detail his life and powers since the man that was his apprentice, Darth Sidious, made mention of him to Anakin Skywalker to entice Anakin with the idea of protecting the ones he loved. According to the literature, Plagueis was still teaching Palpatine, aka Sidious, when he became Chancellor, which means that at some point before Attack of the Clones, Sidious killed his master and stole his knowledge of how to affect and create life using the midichlorians that had been introduced in The Phantom Menace. Up until that point, Plagueis was still in some type of control, but it was obvious that Sheev Palpatine was making his own plans throughout their entire time together, which means that calling this Sith lord 'the Wise' might be kind of a hard title to take seriously considering that he didn't see the betrayal coming. But what the Muun did was deduce what it took to make life, and what it would bring about if such a thing were to happen. There are many that want to claim that he's responsible for Anakin Skywalker being born thanks to his many experiments, and it's been widely believed at this point since Plagueis was looking for a way to become more powerful even as he denied this knowledge to his people.
To be fair it might be a little easier to see what might happen if Darth Plageuis was part of a Star Wars anthology before he was given his own series or movie, just to see how he stacked up with many other characters. But seeing him interact with a younger Palpatine would be interesting, and it could possibly build even more interest for the character. It sounds as though there are plans to bring other characters into the mix as things move forward, so thinking about Plageuis, who might very well have brought into the galaxy one of the most powerful beings in the galaxy, would be intriguing since a lot of people might want to discover just how the midichlorians are able to be manipulated by his use of the Force. Plenty of people had an issue with the Force and how it was stronger in some people than others was reduced to something that was able to be measured, but now that it's happened and it's part of canon it's likely that it will stick around for a while, at least when we're talking about Darth Plageuis, who wasn't such a prominent character in the story but could end up being someone that might enjoy a bit of an elevated status if he's included in an anthology that will go behind the scenes of the greatest stories in the franchise. There are so many hidden stories that have yet to be unveiled that it feels likely that Star Wars could coast along on these if they were developed for quite a while until an overriding theme was created once again.
But in terms of getting his own series or movie, the idea would have to go back in time to when Plagueis was far younger and possibly close to becoming a Sith to really give a level of insight to the character that might make him stand out as someone that people would want to hear more about. Otherwise, it feels as though his story is going to be cut too short since he doesn't last long after Palpatine gains power, and unless the power to transfer his consciousness to another vessel, an ability he does have according to his backstory, were to be used in some sneaky, shifty way, then his story would need to be told well before meeting Sheev, and possibly before becoming a Sith. There are greater mysteries to the Sith as well as to the Jedi that have yet to be uncovered in the movies and TV shows, and there's a lot of room for leeway when it comes to discovering just what's there to be seen. How much the fans might want to see is up for discussion since the books and the games have gone into the Sith far more than the movies have, since there is a good deal of history there and there are stories aplenty of Sith that were once Jedi, Sith that were only the way they were because of some life-altering situation/consequence, and many more tales that explain how the dark side overcame someone that might have been decent to start with. For all intents and purposes, Plagueis was meant to be bad, and he reveled in it, but it would still be fun to learn his origins and see them played out on the big or small screen.