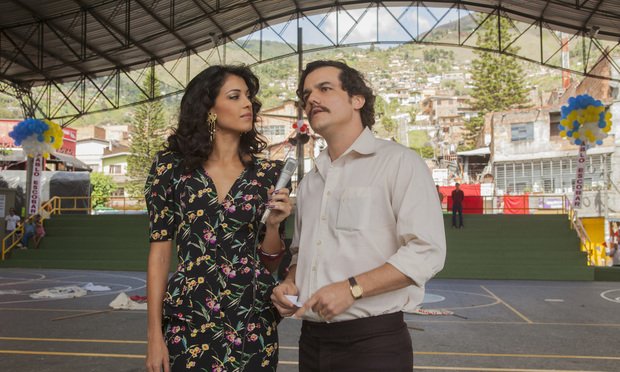 After two very successful seasons, Stephanie Sigman recently declared that both she and her character Jessica Cortez would be departing S.W.A.T. for pastures new. Sigma, who is due to give birth to her first child later this month, made the announcement via Instagram, writing that she was "happy with the work done" and that she wished the show and the S.W.A.T. family all the very best moving forward. While she'll unquestionably be missed, it's unlikely it'll be the last we see of the talented actress. Since making her way from small parts in Mexican TV shows to lead roles in Hollywood blockbusters, Sigman has enjoyed extraordinary success that's sure to continue well into the future. Find out more about the actress with these 10 quick-fire facts.
1. She made her movie debut in Rio de Oro
After spending several years working on Mexican TV, Sigman made her film debut in 2010s Rio de Oro. Although the film didn't make too great an impact on its release, her next film, Miss Bala, certainly did; as well as proving a commercial and critical success (it was selected as the Mexican entry for the Best Foreign Language Film at the 84th Academy Awards), it also gave Sigman her first taste of award success when she received a nomination for the Dublin Film Critics' Circle Award for Best Breakthrough.
2. She's a huge Netflix fan
Let's be honest, who doesn't enjoy spending an evening curled up on the sofa with a giant pint of ice cream and precious little to do except sit back and binge watch Netflix? Sigman likes her downtime just as much as the next girl and is a huge fan of Bloodline, Sense8, and House of Cards.
3. She was the first Mexican Bond girl
In 2015, Sigman became the first-ever Mexican paramour of James Bond when she appeared alongside Daniel Craig in the hugely successful Spectre. Sigman wasn't the only Bond girl that year: joining her on set was the legendary acres Monica Bellucci (who at 50 years old at the time of filming, made history as the oldest Bond girl in the history of the franchise) and the equally gifted Lea Seydoux. The chance to join the iconic Bond franchise clearly meant a lot to Sigman, who told Marie Claire "It feels great. It's definitely something new for me, all the attention. But I appreciate it a lot because more people get to see my work. I'm really grateful to be part of such a great movie. And not only a big and legendary production, but one that's also quality. That's what made it really special."
4. She's obsessed with being on time
If there's one thing Sigman hates, it's tardiness. "I'm obsessed with being on time. If you say, "Let's meet up at 10 a.m.," I will be there 15 minutes early. Always," she told Esquire. "But sometimes it's really annoying because people are not on time, and I'm always on time because I can't help it. I get stressed if I'm not. I've always been this way since I was a little girl.'
5. She was the campaign ambassador for Belvedere vodka
As you'd expect of a former Bond girl, Sigman is a fan of vodka martinis, a preference that came in very handy when she was asked to front up the advertising campaign for Belvedere vodka. Describing her involvement in the project, Sigman said: "I'm an actress, not a model, this is my first campaign, I hope this is just the beginning," adding that she thought the campaign was "inspired, but it's different." And as to how she takes her own martini? "Mine is shaken, straight up with a twist."
6. She starred in a music video for Arctic Monkeys
In 2014, Sigman got the chance to apply her talents to a brand-new sphere when she was invited to appear in the Arctic Monkeys music video for their track, Snap Out Of It. The video depicts the actress experiencing a nervous breakdown as she watches the band perform on a video. While it's never made clear which member of the band was responsible for the meltdown, we do see Sigman trying to "snap out of it" by cooking a pork chop and dancing around the room in a slightly crazed manner.
7. She's a US citizen through her father
Despite being born and raised in Ciudad Obregón in the Mexican state of Sonora, 326 miles south of the Arizona border, Sigman has dual citizenship thanks to her parent's mixed heritage. Through her mother, Esthela, she gets her Mexican passport and Latino heritage. Through her father, Lee, a New York Yankees scout from Kansas, she gets her US citizenship.
8. She auditioned for America's Next Top Model
According to the Daily Mail, Sigman once auditioned to be on America's Next Top Model, but left the series after becoming the victim of racial bullying. 'Five years ago Stephanie was trying out to be on America's Next Top Model, but all of the other contestants were mean to her, saying she should not even be allowed in the competition as she was Mexican," Sigman's cousin Kimberly told the publication. "But what most people don't know is that Stephanie is half American as well as her father is from the USA, so she had every right to be there."
9. She trained for three hours a day for Spectre
Being a Bond girl comes with certain expectations and, if we're being honest, a lot of those expectations are visual. While Sigman may have broken the mold by becoming the first Mexican Bond girl in the franchise's history, she was still expected to conform to a certain conventional "aesthetic", an aesthetic which required her to get into the best physical shape of her life. As part of the process, she spent three hours a day working out at the City of Angels Boxing Club. The grueling schedule clearly paid off, with her boxing trainer, Eddie Hernandez, telling the Daily Mail 'Her body is amazing and that's because she puts the work in. She is super fit and could fight anyone. We cannot wait to see her as a Bond Girl.'
10. Her Net Worth
The super talented Ms. Sigman is living proof of what good lucks and a die-hard work ethic can do. At the age of 32, the actress is estimated to be worth a very cool $2 million.
Tell us what's wrong with this post? How could we improve it? :)
Let us improve this post!