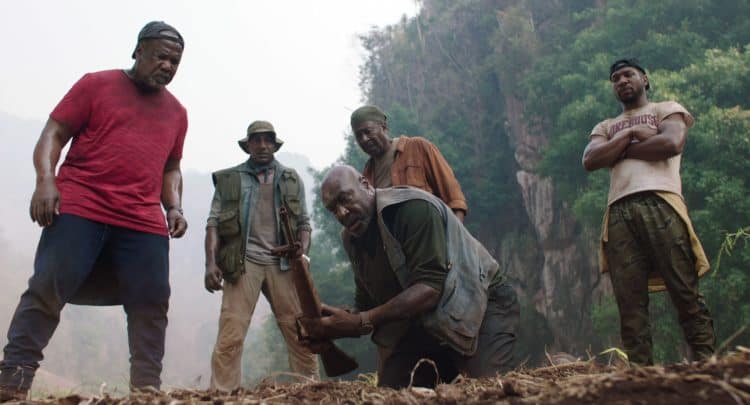 After the huge commercial and awards success of BlackkKlansman, Spike Lee made his return with arguably one of his most ambitious and timely films yet, Da 5 Bloods. The film followed four African American veterans who returned to Vietnam seeking the remains of their fallen squad leader. Da 5 Bloods tackled the struggles that these four men had to deal with coming back home from the war, and how it impacted their lives tremendously. The Spike Lee joint was heavily praised by critics, noting that this was one of the most thrilling and impactful films that he made thus far, and many believed that it would be a huge awards contender. Da 5 Bloods was nominated for an Oscar, but only for Best Achievement in Music for Motion Pictures. The Netflix exclusive was not only shut out of the Oscars but the Golden Globes as well, much to the shock of many fans and critics. So, what happened? Da 5 Bloods seemed primed as an Oscar contender. Spike Lee and the Academy Awards don't particularly have a great history with one another and the blatant shut down of Da 5 Bloods further proved that stance. Let's examine the possible reasoning behind the awards snub.
The Political Game
There's no denying that Hollywood is a cutthroat political game. One of the reasons that Spike Lee has been shunned from Tinseltown was due to how outspoken the filmmaker has been. Despite his impressive filmography, Lee hasn't exactly been a favorite when it comes to the eyes of Hollywood. Add that reasoning with the fact that most black filmmakers were shunned during Lee's time in the moviemaking world, and it's safe to say that the political game has been a crux for his career. Lee has blasted Hollywood on multiple occasions, including their lack of diversity or the Selma snub for Ava DuVernay. Fast Forward to 2019, and Spike Lee fired back with BlackkKlansman and the veteran's career seemed to be moving on up again. Lee ended winning an Oscar for best Adopted screenplay; however, BlackkKlansman failed to walk out with Best Picture. Spike Lee was not happy about this. In fact, a good majority thought it was a mistake to crown Green Book with the best picture award, which is deemed a white savior film. However, Lee's frustration was not a secret, with the filmmaker visibly angry after the announcement and waving his arms in disgust. He may not have been as vocal about the displeasure of Green Book's big win, but it is likely that the Academy voters didn't take too kindly to Lee's reaction. Green Book fits the perfect description of the type of film that Academy voters tend to favor, with the 2008 film being considered by many as the modern-day Driving Miss Daisy. Lee's reaction arguably cost Da 5 Bloods an Oscar nomination, as the politics game played against the famed director.
The Oscars Didn't Want to Include Too Many Netflix Exclusive Films
When Roma became the first Netflix feature to be nominated for an Academy Award in 2019, many filmmakers were up in arms about a "television movie" being in competition with real films. In fact, Steven Spielberg was the most notable name to be against Netflix films being nominated for Oscars, with the Jaws director making it his mission to ensure that another Roma would not take place at the Oscars by launching a campaign to get Netflix's narrative and documentary content struck from consideration going forward. Obviously, that campaign failed as The Irishman, Ma Rainey's Black Bottom, Mank, The Trial of the Chicago 7, and Marriage Story have etched their history in the Academy books. However, with Mank, Ma Rainey's Black Bottom, and The Trial of the Chicago 7 getting the most love from the Oscars in 2021, it's likely that the voters opted to not nominate too many exclusives. Granted, the 2021 Academy Awards was an interesting year because the pandemic had forced the voters to heavily include streaming services, thus platforms such as Amazon Prime, Disney Plus, or Hulu films were included as well. When it came down to choosing films, Da 5 Bloods likely got the short end of the stick. Couple that with the politics that Lee was fighting against, and it was probably a no-brainer for the voters to sidestep Da 5 Bloods.
Da 5 Bloods Was A Divisive Film
One of the hot topics in Da 5 Bloods was Spike Lee exploring a Vietnam veteran being a Trump voter. Lee's films always have a political stance behind them; however, this was arguably one of the most controversial in many eyes. Currently, Da 5 Bloods has a 54% audience score on rotten tomatoes. Trump is by no means loved by Hollywood, but the former president does have fans. It's likely that the film rubbed some of the voters in the wrong way. The movie wasn't an outright bashing of Trump and his presidential term, but it definitely didn't paint him and his voters in a positive light.
Tell us what's wrong with this post? How could we improve it? :)
Let us improve this post!