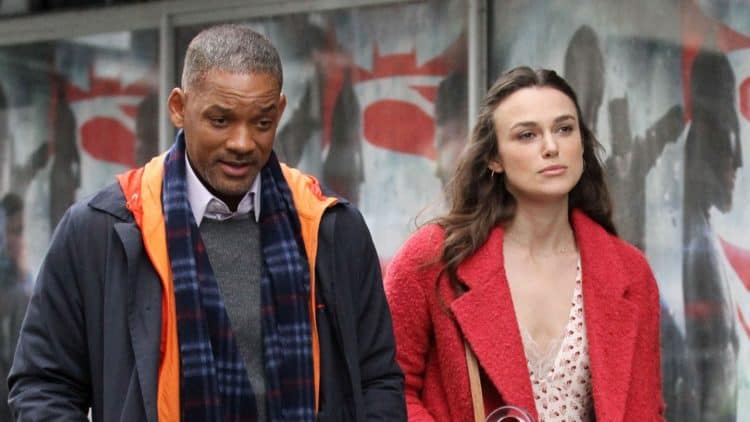 In December of 2016, a movie that was clearly being positioned as Oscar bait was released. Collateral Beauty, a Will Smith vehicle that features an all-star cast such as Edward Norton, Kate Winslet, Helen Mirren, and Naomie Harris; The film is about a successful New York advertising executive who loses his daughter, and retreats from his life. He seeks answers by writing letters to Love, Time, and Death. The seemingly sweet and sentimental feature was trashed by critics, amassing 14% on rotten tomatoes and thrashing any chances that the film had being an Oscar contender. Even worse, Collateral Beauty bombed financially, opening with $7 million and finishing off with $88 million worldwide. So, what happened? As I mentioned, Collateral Beauty was a clear Oscar hopeful that ultimately crashed and burned. Still, bad reviews don't always equal a terrible box office. Collateral Beauty features an notable all-star cast including Will Smith, who's usually a certified box office draw. Let's dive deeper into the reasoning behind Collateral Beauty's failure.
The Advertising For Collateral Beauty Was Misleading
One of the biggest issues with Collateral Beauty was the false advertisement of said film. Based on the trailers that premiered, this appeared to be some tear jerking piece that would've seen Smith talk to Love, Time, and Death, basically a live-action version of A Christmas Carol that saw Ebenezer Scrooge get a visit from the Ghost of Christmas Past, the Ghost of Christmas Present, and the Ghost of Christmas future. At least that's what the trailer told audiences. The actual film was about Smith's so-called friends being worried about the future of their jobs, so once they get wind of Smith writing letters to love, time, and death, they hire actors to portray the physical beings of love, time, and death; With the plan being that they would digitally erase the hired actors to make Smith appear crazy to the executive board in order to get him fired. While it's never been outright stated that Warner Brothers didn't believe in the movie, it's clear that the studio had no faith in the hokey premise. One of the core issues is that Collateral Beauty never plays into the weirdness of its premise. It takes this idea deadly serious and runs with it; trying to make it a tear jerking experience. At the end, Collateral Beauty's heart was in the right place, but trying to mislead the audience clearly wasn't the right call. Critics quickly revealed the actual plot of this film thus word-of-mouth was likely a strong factor for most audiences staying away from Will Smith's latest campaign at trying to win an Oscar.
Collateral Beauty Felt Like An Oscar Bait Film, Nothing More
The term "Oscar bait" is used when it appears that a movie was simply made to garner Oscar nominations. Collateral Beauty had several of the traits that exhibited this term, namely the amount of well-respected actors in one film. The sentimental music used in the trailer indicated something of a tear jerker, another trait that Academy voters seem to like as well. Plus, Collateral Beauty was released in December, which is usually when Oscar hopefuls come out to campaign their films. Unfortunately, Collateral Beauty forgot one aspect necessary to garner the attention from Oscar voters: A strong script. As previously stated, the premise is too weird to take seriously, and if the filmmakers had more fun with its story then maybe Collateral Beauty would've turned out better; however, it ends up being this unintentional hilarious romp featuring a cast of excellent actors. Even if audiences were misled by the trailers, most moviegoers saw right through the glossy picture and opted against watching the film.
Will Smith Doesn't Have The Best Track Record When It Comes To Oscar Bait Type Films
Will Smith is one of the biggest box office draws in Hollywood; however, when it comes to his movies that are geared towards the Oscar crowd, then he doesn't have that much luck. His biggest Oscar bait film is The Pursuit of Happyness, which made over $150 million at the box office. Ali, Seven Pounds, Concussion, and The Legend of Bagger Vance never managed to have that same success. It's not exactly clear why audiences tend to steer clear from these types of films involving Smith. Perhaps its because Smith's name is better suited for blockbusters? The actor is a highly charismatic guy and that's often showcased in his blockbuster features; however, his performances tend to be toned down in the films mentioned above. Some performances are better than others, but the key thing of note is that Will Smith isn't really Will Smith during these type of movies. While this theory has never confirmed, it's possible that audiences just like the actor better when he's loose, wild, and free in big blockbusters like Bad Boys, Independence Day, and Wild Wild West (yes this film made over $100 million at the box office).Will Smith
Tell us what's wrong with this post? How could we improve it? :)
Let us improve this post!