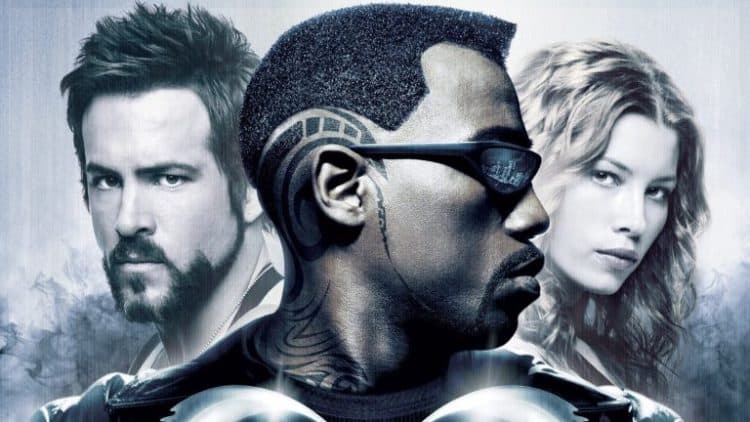 Before there was Tobey Maguire's Spider-Man, and before there was Hugh Jackman's Wolverine, there was Wesley Snipes' Blade. It's been over two decades since Snipes came on the big-screen and cut through vampires like scissors and paper. Yes, you can talk smack about how the third film severely derailed the franchise, but overall, its legacy shouldn't be forgotten. Before the Blade movie came out, Marvel very desperately needed a win. I don't even want to talk about the films that were made before the Blade movie, but long story short, that movie did wonders for them.
Aside from making Wesley Snipes a superhero, his Blade film was the true beginning of what was going to be a bright future for Marvel movies. Shortly after that first movie, Hollywood wanted more Marvel movies and the rest is history. Sam Raimi's Spider-Man movies, the Fox-produced X-Men movies, and of course, the Marvel Cinematic Universe. Ever since the glorious MCU took off, fans like me have been anxiously awaiting the arrival of Blade. Naturally, we had many questions, including the first one that everyone asked: will Wesley Snipes return? Sure, he's older now, but the man can still kick butt. It wasn't until last year's San Diego Comic-Con that we would finally get our answer.
The main man, Kevin Feige, saved the best for last and revealed the unexpected. Not The X-Men, not The Fantastic Four, but the vampire hunting daywalker known as Blade. As far as announcements go, this one was particularly surprising and amazing. He's a great character, but he's also one of Marvel's most darkest heroes. Now that it's confirmed that he'll be soon making his debut in the MCU, we fans have a new plethora of questions. Before I specify those questions, it's important to realize how much of a game changer the inclusion of Blade really is to the MCU.
Let's begin with what kind of character Blade is. He's not your average superhero; he's half-man, and half-vampire. What separates him from other vampires is that daylight doesn't harm him. This gives him a significant advantage over hostile vampires and earned him the title, "Daywalker." Sounds a bit corny, but that doesn't stop him from being an awesome character. He's deadly with edged weapons (hence his name) and is an expert hand-to-hand combatant. On top of that, he's one of those heroes who doesn't need a mask; he wears sunglasses, which is good enough. But let's look at the key word here that makes him stand out: vampire.
Vampires have been largely overused in movies for a while now. Look at Dracula or (cough) the Twilight series, and by now, I think it's safe to say that they're a worn out cliche. If Blade is coming to the MCU, you can count on whole legions of vampires to joining the party with him. Just think about how many fictional species inhabit the MCU. It contains exotic aliens, Norse gods, sentient robots, and even talking trees and raccoons. In a universe rife with all kinds of creatures, does it really need vampires? I'll be honest, there is a part of me that wants to say no, but then again, the fanboy/optimist in me believes that they can be properly worked in.
I can easily say, "the more the merrier" but I won't get lazy. Blade and vampires coming to the MCU can be a pretty big deal. Why you ask? Just think about what particular genre vampires are associated with. Aside from the Twilight series, vampires often take center stage in horror movies. They are almost always vile, merciless, and like to suck blood. This means the movies they're in normally have an R-rating. The Wesley Snipes Blade movies were rated R, and for good reason. Aside from all the violent action, there were a lot of F-bombs being thrown around.
This can't be ignored for the future of Blade's introduction in the MCU. Will his movie or series be rated R? Will they figure out a way to tone down the violence? Nothing is impossible, but since Disney is running the show, I wouldn't count on them pulling for anything R-rated (that includes Deadpool). A Blade movie or series rated PG-13 may sound like a bad idea on paper, but Marvel has proven me wrong before. Does action in a Blade movie really need excessive blood and gore to sell? Every time he kills a vampire, they explode. We've seen it in the Wesley Snipes Blade movies, and it worked. If it worked in his movies, it'll certainly work in Disney's MCU. If they don't have to worry about excessive bloody action scenes, that's already a win.
However, if they should avoid one thing from the Wesley Snipes Blade movies, it's the needlessly over sexualized vampires. I get it, they were trying to add a modern vibe to the vampire schtick, but it was ultimately unnecessary. In a Disney-produced Blade movie, you can definitely count on not seeing any vampire strippers or bodybuilder vampires who get their sense of fashion from Hot Topic. If you ask me, I'd say that's a good thing. Oh, and of course, there's the swearing. As Captain America likes to point out, people need to watch their language. Wesley sure had a loose tongue, but don't expect Mahershala Ali to throw around the F-bombs. It's all good though. Blade never needed to swear to look good. He just needs to be good at killing vampires.
Speaking of which, talking a lot about vampires and the horror genre makes me think about something crucial. Their arrival to the MCU can mean that Marvel is game for adding a certain horror flavor to their main course. It may not be as violent as we expect, but that doesn't mean it can't be scary. Rumor has it that the next Doctor Strange movie will have a special kind of horror vibe to it. With Sam Raimi in the director's chair, I'm confident the movie will have a solid horror element to it. This makes me wonder if Doctor Strange will cross paths with Blade somehow. If his next movie will have a horror vibe to it, then it would make sense to include a vampire character. Again, it's just a theory, but it's an educated one.
For all I know, Blade can appear in a post-credits scene, or he won't be in it at all. Either way, I can't wait to see him. Anyone else ready to see Blade enter the MCU? His presence can bring a whole new element to the MCU. Get ready for horror meets the superhero genre.