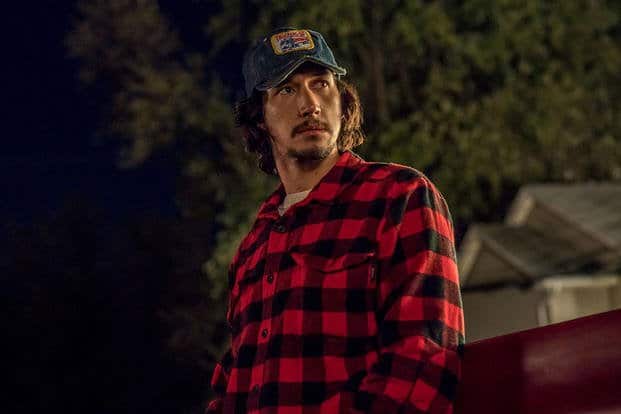 One of the actors whose career trajectory has been quite the sight to see is Adam Driver. The man behind the broody and mysterious persona is currently making waves in Hollywood, and there's no stopping him from starring in much-anticipated projects anytime soon. Here are ten reasons why Adam Driver's meteoric rise is well-deserved:
10. He took no shortcuts in his career
Acting has been a vital part of Driver's out from a young age. After graduating from the prestigious, The Juilliard School, he set out to jumpstart his career by landing his first Broadway debut, Mrs. Warren's Profession, in 2010. Driver's acting journey did not come easy. He had to occasionally work as a waiter and busboy in between gigs. It was not until 2012 when he started to become more recognized, as he became a mainstay in the hit HBO comedy drama series, Girls. This big break opened more doors, and led him towards a blossoming film career. There was no looking back.
9. Versatility is the name of the game
Driver has been known to be a risk taker early on. He began his career with supporting roles in memorable movies, such as Steven Spielberg's, Lincoln, Noah Baumbach's, Frances Ha, and the Coen Brothers', Inside Llewyn Davis. Working with these acclaimed directors allowed Driver to hone his acting chops, and prepare for bigger roles ahead. It was an opportunity not only a few young actors were presented, and Driver was able to grab every chance he got.
8. His talent has long been recognized by prestigious award giving bodies
It did not take long for Driver's promising talent to be recognized. The actor swept the 2014 Venice Film Festival by storm, as he went on to win his first ever Volpi Cup for Best Actor for his lead role in the drama, Hungry Hearts. The award nominations started rolling in thereafter. Driver soon had a solid set of nominations, which consisted of a Tony Award, two Academy Awards, two Golden Globe Awards, and four Primetime Emmy Awards. What a feat for a blossoming career. It wouldn't be surprising to see him finally go home with one of these awards in the near future.
7. The more challenging, the better
Driver loves a good challenge. This has been proven time and again in the characters he has portrayed. He has worked with the cinema greats, and continues to reinvent himself by appearing in various film genres wherein he gets to play widely different roles. The ability to immerse himself into different characters is a strong suit that will be beneficial for Driver's career longevity. He is not easily satisfied, and continues to strive for greatness in every role he portrays. This makes him an effective actor, and one whose career will stand the test of time.
6. His heartfelt portrayals can open a Pandora's Box of emotions
One of Driver's best performances was his role in Noah Baumbach's drama film, Marriage Story. Driver portrayed the role of Charlie Barber, a stage director, who is going through a divorce. He stars alongside Scarlett Johansson, who portrays the role of Charlie's ex-wife, Nicole. The film gained critical acclaim, and received back-to-back awards season nominations. Driver delivered an outstanding performance that raw and riveting beyond words. The film's direction and portrayals were all so heartfelt, it was not difficult to get carried away. This was just one of the moments where Driver was able to prove that his acting skills are certainly worthy of all the accolades.
5. His interesting backstory is backed by solid advocacies
Unbeknownst to many, Driver is a veteran of the U.S. Marine Corps. This might explain his reserved and serious nature that has kept a lot of people mystified. Driver served in the Marines for two years and eight months before being medically discharged due to a fractured sternum from mountain biking. His unit was shortly sent to Iraq thereafter. This experience has been life-changing for Driver, who founded the non-profit called, Arts in the Armed Forces, which focuses on providing free arts programming to American active-duty service members, veterans, military support staff, as well as to all their families worldwide. This initiative allows Driver a chance to intersect his former life with his present one. It's a way to inspire and promote change one program at a time.
4. He's gone on to rock the fashion scene as well
Driver may not look like your typical boy next door, but this actually works in his favor. His chiseled and unconventional looks are what makes his memorable. A breath of fresh air from the Hollywood pretty boys we're all so used to seeing. This has also caught the attention of major designer brands, who has signed on Driver to become the face of a Burberry fragrance, Burberry Hero. This just goes to show that he is now bankable even beyond the world of cinema. Let the endorsements come pouring in!
3. He continues to surprise us with his choice of roles
The past years have been monumental for Driver's career. His film roles have only propelled him further into stardom. His role as Ben Solo/Kylo Ren in the Star Wars sequel trilogy became a worldwide success, while his theater comeback via the play, Burn This, earned him a Tony Award nomination for Best Actor in a Play. The recognitions do not stop there. Driver also received back-to-back Academy Award nominations for Best Supporting Actor and Best Actor, respectively, for his roles in Spike Lee's biographical crime film, BlacKkKlansman, and Noah Baumbach's drama, Marriage Story. Viewers were also able to see a different side of Driver when he starred in Leos Carax's musical psychological drama, Annette, wherein he portrays a stand-up comedian who has his life turned upside down after starting a family, as well as in Ridley Scott's historical drama, The Last Duel, wherein Driver portrays a squire who is challenged to a judicial duel with Matt Damon's character. The wide range of film genres and character portrayals are a testament to Driver's adaptability as an actor, and an ode to his craftmanship.
2. His talent knows no bounds
Driver's role in Annette adds another skill under his belt. His ability to belt a tune only adds to his charm and appeal. Another memorable performance wherein Driver was able to display his musicality was when he performed Stephen Sondheim's, Being Alive, in Marriage Story. This heartbreaking performance went on to become one of the highlights in the film. What else does Driver have in store for us? By the looks of it, he seems to be a jack of all trades, and a master of all. He is a rare breed, and one that we must take care of. May there be many more chances to experience the magic that is Adam Driver, and so much more.
1. There are a lot more collaborations to look forward to
Driver has been known to collaborate with the best of the best. His upcoming films allow him to work with more directorial geniuses. As they say, when it rains, it pours. One of the much-anticipated projects is House of Gucci, another film by Ridley Scott. The biopic crime film covers the controversial assassination of Maurizio Gucci, whom Driver portrays. The glamorous character transformations in the film are worthy of the famed fashion house, and have been the talk of the town. Driver seems to be committed to impress his audience, as he continues to be cast in a diverse set of films. He marks his fifth collaboration with Baumbach in the drama film, White Noise, which is adapted from a novel of the same name. He is also set to star in a sci-fi thriller, 65, and a historical drama, Yankee Commandante. Leave it to Driver to blow us all away, one portrayal at a time. These are exciting times ahead!