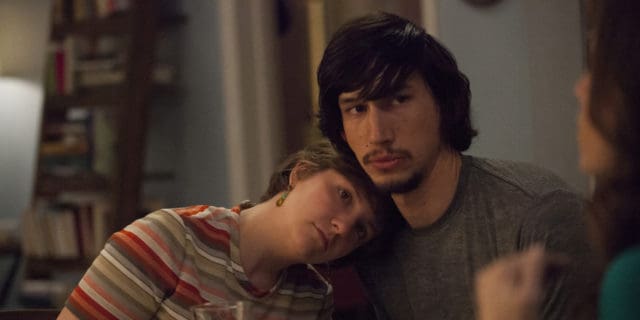 Lena Dunham's HBO success may have been all about women, but one of the best characters from Girls happened to be Adam Driver's fascinating and weirdly cool character, Adam Sackler. Watching Adam play Adam was like an out-of-body experience. It was truly something we had never seen before. Driver's talent was raw and seething in the character, and we weren't the only ones that noticed. After three consecutive Emmy nominations, Driver got the lead in one of the biggest franchises in history, Star Wars: The Last Jedi. While we will now forever see Adam Driver as Kylo Ren, we'll never forget him as the neurotic yet charming Adam Sackler from Girls. Here are five of his most amazing scenes from the show.
Adam pees on Hannah – Girls Season 1 Episode 8
Throughout the season, we were bombarded with Adam the Odd. This clip perfectly captures Adam's demeanor when he's playful and having fun. At this point in their relationship, Adam and Hannah were still getting to know each other, but they're already starting to fall. Adam peeing on Hannah was almost a declaration of the readiness to just let it all go and fall in love. At least Adam was ready; Hannah was not so much.
The struggle – Girls Season 1 Episode 10
This was the first time that we really see Adam's depth, and we instantly forget all the annoying and creepy moments from the entire season. This was the episode that showed us that Adam and Hannah were actually opposites–with Hannah being the messed up one and Adam having it more together emotionally. From here on out, we all had a different kind of respect when it came to Adam, regardless of what he did.
https://www.youtube.com/watch?v=rro5pGM9uas
Really knowing someone – Girls Season 3 Episode 1
Here's another clip where we see Adam's wisdom just flowing out him naturally. You'd think that these girls would have their eggs in a row when it came to relationships; yet here they are, listening quite intently to Adam's story. Not only did he give one of our favorite monologues from the show; Adam did it with such authenticity and insight that it really made us wonder why he wanted to be with Hannah to begin with. It was a show of how complex and mature Adam's character was.
Maroon 5 – Girls Season 3 Episode 2
Just for a fun quirk, this clip shows us Adam's impulsive and hilarious nature. We don't blame him, though, because we probably would've done exactly what he did if we were in his shoes. In the clip, Hannah and Shoshanna are belting out to a Maroon 5 tune, while Adam's on the driver seat all stoic and trying extra hard to contain himself. Next thing we know, stoic is gone and Adam is in frantic mode for a few seconds–long enough to probably break the stereo.
The fight – Girls Season 5 Episode 10
This grand fight scene between Adam and Jessa was definitely one for the books. The intensity from both characters was just completely off the charts. It was the culmination of seasons of pent up anger and frustration and love and passion and everything else in between. We recall just how passionate Adam gets when he's fully committed. We'd also have to hand it to Jessa, who kept up with Adam's crazy like it was nothing. This was one bright relationship; unfortunately, the brightest ones always burn up the fastest.