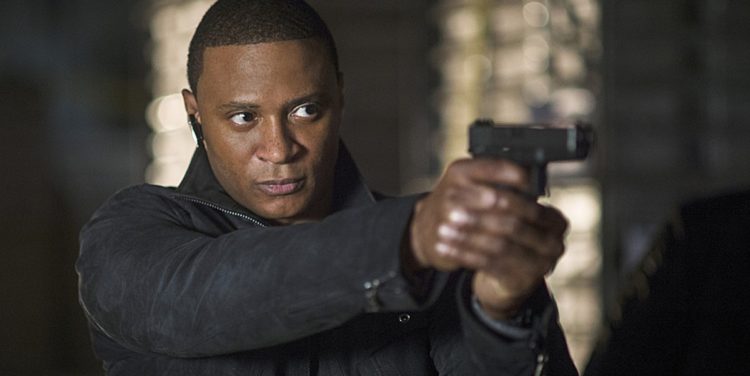 As Rebecca Vanacker of Screenrant and a few others have revealed, nothing is set in stone when it comes to bringing the Green Lantern to fruition on the CW, though a lot of people are thinking it would make perfect sense considering how the finale of Arrow ended and the fact that Diggle found something that was glowing green near the end. Just because of that, and because the Green Lantern is a hero that people have been hoping to see redeemed, there's enough to hope that the studio will make things happen. Again there's nothing to say yea or nay at this point since it's an idea that's been kicked around and obviously been used to draw up a tease that has a lot of people talking and the DC rumor mill grinding away, but at this time there's nothing to say that it will be coming out any time soon. But yes, it would make a great deal of sense considering that Arrow is gone, there are other shows that have been left behind, and there are plenty of ideas to use when thinking of how to push forward now that Oliver Queen is no longer around. Star City is at the moment safe, or safer, as we've seen, but there's a good chance that a safe city doesn't stay that way for long. Of course the Green Lantern has his own concerns when it comes to who needs saving and where his powers will be put to the best use, but whether or not we'll be seeing him emerge any time soon is hard to say.
The talk of redemption when it comes to Green Lantern of course has a lot to do with the failed attempt by Ryan Reynolds to make the hero really shine on the big screen since despite what anyone says it fell flat and the CGI was tolerable in some respects but overall just kind of blah. There's a good chance that the Green Lantern might one day be able to come back to the big screen and make a successful splash but at this moment a lot of people are wanting to see the idea come to the CW and it's reasonable to think it could work since there's been such a great lead-in and David Ramsey is just the guy to do it since he's been around long enough and the fan base happens to like him. That's really all the reason that's needed for this idea to come to fruition and if the CW is trying to make this happen on the down low without getting too many people excited then it's going fine for the moment but it's easy to think that eventually people are going to find out whether or not the idea is really getting pushed. Paul Tracy of Geeks Worldwide has a couple of ideas that might be enticing.
Another reason it makes sense is that with Arrow gone it's understandable that there will be plenty of directions that the CW can go at the moment, but perhaps the Green Lantern can carry the torch by being shown as a unifying hero that can be another central figure for the others to rally around. It's very true that this hero hasn't always been the biggest deal in DC but he's been a big name throughout the years all the same. People need to recall that Green Arrow wasn't always the biggest deal around either, but for 8 years now he's been one of the most recognized heroes around and has managed to pull together a group of like-minded heroes that have rallied around his cause in a big way. Perhaps the hope is that Green Lantern could do the same thing while building up a fan base that's already substantial enough thanks to past history. If nothing else inserting the Green Lantern into the CW makes it feel as though the crossovers and the idea of a Justice League could be coming along, or perhaps it would be safe to assume that there could at least be some sort of group that might mirror the League without needing to ascribe a name to itself. Of course key characters such as Batman and Wonder Woman would be missing since DC is in a definite flux when it comes to deciding just which of its heroes are going to interact anymore, but all in all there is something there that could be worked with.
The Green Lantern is a hero that a lot of people enjoy and a lot of fans would love to see brought back and given a chance to become the hero that we were hoping for years ago when he hit the big screen, so it's easy to think that it's past time to see an accurate and much better showing for this hero. Whether or not the CW is going to push for this however remains to be seen.