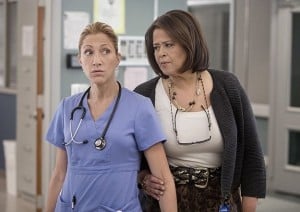 A heavily medicated Jane Doe has been brought in with weakening blood pressure, shallow respiration, and no way of telling them any important information. She's wearing a wedding ring, so Jackie takes a picture of the woman and sends it to Zoey's phone, tasking her with comparing it to every missing persons report on a hospital bulletin board. There are no matches, though, so Jackie then tells Zoey to call the cops and check out their missing persons reports – which total 28,000, meaning that finding a match for the wealthy (e.g. her fresh manicure, her high-end clothing) woman will take a total stroke of luck.
Jackie returns to the hospital after being called away by Fiona's school and finds that Gloria has lost the patient. She can't get ahold of social services like Jackie instructed and she can't remember if she sent the woman to neuro or digital imaging; it turns out that the patient is at neither of those places, so Jackie sends Thor and Zoey to comb the hospital looking for her. If that wasn't enough, the woman's husband has arrived looking for his wife. Mr. Farrell mentions that his wife Jennifer had been in treatment for depression and he had been with every single day since then, trying to get her to a point where she could function by herself. He left for a quick moment one morning and returned to find that she was gone, cell phone and bag be damned.
Jackie goes to Akalitus' office where she finds innumerable post-it notes scattered throughout the file cabinet and desk with reminders of the most mundane things for the former nurse to do. Meanwhile, Zoey runs interference with Ike (claiming she had something in her eye) long enough for Jackie to cover for Akalitus, stating that she's been called into an HR meeting. She then goes to Eddie for Jane Doe's labs, which reveal that she had taken 4 times the recommended dosage of her anxiety medication, meaning that she's an addict and her stay in the hospital is due to an overdose.
Jackie takes Mr. Farrell into the chapel and breaks the news to him, which he categorically denies until she mentions her own addiction; it turns out, though, that Jennifer wasn't an addict and Akalitus didn't lose her. She's been hid away in the quaranatine unit by Akalitus, who found out that the patient's husband had been drugging her on a daily basis. Two of his previous wives had left him and he didn't want there to be a third one, so Akalitus hid the woman long enough to sneak her out of the hospital in a laundry cart and drive her to a shelter for battered women. (No one was in trouble for the violation of at least a dozen statutes, as the nurses all took responsibility for the decision, leaving Ike to tell Jackie that she should inform him next time she wants to do something like this.) Her husband, meanwhile, was taken into custody by Frank, who Jackie texted for help after he had been there earlier with a hypothermia victim.
Acting Out of Turn
While Jackie is looking over Jane Doe with Akalitus, she gets a call from Fiona's school about how she's been acting out recently. She goes to the meeting with the teacher, despite Jane Doe reaching for her as she left, and finds out that Fiona calls another teacher an "a-hole", something she learned while listening to Jackie and Kevin fight. Feeling guilty, the two call a truce for fear that any lingering conflict could break their daughters. However, Fiona isn't the only one they have to worry about, as Jackie runs into Grace coming from the subway. She tells her mother that Kevin got her into dance classes, but Fiona quickly divulges that Grace has a boyfriend named Danny, who turns out to be a 17-year-old street musician in Union Square.
Jackie and Kevin agree on the punishment for Grace, arguably for the first time since her birth, while she also goes to Eddie and laments about her bad day. Fiona, in particular, has her worried, due to her failing grades in math. Throughout the day, Jackie has Grace check in every 20 minutes and provide evidence that she's still at home, but the final call she makes is answered by Fiona, unable to convincingly lie about her sister being in the shower. Grace went to watch her boyfriend play after all, making Jackie go all the way out to Manhattan and get her, breaking up the new relationship in the process. That evening, Jackie's making dinner for the girls and gets a visitor in Eddie, who majored in math in college. He offers to help Fiona and comes in, thereby acting like the friend that Jackie needs at this point in her life.
Dinner?
After they grabbed each other's private parts on the last episode, Coop wants to take Carrie out for dinner, but she's already got plans with the head of cardiology, so she rejects his offer. However, she gets a call not long later that he has an emergency surgery to perform, so she's free to go to Nobu tonight at 8:00. The cardiologist's plans turn out to not be a surgery but time with his wife, who was the one to cancel, and his date with Carrie is back on, leaving Coop out in the cold once again. Fortunately (if you want to think of it like that), a Goldman Sachs executive had a heart attack, causing the cardiologist to cancel once again and Carrie to become free. Frustrated at the constant push-pull, Coop essentially tells her "thanks but no thanks", not getting the point that she's not after dinner that evening. He then texts her that they're back on and they have sex in one of the patient's rooms.
Additional thoughts and observations:
-Jackie didn't get off her shift in time to go out with Frank, who intentionally brought the hypothermia sufferer to All Saints (an out of the way stop) to see her. He does call her that evening, so the two are still good to go.
-As a result of her budding feelings for the officer, Jackie draws up a document that defines her relationship with Eddie. The document? A piece of his yellow notepad with the world "friends" largely written. He's, of course, not supportive of the idea, but he comes around when it's apparent that she needs someone right now.
-Jackie covers for Akalitus not scheduling nurses for two shifts, something that gets Ike to threaten to take her to the board.
-I'm glad that they toned Kevin down from where he was the first three episodes of the season. I get why they did it and he wasn't wrong in his feelings of betrayal, but it just wasn't fun to watch someone hammer Jackie when we know that she's been trying to do better this time.
-Next week on Nurse Jackie: Zoey and Thor help Jackie get ready for her date with Frank, while Ike misdiagnoses a patient and Mike calls Jackie with a need.
Tell us what's wrong with this post? How could we improve it? :)
Let us improve this post!