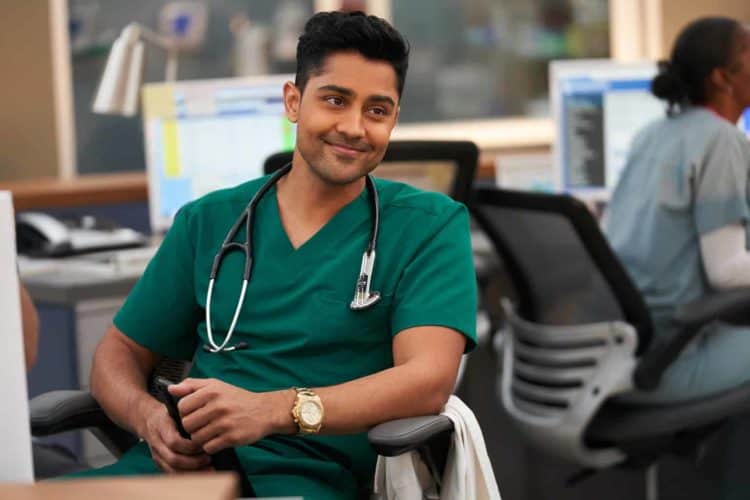 "The Resident" is a television medical drama that revolves around the head resident at Chastain Park Memorial Hospital in Atlanta, GA. He also happens to be one of Chastain's all-around best doctors and is well-known for being both charming and arrogant. His name is Conrad Hawkins (Matt Czuchry), and he's a doctor who prefers taking an unconventional approach at all times possible while also firmly believing that it's also his duty as a physician to be responsible for shattering all of the romantic illusions that the first-year residents at Chastain may be harboring.
Our Choice is Dr. Pravesh
One of those residents is our choice for the biggest breakout star from "The Resident" and his name is Dr. Devon Pravesh (Manish Dayal). He's the epitome of innocent idealism and he possesses a moral compass that is very finely-tuned. Conrad makes it his mission to help his friend, Dr. Pravesh, to come to the realization that practicing medicine is actually a business and, like most other businesses, it is made up of doctors who are not infallible and patients who are definitely not always as pure as they pretend to be. Dr. Pravesh is a pivotal character in just about every single episode of the show and Dayal does a superior job of portraying him. Not only does he possess smoldering good looks but behind those beautiful dark eyes is a brilliant actor!
The Perfect Couple
The show is shot in Atlanta, GA, and also stars Bruce Greenwod as Dr. Solomon Bell, and Emily Van Camp as Conrad's love interest, nurse/practitioner Nicolette. In addition, "The Resident" also has an amazing supporting cast of doctors and nurses extraordinaire. Both Van Camp and Czuchry are excellent in the show and make a perfect couple but couldn't be considered as best breakout star from the show because they're simply not breaking out and are already stars in their own right, him for being the star of this show and her as the star of several prior TV dramas, including starring in the hit show "Revenge".
Vital Stats
According to Rotten Tomatoes, Dayal was born in Orangeburg, SC, on June 17, 1983 as Manish Sudhir Patel. Both of his parents are from Gujarat, India, and he has three siblings. He graduated with a BA from George Washington University and then went on to study acting at The New York Conservatory for Dramatic Arts in New York City, which was formerly known as The School for Film and Television.
"The Resident" Episodes & Storylines
In one early episode called "Run, Doctor, Run," Conrad and Devon find themselves racing against the clock trying to save a woman's life although she is deteriorating very quickly because of undetermined symptoms. In the May 6, 2019 episode, just when Nic is seen happily basking in being overjoyed to find out that both her sister and her father had survived surgery, her pager goes off. In the final minutes of the episode, she runs back into the hospital and finds Conrad doing frantic compressions on one of them, although the identity of the endangered character is not revealed because, of course, it's an end-of-the-season cliffhanger! That year's fall finale brought about some big changes at Chastain Park Memorial. The most stunning of those changes was the rather unceremonious firing of Conrad Hawkins by Red Rock Mountain. During that episode, Devon and Conrad treat a young man named Tyler, who needs a liver transplant after overdosing on acetaminophen, which severely damaged his liver.
Tune in on Tuesday
The first episode of "The Resident" aired on Fox January 21, 2018, and according to Rotten Tomatoes, they're in their third season, which includes 52 episodes already aired. Season Three premiered on Fox on September 24, 2019 on Fox and erach and every episode seems more exciting than the previous one. So, tune in on Tuesday nights at 9:00 PM EST to see what's so great about "The Resident" and why we chose Dr. Pravesh as our favorite character and the hunk known as Manish Dayal as our choice for the biggest breakout star from "The Resident".
Tell us what's wrong with this post? How could we improve it? :)
Let us improve this post!