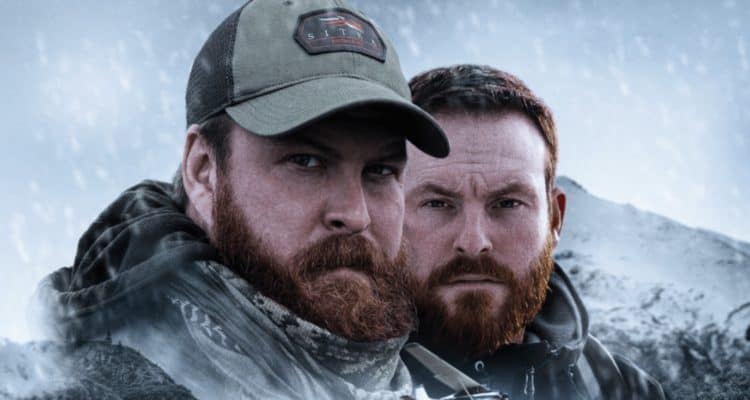 "The Code of the Wild" is a new series that launched with its premiere on August 6th. It occupies the 10 pm time slot. According to The Travel Channel, it stars two brothers, Chris and Casey Keefer. The guys are seasoned outdoorsmen and hunters are also veterans to reality television who know how to survive in the wilderness. The new series promises to deliver suspense and intrigue as the two use the knowledge they've gained to solve some of the greatest mysteries in the world. They choose remote locations to conduct their investigations on the new series. If you haven't heard about the show yet, here are 10 things you didn't know about Chris and Casey Keefer that you didn't know, that might make you curious enough to tune in on an episode.
1. Chris and Casey Keefer previously starred in another series
The brothers are veterans to the world of hunting and sports. They previously co-hosted the Sportsman Channel's series "Dropped." In their previous show, they spent years traveling to remote areas of the world only to be dropped off with just a muzzleloader and a compound bow to help them survive in a new environment. It was more of a survival show and it was there that they gained their notoriety with the public. The Travel Channel picked them up for a brand new series where they put their skills to use in a different mode of operation. Now they're investigating mysteries in remote locations.
2. Both brothers are family men
These aren't just a couple of rough and ready single guys with nothing better to do with their lives. Chris is married to his wife Katie and the couple has been wed for 15 years. The couple has a 12-year-old daughter together and her name is Kylie. We learned that both of the Keefers' wives are supportive of their lifestyles and career choices which makes it possible for them to continue forward. There are times when the guys have to leave their families at home to travel to dangerous new locations, but they have the security in knowing that their ladies will be waiting for them when the investigations are completed.
3. They like to challenge themselves
The brothers had set up a unique survival situation on their last reality television series. After being dropped in a remote location with just a sidearm, they had to survive in the wilderness with nothing else, while making their way to an equipment cache within a set amount of time. They did have a GPS but it didn't work in all of the locations. If they didn't make it to the stash of equipment before the timer went off, the supplies would go away and the brothers wouldn't have the additional boost to help them survive. This made the adventure even more of a challenge, and they seem to love a good challenge.
4. The Keefers are hooked on adrenaline
We learned from the "Dropped series that both Chris and Casey Keefer share a passion for the same things. These are for their family, for the great outdoors and for adventure. Both of the brothers have an addiction to the adrenaline that is generated when they're dropped out in an out of the way place that is far away from available help to survive. They thrive in these situations and their addiction pushes them to keep looking for more intense challenges. It makes for good entertainment for their viewers and if you want to experience a rush, we recommend tuning in to their latest series "Code of the Wild."
5. The brothers teach us how to truly live life
Although Chris and Casey both share similar passions and they're both good in survival situations, each brings a unique set of skills and talents to the show. What's so exciting about watching them in action is that each seems to have a compensatory skill that complements the weakness of the other. This is what helps them to make their way out of tough situations unscathed. They know what it means to be alive because they're out there living life in one of the most real ways that a person can. They're testing their abilities as well as their reserve, and they're taking on the challenges of defying their limitations.
6. They're experts in different areas
The Keefers are professionals in their chosen vocation and each is equipped with a unique set of skills which makes them ideal for the new series. Casey is a history buff and he loves searching for clues that lead to evidence that will help to explain some of the mysteries that they are attempting to solve. Chris, on the other hand, is skilled in the use of technology and he uses this to help find the answers to the problems the brothers attempt to solve. They're fearless and they'll go almost anywhere that a good mystery exists and apply themselves to finding the answers and arriving at the truth.
7. We learn how to grow as individuals through the show
The new series has quite a few life lessons to teach viewers. The brothers Casey and Chris Keefer show us that if we want to experience personal growth on any level, it means that we have to place ourselves in situations where we are challenged. We take it to the limits and then push a little further to gain more knowledge, experience and sharpen our skills. When we expand outside of our current limitations, we experience growth and we shatter expectations by going far beyond no matter how trying the circumstances are.
8. They keep it authentic
We all know that there is a production crew involved in the Keefers' adventures, or it wouldn't be captured so well on film. They shared the fact that neither of them interacts with the production crew any more than is necessary. They want this to be authentic and real and according to Casey, "Faking it isn't in our DNA." They don't know what's coming and they want to keep it that way for the purity of the adventure.
9. There is a third Keefer brother
We also discovered that Chris and Casey have another brother. There are four years between Chris and Casey, but they have another brother who is younger than them. His name is Cody, but so far, he's not been a part of the duo's adventure team that we've seen.
10. They've featured women hunters on their previous show
The Keefers have huge respect for women in their occupation. They've featured some of them on the "Dropped" series. They shared that it's a pleasure to see women who are fearless and strong and that many of them have been instrumental in "paving the way" in the industry in which they work. Women are just as capable of doing the same kind of work and both brothers have a healthy respect for them. There's nothing sexist about the Keefer brothers.
Tell us what's wrong with this post? How could we improve it? :)
Let us improve this post!