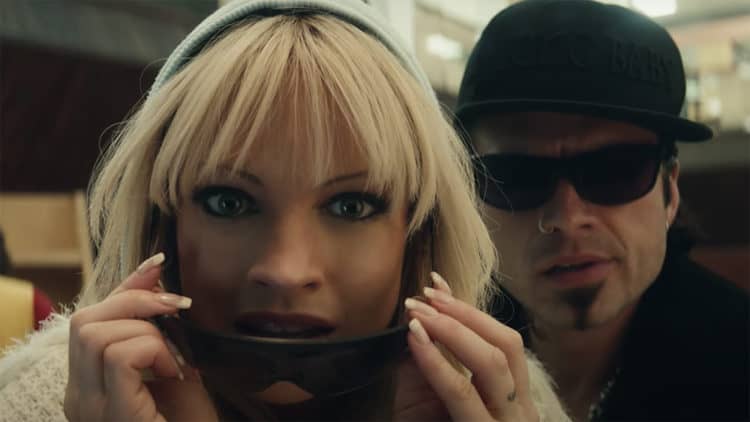 As one of the kingpins of streaming, Hulu remains the television destination for original programming. As the owners of such iconic shows as The Handmaid's Tale and the recent Pam and Tommy, it's obvious this platform knows how to crank out the hits (and keep them consistently coming–something Netflix has yet to accomplish). With such a large catalog of original shows, where is one to start? Luckily, I've compiled a list of Hulu's greatest TV hits, and based the recommendation on your star sign! With new hits and old classics, you're sure to find something that resonates with your astral energy; so, let's get into it!
Aries – Pam and Tommy
Aries, there's no way around it, this show is hot! Not just in the conventional sense, the drama, the real-life attachments, the infamy; it's all hot. As the original passion sign, you will live for all the drama, sex, and scandal that this show promises. Sebastian Stan and Lily James offer some remarkably good impersonations of two American icons; Pam and Tommy were the king and queen of White Trash America TM, so that's no small task. With outstanding support from Seth Rogan and Nick Offerman, you're not going to want to miss this one. Thank me later.
Taurus – Veronica Mars
Taurus, you love a good 'whodunnit'. If you haven't seen the original Veronica Mars, I'd highly recommend, but this new version feels fresh; matured in a way the original series couldn't begin to feel. Kristen Bell stuns as her breakout role, with all new mysteries, characters, and drama. You'll be on the edge of your seat, trying to solve the mystery before Veronica can; but rest assured, there's plenty of twists and turns in this narrative. You'll never see anything coming, and that's just the way you like it, Taurus.
Gemini – The Great
You love a period drama, don't you, Gemini? While there are a handful of those to choose from, especially residing on Netflix, but none can match the humor, intelligence, and off-beat charm that this show has. Revolving around the infamous Catherine the Great, this show follows her internal and external struggles inside the walls of the palace. Nick Hoult plays a completely unhinged king, and he's way better in this role than anyone cares to give him credit for. You'll love the drama of this show, all inside the backdrop of 'the golden age of regency' in Russia.
Cancer – Normal People
I can't lie to you, Cancer, this one is going to make you cry. Outside the fact that Daisy Edgar Jones is ridiculously talented, this show is so raw and real. Based off a book, it follows the relationship timeline of two high-school acquaintances. It's the ultimate friends-to-lovers-to-enemies-to-lovers arc that you've been searching for. Prepared to get overly invested in these characters, screaming at the TV when they barely miss each other. Grab those tissues, Cancer, you're going to need it; but a show has never been more worth it!
Leo – The Dropout
Leo, everyone knows that you have an issue with your ego and the way you're presented to the world. This show, following the infamous rise and downfall of Theranos, will immediately pique your interest. In the beginning, you truly want to root for our main character, but you'll watch as she slowly unhinges and spirals out of control. Amanda Seyfried is in top-form, giving an award-worthy performance. It'll have you checking your own ego, and wondering if you're really the hero of your own story; so be prepared for some introspection, Leo!
Virgo – Nine Perfect Strangers
Virgo, your expectations are high. It's not a bad thing (I mean, Beyoncé and Zendaya are both iconic Virgo's with high expectations), but it can make TV-watching difficult. You want something that speaks to you, tells an authentic story, and showcases actors at their best. Look no further than Nine Perfect Strangers, Virgo. With a star-studded cast, and an impressive amount of accolades and award nominations, this show is sure to give you everything you're looking for. The humor and charm will draw you in, while the mystery and intrigue will keep you hooked!
Libra – Catch-22
This is a bit of an older hit, I will admit, but that doesn't discount its brilliance and humor. As an air sign, Libra, you appreciate something with dark humor, that doesn't take itself too seriously. But, in contrast, you also enjoy a good drama with substance and backbone. This show, set against the backdrop of World War II aviators, is remarkably funny, especially considering the subject matter. Try not to get whiplash as this show darts back and forth between heartfelt, hilarious, horrifying, and harrowing. Truly, it dips its toes in every genre, able to give you a unique story from beginning to end.
Scorpio – The Handmaid's Tale
We saw this one coming, Scorpio. Dystopian, dramatic, and socio-political commentary? That's right up your alley. The show is able to expand on the book's canon, offering not only the drama and intensity that the books promised, but a fresh perspective that feels uncomfortably close to the world we live in. Watch as these women outsmart every man that tries to take advantage of them, chief among them being Offred (played by Elizabeth Moss). These women don't pull punches, and with proper support, they're able to turn this narrative on its head. Strap in for this one, Scorpio, it gets WILD.
Sagittarius – The Only Murders In The Building
Sag, I have to be honest with you, I don't like Selena Gomez as an actor. I really couldn't tell you why, she just doesn't stick out as a particularly skilled actor. But alongside Martin Short and Steve Martin, she proves to be remarkably funny and nuanced. It's an off-beat choice, much like you, and you'll revel in the genuine mystery and humor that this show has. You're known for being the most charismatic and sociable of the zodiac signs, so it makes sense to me that your recommendation is something as unique and indescribable as you are. Truly, there's no way to sum up this comedy-mystery, so just watch it; you can thank me later.
Capricorn – Castle Rock
You are a horror fan, Capricorn. You love a dark story, something that touches what other shows shy away from. Lizzy Caplan stuns in this Stephen King-inspired gem; giving a masterclass into a woman's descent into madness. It's eerie and raw right from the beginning, and you'll never see anything coming. This show isn't just stunning writing, it's visually and aesthetically stunning, something you care about a great deal (even if you won't admit it). Watch this one with the lights on, Capricorn, or beware of nightmares.
Aquarius – Letterkenny
You are such an odd bird, Aquarius; and I say that with so much love. No one can replicate your energy, and you revel in your individuality. This show is weird, hilarious, and completely off the beaten path of sitcom comedy; and you will love every second of it. It follows some endearing Canadian white trash and their escapades in a small town. You won't be able to look away from the awkwardness and oddity of this show, and you'll revel in the unique charm that these actors are able to conjure.
Pisces – Dopesick
You love to care about the story in your shows, Pisces. You'll be able to get behind this drama, which follows a doctor unraveling the secrets of the opioid crisis. You'll love the political commentary this show offers, taking a stiff stance against 'Big Pharma' and the like. Headlined by the incomparable Michael Keaton, this show is a wild ride from start to finish. With the support of kingpins like Rosario Dawson and Will Poulter, this show is unlike any I've seen; shedding light on a crisis that is often forgotten about in American history (a crisis that is currently still happening!).The Handmaid's Tale