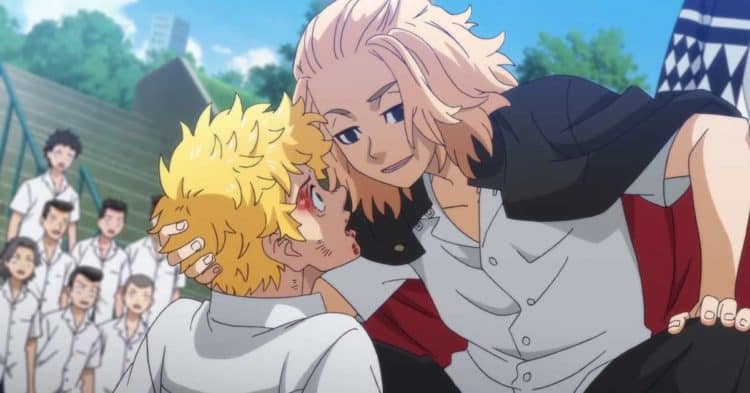 Tokyo Revengers episode 3, titled 'Resolve', is out now! Tokyo Revengers has been my favorite anime to look forward to every Saturday, and while I may have been a bit late with this last episode, I'm still here with a recap of what happened in episode 3 of Tokyo Revengers! When we left off last, Takemichi was taking on a supposedly big name in the Tokyo Manji Gang, Kiyomasa, as he was forced to interfere with their fight club in order to save his frail friend, Yamamoto Takuya. So what happened in Tokyo Revengers episode 3, and what questions do we have going into episode 4? I'm sure you probably already knew this, but since this is a recap, there will be some pretty heavy spoilers for episode 3 of Tokyo Revengers ahead, so if you don't want to know what happens…go watch (or read) it now!
Don't talk about Fight Club
As we left off last week with Takemichi about to get his face smashed in by Kiyomasa, we pick up with Tokyo Revengers episode 3 in just about the same place. In a desperate attempt to save Takuya from being beaten to a pulp and literally killed, Takemichi challenges the organizer of the Tokyo Manji Gang fight club himself, Kiyomasa, to a fight. His thinking in this, is that he will prove himself by challenging a higher level member of the Tokyo Manji Gang, in hopes of being able to meet one of the leaders to prevent the death of Hinata Tachibana, his girlfriend at the time. As expected, Takemichi gets the fight of his life and is nearly beaten to death, but refuses to give up, even after being beaten bloody and bruised. He then tells Kiyomasa that he'll have to kill him if he wants to beat him, because he's not going to give up on his own. That's when Kiyomasa orders his underlings to bring him his bat, which leaves the rest of the audience in shock as they were supposed to be fist fighting. Before anyone else can react, a voice comes from behind and everyone freezes – it's the Assistant Commander of the Tokyo Manji Gang, Ryuguji "Draken" Ken.
New friends
It turns out that Draken isn't alone, and has also brought with him the Commander of the Tokyo Manji Gang, Sano "Mikey" Manjiro to witness this fight club. Every single audience member bows in the presence of these two, including Kiyomasa, who is approached by Draken, who then delivers a devastating kick to the midsection, in an effort to force Kiyomasa to bow lower. Mikey approaches the terrible-looking Takemichi and claims that they are now friends, and then walks away, but not without confronting Kiyomasa first. He asks Kiyomasa if he's the one who is organizing these fight clubs, to which Kiyomasa tells him that he is, and after a moment's pause, Mikey delivers a swift kick to Kiyomasa's chin. The next day, both Mikey and Draken arrive to take Takemichi out of class after beating up a separate group of students. Takemichi tells them that he actually has plans for after school, because he's going on a date with Hina, but unfortunately, they don't seem to care. Just as they're about to take off with Takemichi, Hina storms into the hallway and slaps Mikey across the face, as she grabs Takemichi's arm and tells him to stop letting people bully him around. They start to walk away, but then Draken grabs Hina's arm and threatens her (not a great idea, Draken!) Takemichi turns around and puts his hand on Draken's shoulder and tells him to let go of her, even after Mikey comes up to beat him, he stands his ground and willingly gives his life to protect Hina. Mikey's fist stops just inches short of Takemichi's face as he exclaims that he was just kidding, and that it's good to stand up for what you believe in. After the situation between everyone is sorted out, and Hina apologizes for slapping Mikey, she goes back into class and the other three go off on their own adventure – a bike ride.
Not so fast and furious
I'm sure that we all thought that Mikey and Draken were going to drag Takemichi around to do their bidding or wreak some havoc across town, however, what they ended up doing was just going for a nice and peaceful bike ride, on which Mikey confesses that Takemichi reminds him of his older brother who has since passed away. He claims that his brother was always taking fights that he knew he couldn't win, but he never backed down from something he believed in, which is why delinquents are so misunderstood. Mikey sees a bit of this in Takemichi, and it's why he took a liking to him in the first place. Draken also tells Takemichi that it's good to fight for things that you can't give up on, because there aren't many people that are like that in the world. Takemichi decides that the leader of the Tokyo Manji Gang twelve years in the future can't be Mikey, because he's not actually a bad guy, and wouldn't lead them down the path that they are on in the future. The episode ends with Takemichi walking past the other leader of the future Tokyo Manji Gang, the villainous and evil Kisaki Tetta.
Overall, I thought that Tokyo Revengers episode 3 was surprisingly wholesome and I wasn't at all expecting to empathize with the leader of the Tokyo Manji Gang, but here we are. Hopefully the next episode follows up on that cliffhanger from last week!