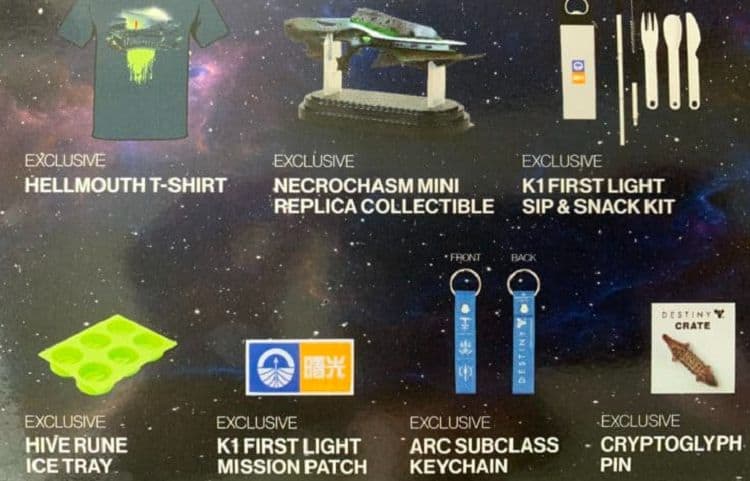 If you weren't previously aware, Loot Crate is a subscription based crate service that offers random and exclusive items with each crate. "Whether you're a gamer, anime fan or pop culture aficionado, we've got a crate for you! We curate a bundle of collectibles, apparel, figures & more that you can't find anywhere else! Crates get delivered to your door. It's like getting an awesome birthday present from a friend every month!" I've been a subscriber to the recently added "Destiny Crate" for the last couple of months now and I figured if you're thinking about subscribing to any Loot Crate, you might want to take a look and see what you're getting yourself into, so here's what you get with the Destiny 2 Moon Loot Crate! Keep in mind, you can't get this crate anymore, but this should provide you with a pretty good sense of what you may get in future crates.
Hellmouth T-Shirt
Each and every Destiny Loot Crate comes with an exclusive item of apparel, and in the Moon Loot Crate, this piece of apparel is a t-shirt that displays the Hellmouth, an underground fortress constructed by the Hive on the Moon. This is definitely the best piece of apparel that we've seen in the Destiny Loot Crates so far, as I wasn't a huge fan of the t-shirt that was included in the EDZ Crate nor was I crazy about the hoodie from the Europa Crate – it wasn't terrible, but it's just not really my style. However, I love the Hellmouth t-shirt, it's got some good colors on it, and I love the Destiny tricorn at the bottom.
Necrochasm Mini Replica Collectible
Next up, we've got a mini replica collectible of the famous Hive Auto Rifle from Destiny 1: Necrochasm. Necrochasm was a painstaking weapon to get in Destiny 1, specifically because it required a random drop item from the Crota's End Raid, called the "Crux of Crota." With the inclusion of this mini replica, this now leads to speculation that the Necrochasm may be returning to the world of Destiny with the upcoming Hive-based DLC, "The Witch Queen." While nothing is confirmed, I do think that there is a significant chance that we will see Necrochasm come back and be introduced into Destiny 2, because Bungie seems to be reintroducing plenty of famous Destiny 1 weapons in major expansions – at least where it makes sense. In Beyond Light, we saw the return of the Exo-Stranger as well as the No Time To Explain, which tied into the Stranger's storyline, so I could definitely see either Necrochasm or Touch of Malice returning in The Witch Queen.
K1 First Light Sip & Snack Kit
We now have the K1 First Light Sip & Snack Kit. I'm not entirely sure why this was included, I'm going to go with it's because Eris Morn probably needed something to eat while she was alone on the Moon, and she did go quite in depth about pineapples in the lore, so that's my answer. While it's a strange choice, I definitely do think that this is one of the few actually useful items that serves a purpose outside of being purely cosmetic. I hope that Loot Crate and Bungie continue to add items that have purpose and can actually be used on a day to day basis, rather than things that just sit on a shelf or a keychain, although I do still enjoy those every once in a while.
Hive Rune Ice Tray
Another thing that has been packed into this Destiny Loot Crate is an exclusive ice tray that allows you to mold your own Hive runes. This is another one of those things that has an actual purpose and I'm really happy about that, I think that this is a really cool and interesting item that will definitely see quite a bit of use, especially going into the summer. The one thing I wonder is why they chose to do two sets of three of the same runes, rather than six different runes? There are at least six different runes to choose from, so I wonder why they decided to only do three?
K1 First Light Mission Patch
Now we begin with the purely cosmetic items, with the K1 First Light Mission Patch. This patch is fine, I guess. It's kind of just a bit of a rectangle with a couple of symbols on it, and that's about it. I'm not particularly impressed with this one as much, though I also don't use patches at all, so if you enjoy using patches, then this might be perfect for you!
Stasis Subclass Keychain
So, this one is a bit of a strange situation; on the card that displays each item in the Loot Crate, this item is listed as "Arc Subclass Keychain" even though the image on the card clearly shows the Stasis subclasses, and the label also says "Stasis Subclass Keychain," so, clearly this was just a misprint, maybe we'll be getting an Arc subclass keychain in the Nessus crate? Either way, it's a Stasis subclass keychain – not Arc. I actually really enjoy this item, and I will be putting it on my car keys whenever I can find them!
Cryptoglyph Pin
Finally, we have the exclusive Cryptoglyph Pin that was introduced in the Shadowkeep expansion. This is one of my favorite Destiny pins that I've received and far outweighs any of the pins that I've gotten in previous Destiny Loot Crates. I'm not sure what I'm going to do with it, or where I'm going to put it, but I'll have to find somewhere good for this one.
Check back next time to find out what's in the Nessus Destiny Loot Crate!