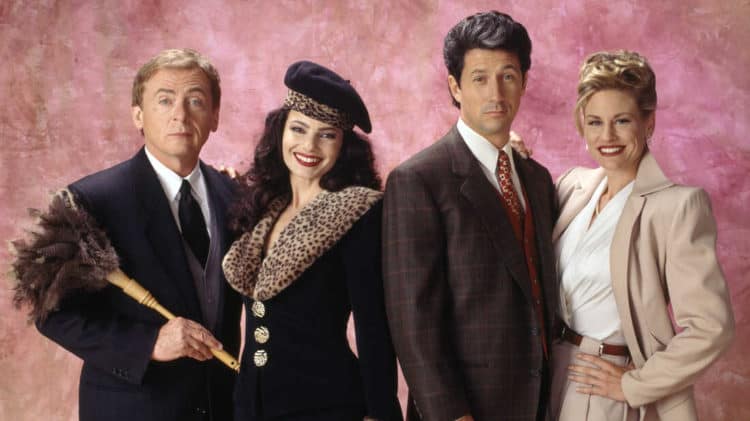 During the 1990s, The Nanny was one of the most popular sitcoms on the air. The series centered around Fran Fine (Fran Drescher) who was hired as a nanny for a wealthy family in New York City. Despite having no previous experience, Fran was excited about the opportunity and it didn't take long for her to become well-liked by the children she was looking after. However, Fran didn't fit in so easily with the rest of Sheffield's world, but she didn't seem to mind. Fran's character was a hit among viewers thanks to her confidence, sense of humor, and last but not least, her unique fashion sense. Although it's hard to believe, it's been more than 20 years since The Nanny aired its final episode, and many fans can't help but wonder what became of the beloved cast. Keep reading to find out whatever happened to the cast of The Nanny.
Fran Drescher as Fran Fine
Fran Drescher may have been the star of The Nanny, but what many people don't realize is that she was also the co-creator. She and her then-husband, Peter Marc Jacobson, came up with the idea for the show together and it was heavily inspired by Fran's real-life experiences growing up in Queens. Although Fran had been in the industry for 15 years prior to The Nanny, the series proved to be a major break for her. The success of the show turned her into a household name. Since the show's end in 1999, Fran has made several movie and TV appearances. That said, she is still most well known for playing Fran Fine. In 2005, she became the star of her own show Living with Fran which lasted until 2007. Some of her most recent credits include Indebted and Alone Together. Fans of her work will be happy to know that she will be reprising her voice role as Eunice in the upcoming movie, Hotel Transylvania: Transformania. On a personal note, Fran has also become well known for using her platform to stand up for the things she believes in including LGBTQ+ rights. Although Fran and Peter divorced in 1999, they have remained very good friends throughout the years.
Charles Shaughnessy as Maxwell Sheffield
Like his character in The Nanny, Charles Shaughnessy was born and raised in England. Before being cast in The Nanny, he had been in the entertainment industry for 10 years and he had appeared in several other popular shows including Mad About You and Murphy Brown. His role as Maxwell Sheffield took his career to the next level and opened the doors for many opportunities afterward. Charles has been a fixture on our screens since the show ended and he has been in a variety of movies in shows. In 2005, he even got the chance to work with Fran Drescher again as a cast member in Living with Fran. Charles' resume now includes more than 120 credits and there's no doubt that the list is going to grow in the future. Outside of acting, Charles is a devoted family man who has been married since 1983. He and his wife have two children together.
Daniel Davis as Niles
As the Sheffield's butler, it would've been easy for Niles to be the kind of character who faded into the background. However, Daniel Davis made sure that never happened. His commanding screen presence and comedic timing made him the perfect person to bring the character to life and he did a great job. After the show ended, Daniel continued to work in movies and TV. However, many of his roles since The Nanny have been on the smaller side. Daniel's last on-screen appearance was in 2020 and he doesn't appear to have any projects in the works. Unfortunately, Daniel doesn't appear to be active on social media so it's unclear what he has going on outside of acting.
Lauren Lane as C.C. Babcock
C.C. Babcock is easily one of the most memorable characters from The Nanny. As Maxwell's business partner, Lauren spent a lot of time in the Sheffield home. It was obvious to everyone except Mr. Sheffield that C.C. had more than platonic feelings for him. As a result, she wasn't a big fan of Fran living in the house. C.C. was known for her witty sense of humor and she and Niles shared many hilarious moments over the course of the series. Somewhat surprisingly, however, Lauren faded from the spotlight when the show ended and she hasn't made a TV appearance since 1999. However, it isn't because she didn't try. After The Nanny, her plan was to continue working in the entertainment industry. She even auditioned for a few things. However, she quickly realized that she wasn't really was casting directors were looking for. Lauren ultimately made the decision to leave the TV world behind. According to an article from Vice, "Lane packed up her life and moved to Austin to raise her daughter, and she's been there ever since. She became a tenured professor at Texas State University, and she returned to her first love of theater, including a recent 2021 virtual production with Louisville's Humana Festival of New American Plays." Those who want to keep up with Lane will be excited to know that she is active on Instagram. On top of that, she has an account on Cameo where she records personalized video shoutouts.
Nicholle Tom as Maggie Sheffield
During the 1990s, Nicholle Tom was one of the brightest young stars in the entertainment business. She rose to prominence in 1992 when she starred as Ryce in the movie Beethoven and The Nanny only helped to catapult her career even further. Most people expected to see a lot more of her when The Nanny ended, but that didn't end up happening. While she continued to act during the show, she never landed any roles quite as big as The Nanny or some of her previous projects. It's unclear what caused her career to slow down, but Nicholle seems totally fine with it. She's very active on Instagram and she also has a YouTube channel where she uploads a variety of content. Unfortunately for her fans, Nicholle doesn't appear to have any projects in the works. That said, we probably haven't seen the last of her yet.
Benjamin Salisbury as Brighton Sheffield
Benjamin Salisbury was a relatively unknown actor when he was cast as Brighton Sheffield in The Nanny. The show turned him into a popular young star, but like many people who spend a long time playing one character, it became hard for him to find opportunities afterward. He has only made a handful of on-screen appearances since 1999. We weren't able to find any information on why he seems to have kissed acting goodbye completely, but it looks like he's simply chosen to lead a 'regular' life. From what we can tell, Benjamin doesn't have any social media profiles so his personal life is a bit of a mystery. However, we do know that he has been married since 2006 and he has two children.
Madeline Zima as Grace Sheffield
Madeline Zima was just two years old when she got her start in the entertainment industry. It didn't take long for her to prove that she could do much more than just be a cute kid. Being cast as Grace Sheffield was her first major opportunity and she knocked it out of the park. Even though The Nanny is what put her on the map, it isn't the only thing Madeline is known for. She has continued to work consistently since the show's end and she has had significant roles in shows like Heroes and Californication. She has also been in movies such as Bombshell and Crazy Eyes. Outside of her acting, Madeline enjoys doing things like traveling and spending time outdoors. She is also passionate about using her platform to raise awareness to human rights issues such as the fights to end racism and police brutality.
Renée Taylor as Sylvia Fine
At this point in her career, I think it's safe to say that Renée Taylor is an acting legend. Her career has spanned the course of more than 60 years and she has been a part of several popular productions. Although she wasn't a main character in The Nanny, her character, Sylvia, left a lasting impression. Renée has continued to work and her post-Nanny years have been full of great opportunities. Although she is now in her late 80s, Renée is still working. In addition to what she's done in front of the camera, Renée is also a talented writer, director, and producer.
Rachel Chagall as Val Toriello
In The Nanny, Rachel played Val, Fran's best friend who was known for being somewhat of an airhead. She appeared in almost 80 episodes of the show, and she always brought plenty of comic relief whenever she was in front of the camera. Unfortunately, Rachel has only made four on-screen appearances since The Nanny was canceled. Her last role was in an episode of What I Like About You in 2006. Rachel doesn't appear to have any social media profiles, so we weren't able to find any additional information on her. Chances are, though, that she left acting to focus on her family.
Ann Morgan Guilbert as Yetta Rosenberg
Ann Morgan Guilbert started her on-screen career in the early 1960s and she was already well established by the time The Nanny came along. Her role as Fran's grandmother, Yetta, was a great addition to the cast. She continued to work sporadically after 1999. In fact, Ann worked all the way up until her death in 2016.
Tell us what's wrong with this post? How could we improve it? :)
Let us improve this post!