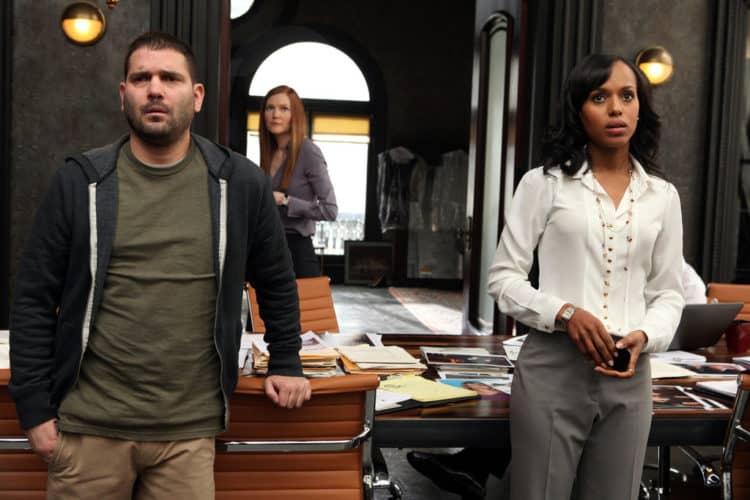 Shonda Rhimes is in many ways a television icon. For a while back there, Rhimes dominated Thursday nights with Scandal, Grey's Anatomy, and How to Get Away With Murder, and did it flawlessly through her production company, Shondaland. In conversation with Oprah Winfrey and Kerry Washington, Rhimes said of meeting the real Olivia Pope: " Betsy Beers, who is my producing partner, came to me and said, 'There's this woman named Judy Smith. You really have to meet her.' And I was like, ' I have two shows. I'm too busy…okay, we'll meet her for 15 minutes.' We sat down and we stopped talking, like, three and a half hours later." From that meeting, Rhimes and Judy created a behemoth of a show. Scandal premiered on ABC in April of 2012 and aired for seven seasons. Here's what the cast has been up to since:
1. Kerry Washington (Olivia Pope)
Emmy-Award winner Kerry Washington took the role of Olivia Pope and crushed it, making her one of television's highest-paid actresses to date. Since Scandal came to a halt, Washington has taken to work both behind and on screen, as an executive producer and an actress. She's appeared in a couple of films, including American Son, The Fight, The Prom, and is set to appear in The School for Good and Evil. On television, Washington played the role of Mia Warren in Little Fires Everywhere and appeared in an episode of Live in Front of a Studio Audience.
2. Tony Goldwyn (Fitzgerald Grant)
The Goldwyn and Washington chemistry on Scandal, though illicit, was undeniable, and perhaps one of the best we have seen on television so far. Goldwyn is set to appear in King Richard, an upcoming biopic based on the life of Richard Williams, father to tennis legends Serena and Venus Williams. On television, Goldwyn has portrayed roles in Outlaw Prophet, Chambers, Blue Sky Metropolis, and Lovecraft Country.
3. Scott Foley (Jake Ballard)
For the longest of times, Jake Ballard was Olivia Pope's backup. His was a life that had a tragic ending, both at work and with love. Since Scandal hang its boots, Foley has played the role of Will Chase in Whiskey Cavalier and portrayed Nick Blackburn in The Big Leap. He's also appeared as a judge and co-host on Ellen's Next Great Designer.
4. Bellamy Young (Mellie Grant)
Through the seasons, we saw Mellie Grant evolve from becoming a clingy and paranoid wife to a powerful president, teaming up with her ex-husband's former mistress. When she was done slaying the role, in real life Bellamy Young went on to voice Martha Kent in Superman: Man of Tomorrow. She also played the role of Jessica Whitly in Prodigal Son and appeared in episodes of Whiskey Cavalier and Heartstrings.
5. Guillermo Diaz ( Huck)
As Huck, the one who did the dirty work for Olivia, Guillermo Diaz did a phenomenal job. OPA without Huck wouldn't really be OPA. When the series wrapped up, Diaz appeared on episodes of Law & Order: Special Victims Unit, High Maintenance, and I Know This Much Is True. He also appeared as a judge on an episode of RuPaul's Drag Race and became a series regular on United We Fall, playing the role of Chuy.
6. Katie Lowes (Quinn Perkins)
As Quinn Perkins, Katie Lowes was Olivia Pope's next best bet. Once cynical about what it truly meant to be a gladiator, Perkins did just fine taking over OPA and giving it a new identity, Queen Perkins and Associates. This year, Lowes voiced Becky in Vivo. On television, she is set to make an appearance as a series regular in Inventing Anna.
7. Darby Stanchfield (Abby Whelan)
As Abby, we saw Darby Stanchfield transition from being at Olivia's beck and call to coming to her own, even biting the hand that fed her. Since the ending of Scandal, Darby Stanchfield has been booked and busy. She has appeared in three films; Justine, where she played the role of Alison Green, Stargirl, where she portrayed Gloria Borlock, and Mosquito, in which she is set to play Clementine Bell. On television, Stanchfield took a long break from the scene, and in 2020, she returned as Nina Locke in the supernatural horror drama Locke & Key.
8. Jeff Perry (Cyrus Beene)
Watching the friendship between Cyrus Beene and Olivia Pope evolve from affection to stone-cold rivalry proved one thing; in politics, there are no permanent enemies or friends. Jeff Perry played the role of Andrew Jennings in Lizzie, and that of Hurst in Trial by Fire. He also portrayed Michael O'Neil in Dirty John. Since 2018, Perry has been missing in action. He prefers to keep a low profile, as there are hardly any interviews of him. He joins the growing list of actors who are in it for the craft and not the sideshows that are part of the business.
9. Joe Morton (Rowan Pope)
As Rowan Pope, Joe Morton was a marvel to watch. His words of wisdom were delivered with utmost energy and passion that pierced through the screen. After wrapping up the series, Morton, whose career began in the early '70s, appeared in Godzilla: King of the Monsters. This year, he played the role of Silas Stone in Zack Snyder's Justice League. On television, Morton played the role of Reverend Arthur Finer in God Friended Me. He is also part of the main cast of Lee Daniel's Fall Drama, Our Kind of People.
10. Joshua Malina (David Rosen)
David Rosen often gave Olivia a run for her money. More often than not, their white hats crashed, with Olivia's white hat beating him to it every single time. In 2019, Malina appeared in an episode of The Good Doctor. A year later, he portrayed the role of Torsten in Perfect Harmony. The same year, he appeared on five episodes of Shameless and portrayed the role of Paul Hayden in FBI: Most Wanted. This year, Malina appeared in an episode of the NBC series This Is Us as a victim of a car crash. Deep down, however, if his Instagram is anything to go by, Malina hopes that by staring hard at the Washington Monument, he will land more political shows.
Tell us what's wrong with this post? How could we improve it? :)
Let us improve this post!