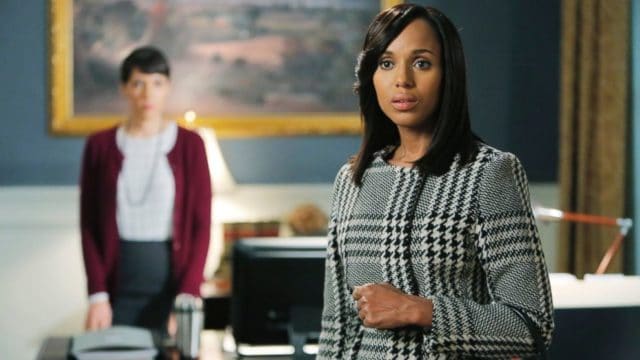 The new Scandal trailer tag-line is "All good things must end some day" and fans of Scandal are bracing themselves for the final season of Scandal this Fall. The Rhonda Rhimes hit TV show which stars Kerry Washington is due to air on October 5th on ABC. Fans of the shows, known as Gladiators are waiting in anticipation. Here are 5 predictions for Scandal Final Season.
Olivia and Fitz will make Jam in Vermont
Fitz has left for Vermont which has left us all wondering and brooding will those pair of star-crossed explosive lovers ever get together again. Will there be a happily ever after for the sizzling couple? Ever since Season one, fans have been rooting for President Fitzgerald Grant and Olivia. They complete each other a take each other towards the light. We predict that Olivia will, by the end of the season get to leave all the intrigue of Washington behind to go and live a simple life with the love of her life. And yes we predict she will make jam.
Olivia will don the White Hat Again
The Season opens will Olivia officially the most powerful woman in the world as the new head of the secretive Command taking over from her father the duplicitous Eli Pope. Cyrus asks how it feels to be the most powerful person in the world. "it feels right" is Pope's rejoinder. Fans are grappling with this new dark side Olivia Pope but we predict she will come full circle over the course of this season's episodes. Season 6 ended with us confused about who exactly was the big bad guy in Scandal. Was Luna the top dog definitive baddie, was it Cyrus, was Olivia's mother Maya, or are Peus and his minions the ultimate antagonist. Is it now Olivia? We expect her to turn to her better angels and don the White Gladiator's hat again before the Season Finale.
Mellie will rock as POTUS.
Following from the Season 6 inauguration footage we predict plenty of subtle jabs at the current real life president. We love how Scandal manages to combine pure escapism with some savvy commentary about the political world. Mellie is playing the first female president in the history of the USA and the wife of a fallen President, parallels to what was and what could have been are entirely unsurprising.
Huck will play a role in Quinn's baby's life
George Newbern the actor who plays Charlie , Quinn's baby father has been promoted to series regular so we can be confident that we'll see plenty of the ex-hit man from the lethal B613.He has stuck by Quinn through a lot and we see happiness for the pair. But no-one from OPA is likely to have a regular life. We forecast a role for Huck in Quinn's baby's life. Quinn and Huck share a deeper bond and have always had an intense relationship. We see a role for Huck in the baby's life and that of the baby mama. We're still holding a torch for those two.
Olivia will not be able to keep her hands off QPA.
Olivia has officially handed the reins of Olivia Pope Associates over to Quinn. Under Quinn's stewardship QPA must be set to try to thwart Olivia's diabolical plans to take over the world. Quinn over the years has demonstrated that she's no push over but we have to face facts. She's no Olivia Pope either. We can't wait to see what happens.
Gladiator can tune in on October the 5th for the new season of Scandal which promises intrigue and plot twists.
Tell us what's wrong with this post? How could we improve it? :)
Let us improve this post!