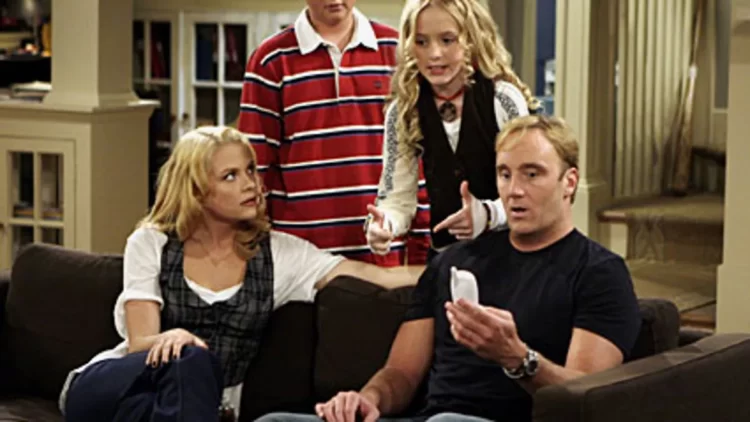 Gary Unmarried is an American sitcom that aired on CBS from 2008 to 2010. The show follows the life of Gary Brooks, a divorced father of two who struggles to navigate dating and co-parenting. Despite its title, the show is not overtly about divorce, but rather about the challenges and tribulations of modern life. The cast is led by Jay Mohr as Gary, Paula Marshall as his ex-wife, and Kurt Fuller as his best friend and business partner. The show was created by Bruce Helford and received mixed reviews during its run. However, it was praised for its humor and relatable situations. Gary Unmarried was canceled for a variety of reasons. The show's ratings had been declining for some time, and it was clear that the network was losing interest in the show. As a result, Gary Unmarried was canceled after two seasons. Its cast, however, have been able to move on to other projects, which have made them busy even after the show's cancellation. If you want to learn more about what the cast of Gary Unmarried has been up to since the show's cancellation, read ahead. Here's an update on the actors who appeared in the canceled CBS sitcom Gary Unmarried.
Jay Mohr
Jay Mohr played the titular Gary in Gary Unmarried, a divorced father. Mohr has been keeping busy since appearing in Gary Unmarried. In addition to hosting his own successful podcast, Mohr has also appeared in a number of TV shows and movies. He had a recurring role as Steven Royce in Suburgatory and has guest-starred in American Housewife, The Mick, and Ghost Adventures. He also starred in two standup specials: Jay Mohr: American Treasure and Jay Mohr: Altamont. With so many irons in the fire, it's clear that Jay Mohr is anything but retired.
Paula Marshall
Paula Marshall portrayed Gary's condescending ex-wife, Allison Brooks, on the TV sitcom Gary Unmarried. Since appearing in Gary Unmarried, Marshall has kept busy with a variety of different projects. In 2015, she appeared in the film Fathers & Daughters, and the following year she had a role in We Love You, Sally Carmichael!. In 2017, she appeared in the TV movie Malignant. Additionally, Marshall has had recurring roles on the TV series Murder in the First and Gortimer Gibbon's Life on Normal Street. Most recently, she has been appearing in the 2019 series Euphoria. She has also guest-starred on episodes of Modern Family and Walker. With such a diverse range of credits to her name, it's clear that Paula Marshall is a multifaceted talent.
Keegan-Michael Key
Keegan-Michael Key played the role of Curtis, a friend of Gary, in Gary Unmarried. Key has continued to appear in a variety of roles since his time on Gary Unmarried. In 2010, he had a role in the comedy film Due Date and also appeared in an episode of the television series Sons of Tucson. The following year, he had a part in the action film Hell Baby. He also had a recurring role on the television show Parks and Recreation. He recently had a lead role in the sitcom Friends from College, which was also cancelled. Overall, Keegan-Michael Key has kept busy with a variety of projects since appearing on Gary Unmarried. He has demonstrated his versatility as an actor by appearing in comedies, action movies, and television shows. Additionally, he is currently starring in Schmigadoon! and The Pentaverate.
Ryan Malgarini
Ryan Malgarini played Tom Brooks, Allison and Gary's son, in Gary Unmarried. Since appearing in Gary Unmarried, Ryan Malgarini has guest-starred in Fresh Off The Boat, Mom, Teen Wolf, and Resident Advisors. He has also appeared in the films Oliver Stoned and The Young Kieslowski, the latter of which remains his most prominent project. In an interview with Cinephiled, Ryan discussed his character and how audiences might see him: "The thing with Brian is that you can see he never does any of those things for a malicious reason. Most of the bad decisions you see him making in the film are done completely out of fear and immaturity. He's still figuring things out! I heard Kerem say the other day that no matter how many mistakes a character makes, the audience is always looking for ways to forgive that person. I think that's true."
Brooke D'Orsay
Brooke D'Orsay portrayed Sasha in the canceled TV series Gary Unmarried. After the show's cancellation, she played the role of Deb Dobkins in Drop Dead Diva and starred as Paige Collins in Royal Pains. D'Orsay has also appeared in Hallmark movies such as A Godwink Christmas: Second Chance, First Love, Beverly Hills Wedding, and A Dickens of a Holiday! Most recently, she appeared in an episode of the Netflix series Grace and Frankie. D'Orsay is a versatile actress who has demonstrated her talent for both comedic and dramatic roles. She is sure to continue to entertain audiences for many years to come.
Kathryn Newton
Kathryn Newton played Gary and Allison's daughter, Louise, in Gary Unmarried. Newton has been keeping busy since her days on Gary Unmarried. She has had a recurring role on Supernatural and starred in Big Little Lies and The Society. On film, Newton has appeared in Three Billboards Outside Ebbing, Missouri, Pokémon Detective Pikachu, and the upcoming Ant-Man and the Wasp: Quantumania. Newton is clearly a versatile actress, able to tackle both comedy and drama with ease. With a string of successful projects already under her belt, it seems clear that Kathryn Newton is doing just fine after her stint in Gary Unmarried.
Rob Riggle
Rob Riggle portrayed Mitch, Gary's half-brother and a former Marine, in Gary Unmarried. Like his former co-stars, Rob Riggle has kept busy since appearing in Gary Unmarried. He has had a recurring role as Gil Thorpe on the 20th Television sitcom Modern Family. He has also done voice work in UglyDolls, Henchmen, and The Ark and the Aardvark. Most recently, he has appeared in the film The War With Grandpa. Riggle is a talented comedian and actor who has demonstrated his range with the variety of projects he has taken on.