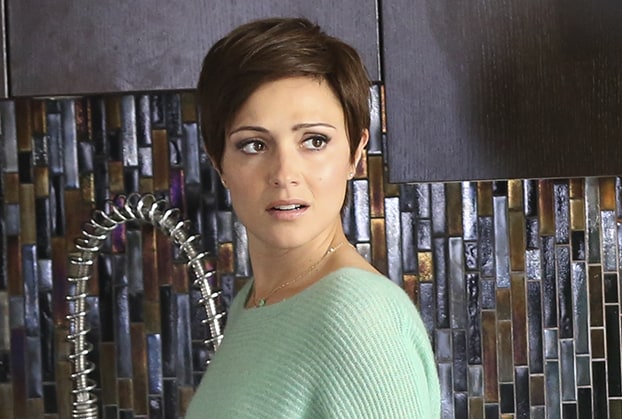 Life comes at us in a wide number of ways that we're hardly ever ready for and don't always manage to anticipate. Take Chasing Life for example, a promising young journalist is having the time of her life in her career when it's discovered that she has leukemia, something that few if any people ever manage to successfully fight for a prolonged period of time without feeling their life ebb away. When she finds out however she doesn't sink into despair for the rest of her life, she gets out and tries to life, chasing the rest of her life in a way that seeks to deny the disease and make the most out of the time she still has. It's easy to see how we all take life for granted as we expect there to be a next day, but when you're never certain if that next day will come you tend to chase every moment just to make sure you've lived it.
Here's what's happened to the cast.
Scott Michael Foster
Scott has stayed fairly busy and was even seen in another show during Chasing Life's run, when he played the role of Kristoff in Once Upon A Time. After that he went on to Blood & Oil and is now starring in My Crazy Ex-Girlfriend. He definitely has an affable nature that can come through in his characters and should see him continue his career in a very successful way. The chances are good that he'll remain a supporting character though unless he shows another level of acting he's hidden away to this point.
Mary Page Keller
Mary was one of the long-timers on the show that's been around for a good amount of time. Her career was pretty solid going in to the show and thinking on it now it should remain that way unless she's ready to hang it up or at least take it easier. So far since the show it seems that she's only been seen on Pretty Little Liars and not much else. If she does show up she'll be a welcome addition to any production.
Aisha hasn't had as long of a career as some but she's still managed to snag several roles that have helped to highlight her career to this date, and following Chasing Life she's also found three main roles in the past several years that have allowed her to elevate herself just enough to be noticed on a slightly grander scale in order to be considered for other roles.
Richard Brancatisano
Richard's career seems like it's been kind of hit and miss since the show but he's been sticking it out and still taking on roles here and there, finding at least one main role and showing up in various episodes so far. It could be that he's trying to decide which direction to move in or if he really wants to stick around. But all in all it seems as though a few people from the show might have hit a lull that they're attempting to bounce back from in a big way.
Haley Ramm
Haley has not been lax in her career in the least bit since she hit the ground running years ago and has been steadily moving forward the entire time. Her list of roles has been added to with each passing year in the manner of one looking to really put herself out there and find a way to get people to notice her in a positive light that shows just how hard of a worker she is and how talented she can be. She's managed to secure one main role since the show, while still showing up in episodes of other programs.
Looking at Italia's career is kind of like looking at something that has refused to settle for a quiet stab at greatness as she's been prevalent in some of the more noted shows and a few films in her career. She's obviously willing to work in order to get to where she wants to be, and has secured another main role in Designated Survivor following her show going off the air. The idea that she might stick around long enough to see an award or two come her way and possibly make it even bigger is something that fans might be willing to see.
The show was a good idea but it did kind of set itself up for a shortened run since the main character had a diagnosis that no one gets to escape and it would have had to end eventually. Unlike other shows this probably wouldn't have gone on well without the star since she was in fact the main point of the whole thing. At the very least though it was an insightful show that made people think.