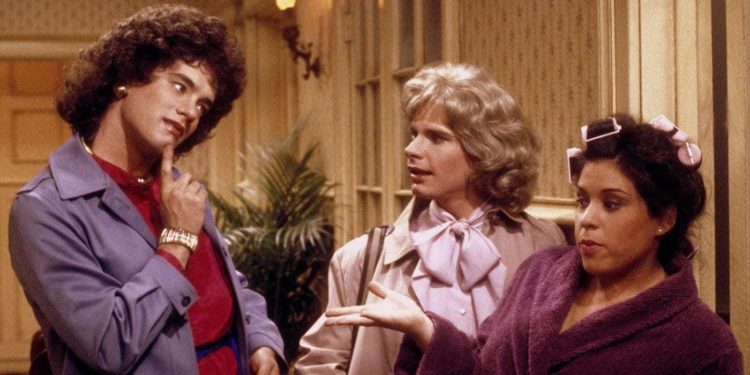 Not a lot of people know this, but Tom Hanks, before he became the legendary actor we now know him to be, starred in a short-lived sitcom in the '80s titled Bosom Buddies. The show, which ran from 1980 to 1982 on ABC, told the story of two struggling advertisers who disguised as women so they could continue living in the only apartment they could afford, which only allowed women. Bosom Buddies was known for its heavy use of improvisation. The show was actually well-received but did not survive the ratings game, getting the boot after only two seasons. Still, it continues to be known for its wit and unique storyline, as well as building the foundation for the careers of its stars. In fact, Tom Hanks says the show continues to be close to his heart, so much so that he reunited with the cast of the show in 2010. The Los Angeles Times wrote, "Instead of treating "Bosom Buddies" as a footnote best forgotten, Hanks embraced his past with open arms Saturday during a gleeful reunion with Scolari and the cast at Sony Studios for the "8th Annual TV Land Awards." It has been 40 years since the last episode of Bosom Buddies aired on TV. What has happened to its cast since the show was last on air?
Peter Scolari
Peter Scolari starred on Bosom Buddies as Henry Desmon, or Hildegarde when in drag. The actor appeared in the show for 37 episodes. After Bosom Buddies, Scolari played roles in TV shows like Remington Steele and Baby Makes Five. His first regular TV role after Bosom Buddies was Newhart, a sitcom that ran from 1984 to 1990 and starred Scolari alongside Bob Newhart, Mary Frann, and Jennifer Holmes. Scolari was nominated for an Emmy on his role in the show. After Newhart, Scolari portrayed characters in Gargoyles, Honey, I Shrunk The Kids: The TV Show, and Girls, for which he would win an Emmy for Best Supporting Actor in a Comedy Series. Sadly, Peter Scolari died last year of leukemia, a disease he had battled for two years.
Tom Hanks
Tom Hanks played Kip Wilson on Bosom Buddies. When he was in drag, his name was Buffy. Taking note of what has happened to Tom Hanks after Bosom Buddies would require an entire encyclopedia, but to summarize, Hanks went on to become one of the greatest Hollywood superstars of all time. More than 10 years after Bosom Buddies, Tom Hanks would win his very first Academy Award for Best Actor in Philadelphia, portraying HIV-positive lawyer Andrew Beckett. The following year, he would win another one in Forrest Gump, playing the titular character. Hanks would be involved in multiple major film projects, including the Toy Story franchise, Saving Private Ryan, You've Got Mail, and The Green Mile. Hanks is set to appear in an upcoming biopic this year, titled Elvis. He's also working on two movie projects, Asteroid City and Pinocchio. On TV, he's worked on projects like The Sixties, The Nineties, The Movies, and 1883. Late last year, in a tribute to his friend and Bosom Buddies costar Peter Scolari, Tom Hanks shared a tearful message, saying, "I don't know how many people truly do change your lives when you cross paths with them. But he and I met, we picked up the scripts and we started screwing around, and I actually thought, 'Oh, this is it. This is how this works. This is like a hand inside a glove.' Peter had, God bless him, I'll miss him every day," he said on Jimmy Kimmel Live!. "He had the body of a gymnast. I mean, like, a professional Cirque du Soleil gymnast. He could do, like, the iron triangle and stuff like that. He was a juggler."
Wendie Jo Sperber
Wendie Jo Sperber played Amy Cassidy on Bosom Buddies. After the show, she appeared in projects like Who's The Boss?, Parker Louis Can't Lose, and 8 Simple Rules. She also appeared in plenty of TV movies, including Back To The Future III, Desperate But Not Serious, and My Dinner With Jimi. Her last film appearance was in Take 22: Behind The Scenes of Sequestered. Wendie Jo Sperber died in 2005 of breast cancer at the young age of 47. Entertainment Weekly paid tribute to her on her death, writing, "She was Tom Hanks' galpal on Bosom Buddies and Marty McFly's sister in the Back to the Future series, and she popped up in a variety of guest spots on Will & Grace, Murphy Brown, and 8 Simple Rules. Her performances were characterized by her distinctive voice and acerbic delivery, but in life, she aimed for sincerity. After being diagnosed in 1997, she founded weSPARK, a cancer support center in Sherman Oaks, Calif." Tom Hanks paid tribute to her former costar, describing her as an inspiration. "The memory of Wendie Jo is that of a walking inspiration. She met the challenges of her illness with love, cheer, joy and altruism. We are going to miss her as surely as we are all better for knowing her."
Holland Taylor
A veteran film and TV actress, Holland Taylor portrayed Ruth Dunbar on Bosom Buddies. Holland has appeared in multiple notable projects after her days on set of the sitcom. She was in The Truman Show, Legally Blonde, and Gloria Bell. In 2020, she appeared in three films, To All The Boys: P.S. I Still Love You, Bill & Ted Face The Music, and The Stand In. On TV, she was most prominently known for her role as Evelyn Harper in Two And A Half Men. She also had recurring roles in Electric City and Mr. Mercedes. Most recently, she had a starring role in two Netflix hits, Hollywood and The Chair.
Donna Dixon
Donna Dixon played Kip's love interest Sonny Lumet on Bosom Buddies. Bosom Buddies is Dixon's first on-screen credit. She would go on to play roles in Who's The Boss?, Wayne's World, and most recently, 2020's The Twilight Zone. Dixon is married to legendary comedian Danny Aykroyd, who starred in Ghostbusters.
Telma Hopkins
Telma Hopkins portrayed hotel manager Isabelle Hammond in Bosom Buddies. She's appeared in TV shows like Psych, Dead To Me, and most recently, The Young and the Restless. On film, she appeared in The Matrix Resurrections.
Tell us what's wrong with this post? How could we improve it? :)
Let us improve this post!