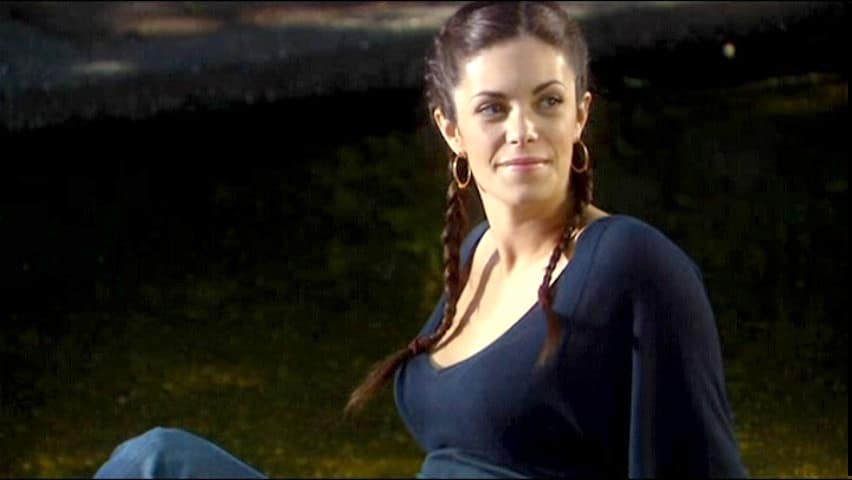 You might be shaking your head and asking 'who?' at this point but if you watch the movie Little Giants you'll get a better idea of who Shawna Waldron really is since back in 1994 she starred as Becky O'Shea, better known as Icebox. While she didn't go on to do much that was all that recognized she's been in the business since she was a kid and is still there today. She's taken on movie and TV projects and even been a producer on a couple of her own projects as she's continued to learn and make her presence felt in the industry. Looking at her back during her debut in Little Giants it's easy to admit that she was a cute kid even if she was given the whole 'tomboy' look and attitude that was perfect for a football-loving young lady that thought about nothing else and idolized her uncle, played by Ed O'Neill, who was a hometown hero and football star. As she grew up though Shawna definitely blossomed into a very attractive woman and at the age of 38 is a knockout that still isn't all that well-known in the industry. It's fair to say that there are many people that started out as child actors and didn't go much of anywhere, but at the very least Shawna has stuck in and continued to do what she loves to do.
Like a lot of people she got started in the business by acting in commercials and making her way up to the coveted spot that a lot of people would have loved to see their kids in since Little Giants might not have been the most celebrated movie but it was still inspirational enough to be touching and humorous. The gist of the story for those that don't know it or remember it is that in an attempt to make the town's pee wee football team, the Cowboys, Becky O'Shea believes that she has the edge not only because she's a heavy hitter as everyone knows, but also because her uncle is the coach. When she's left off the roster however Becky decides to form her own team with her father, who knows nothing about football, as the coach. Danny and Kevin O'Shea's rivalry goes back many years, and it becomes a matter of seeing which brother's team will win out at the end, as well as a chance for the rejects, those kids that didn't make the team and several others they recruit, to prove that they are in fact good enough to beat the Cowboys. At one point the question of Becky's blossoming womanhood actually becomes a weapon that her uncle intends to use to keep her from competing as he knows that she's the teams only real hope of winning, though this is thankfully done in a way that shows that Kevin cares about his niece no matter that he wants to win so badly. When it's game time however and Becky shows up in a cheerleader's outfit instead of her pads, the team loses hope and performs horribly throughout the first half, and only a pep talk from Danny is enough to get them back on the field. When the Giant's quarterback, a boy that Becky happens to like, is intentionally injured by one of the Cowboys she tosses her pom poms and rejoins the team, proving that she is the missing link but is also the added inspiration they need to surge forward and show the other team that they're tougher than they appear.
In a big way it's still easier to remember Shawna in the role of Becky because it was a great role and the one that catapulted her in the career she's currently in, but after that she kind of melted into the background as a lot of people lost sight of her. At this time she's still acting and she still has a sizable net worth that's nothing to scoff at, but it might be great to see her mount a comeback and make herself known in a manner that reminds people of who she is and what she's done throughout her life. It's easy to assume that folks might not equate the woman in the picture above with the image of the young lady in Little Giants since Shawna has done a lot of growing up in that time and she's no longer the tomboy that she started out as in the movies. What kind of a comeback she could make is up for debate since there's no telling what kind of project she'd prefer to attach herself to, but it does stand to reason that she could star in a wide variety of shows or movies if she so chose, as even when she was kid she had enough acting ability to be convincing.