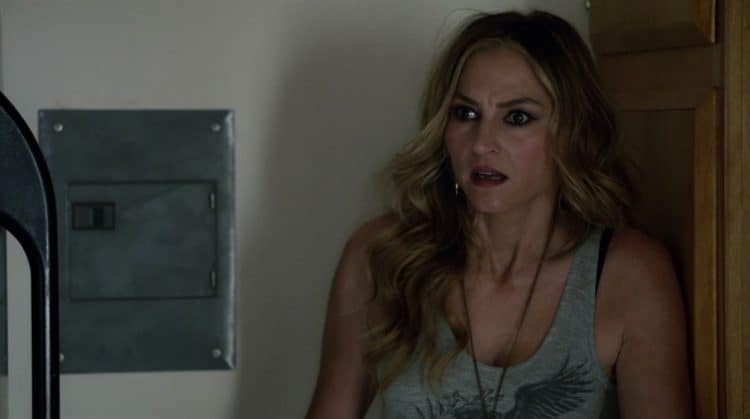 Drea de Matteo is a very recognizable face but it's fair to say that she kind of shows up in one great series and then kind of fades off for a while to guest star in other shows or appear in other projects that a lot of people don't know about and thereby kind of falls off the radar so to speak. She's been acting steadily since her time on The Sopranos, which was one of her more noted roles since a lot of people tuned into the show and helped it to become one of the most well-known shows on TV. But the fact is that she tends to find a role to stick with for a while and then moves on to guest-starring for a while until she can find another role that will sustain her for a while. It's not something that is totally unique since plenty of actors tend to lock themselves into big roles for a while or end up taking on one movie after another no matter if they're considered good or not, just so they can stay busy. Her time in the spotlight has almost never been seen as something that's bound to last but it might be for the best since while she's a great actress and can take on pretty much any role she needs to, Drea feels like one of the many actors that might get burned out after spending too long in a role.
One show that she went to that utilized her in a way that a lot of people might want to argue about when stating that it was effective or not was Sons of Anarchy. One could argue that she was introduced as an important character but then written off quickly for one reason or another since she was the original girlfriend of the lead character, Jax Teller, who was played by Charlie Hunnam. The character of Wendy was despised for a while since she was a junkie to start with and nearly died within the first season, which would have been doubly horrible since she was pregnant with Jax's son. But thankfully the show didn't decide to get that brutal and both she and the baby were saved, but Wendy's role in the show was pretty much vilified at that point. It's a little too obvious that SOA was more of a soap opera than a true look into a biker gang, but the fact is that Wendy was a character that was even more despised than many others within the show thanks to her actions. She would continue to show up now and then until the later seasons when she became more of a fixture, as she'd cleaned up at one point and finally wanted to be a part of her son's life, even if there was a huge issue that had to be dealt with. The fact that things were falling apart with the club at that time and that Jax was already with Tara made it plain that even if Wendy was back in the picture she still wasn't a character that many people trusted.
Apart from this, Drea has been taking part in several other shows and movies over the course of her career following The Sopranos, making it clear that she's someone that's willing to get in there and get the job, and then get it done. It's fair to say that not a lot has really stuck apart from the shows that have kept her on for a while, but it's also just as fair to say that she might be kind of selective on where she wants to end up. A lot of actors want to find a show that will feel right for their acting style and will offer them a role that they feel they can complete and give their own personal touch. Either Drea hasn't found that or she's been enjoying her time as someone that flits from one gig to another. It's hard to tell the motive of an actor without realizing what it is that they're looking for, but quite a few individuals tend to find a niche to fill over time, while some will continue to bounce around as it's what they've grown used to. Drea has proven that she can stick around and do a great job with a character when she's given the chance, especially since she can show a great amount of development and growth with a character, given that Wendy on SOA was kind of a waste of space in the beginning but by the end became a trustworthy individual that was trusted with Jax's kids, as they had few others that could have done any better. So to be fair, it's not surprising to see she's stuck around a couple of other shows in recent times since she definitely has the talent for it.
Tell us what's wrong with this post? How could we improve it? :)
Let us improve this post!