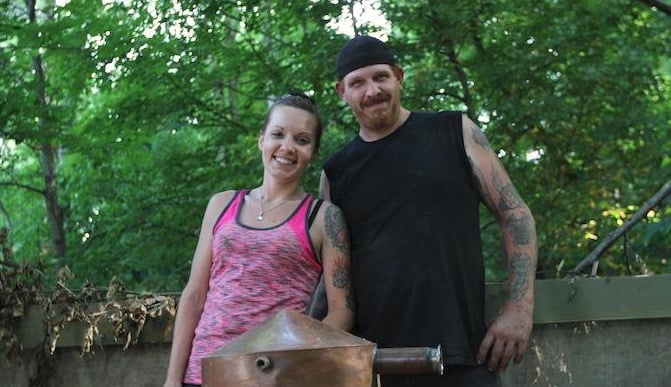 Before we go into that debate about how Moonshiner's is staged or fake again let's just put it out there that some of the 'shiners are actually getting out of the illegal portion of it and finally giving into Uncle Sam and giving their due, and two of them are Chico and Sondra, who've been working on something different for a little while now. As of right now it seems that they've stepped away from the show and are consumed with other matters in their lives that are taking precedent, such as being engaged, or married, it's hard to tell at this point. Plus, they've had a child, so that alone is going to be taking up a lot of their time. One thing you can count on though is that they're not out of the liquor business entirely as they've devised another way for making money since even if they keep up with the shine they're going to have to find something to make some steady money.
You could say the money they got from the show has kept them comfortable, but now that they have their own distillery it seems like things might be taking even more of an upturn as Chico has been doing his best to keep up with business and make sure that he's out there promoting the product and making sure that it sells. So far it seems that he's been banking on his presence on the show to make sure that the whiskey keeps flowing and people keep showing up to buy it as he and Sondra begin this new phase of their lives. The fact that they've gone legit almost makes it feel as though they might be out of the shine business altogether as keeping everything above board for their family might become a very serious priority. Some folks might still wonder whether the show was staged or not but even if it was and a lot of it was drama that was meant for reality TV, the idea is still pretty strong that moonshining is still illegal and could come with a great deal of trouble.
But as participants in the show might tell you the one thing that makes a big difference is that at the time they're filming the show law enforcement has no idea where to look for them, or it's at least assumed that they don't. By the time the show is all done and over with and aired on TV the shiners aren't bound to be sitting in the same spot they were at while filming. A lot of their stills might seem like it could take some time to break down and cart it off, but honestly these people have been doing this kind of thing for generations and know just what they're doing when it comes to avoiding the law. So real, faked, or just staged, the whole act is something that can be picked up and moved about as much as they need in order to make sure that they don't get caught. Plus, some of the old tricks that shiners used back in the day might still work in this day and age.
It could be that Sondra and Chico decided to pull out of the business from a moral standpoint considering that having a child now makes it seem less inviting to be in the moonshine business, or it could just be that there's simply too much to do. A big issue that shiners have always had with the government, and the reason why moonshine is illegal, is that the government wants their taxes, and the shiners of old and even now aren't willing to give them up for something that's their own creation. It's been a back and forth game of chase for a long, long time now, but it would appear that some of them have finally given up the ghost and gone legit, just as Chico and Sondra have done. Having a family does change your mind about a lot of things however, as many of us can attest to. Not only is being out in the woods with a baby less than ideal while making shine, it's also bound to make a lot of people stand on judgment about your behavior, which is less than important but is still a very possible reality.
All in all it would seem that they're not doing too bad at the moment as one thing that can be surmised is that people are always going to want alcohol, be it good or bad. One hopes that Chico can keep people interested in the product and deliver a truly fine whiskey to those that are in need of some well-crafted spirits. Maybe one day they'll be back, but for now they've got a lot to think about.
Tell us what's wrong with this post? How could we improve it? :)
Let us improve this post!