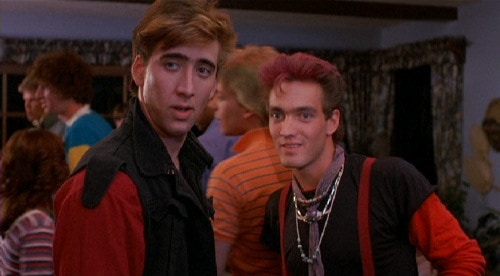 Cameron Dye is an American actor who also developed a singing profession. He is best known for his appearance in a 1983 movie titled "Valley Girl" as Fred. He looks a little different some 37 years later. If you were a fan of the movie and you're wondering whatever happened to this cast member, you're in the right place. He has gone on to enjoy a lot of successes and a few failures throughout the years. Here is what we know about Cameron Dye's personal and professional life since that time.
His early years
Dye made his debut acting appearance in 1982 as a soldier in the television series "M.A.S.H." He was off to a good start with several minor roles to jump-start his emerging career. He was a guy in a bar in the series "Cagney & Lacey" the same year, as well as Steve in "Voyagers." The following year he landed parts in the television series "CHiPs" and in the movie "Valley Girl." There was not a gap in his portfolio of acting gigs for the entire decade of the 1980s. He appeared in a host of television series including "Miami Vice," "Dirty Dancing," "In The Heat of the Night," "Houston Knights," "Dress Gray," "Shadow Chasers," CBS Schoolbreak" and "Double Trouble." Cameron Dye was also cast in multiple movie roles. He played Andy in the 1984 film "The Last Starfighter," and was Alan Holt in "Joy of Sex." He also appeared in roles in "Body Rock," "Fraternity Vacation," "Heated Vengeance," "Scenes from the Goldmine," "Stranded," "Out of the Dark," and "Nashville Beat."
His acting career has been stellar
Cameron Dye has remained active throughout the decades since the early 1980s. He's been involved in dozens of television series in both minor guest roles and in recurring parts. He has been booked solid and Dye has never had a problem landing a part as an actor. He has a total of 67 acting credits in his portfolio. Most recently, he's appeared in "The Milli Show," in 2017, in the film short "Pinebox" in 2018, and in 2019, in "The Get-Together," "You're a Good Manson, Charlie." For 2020, he's been involved in a few more projects. He's recently completed work for the film "Helliversity." "Mister Limbo" is currently in the post-production phase of development as well as his latest project, "Higher Places."
His Birthday
Dye was born on the 9th of April in 1959. He recently turned 61 years old. He is a native of New Orleans, Louisiana, but this isn't where he was raised. His family moved a lot when he was younger, but Dye eventually ended up in Millbrae, California where he attended high school. After graduating, he attended UCLA to study acting. In 1990, he married fellow actress Laura San Giacomo. The marriage lasted until 1998 and the couple had on son together whom they named Mason. Mason was born with cerebral palsy and this was a heartbreaking situation for the child. Dye also has another child with actress Tracy Middendorf, named Calvin. He's the dad of two.
He's also a stage actor
When you look at Cameron Dye's impressive acting portfolio it's obvious that he's kept very busy with a variety of movies and television series gigs. Although it's hard to imagine that he would have time for much else, he made the time to pursue similar passions within the acting profession. The is one of the founding members of a theatre troupe that is called The Actors' Gang. Dye has appeared in multiple stage performances for the company that he is part owner of.
He got good press for his music
Dye also attempted to launch a career in music. He was already a well-established actor, but this multi-talented entertainer had a lot to share with fans and audiences. His songs are featured in two of the films that he appeared in. The member of the Actor's Gang actually performed the songs that are heard in "The Apocalypse," and in "Scenes From The Goldmine." The soundtracks to these films were released and if you check them out you'll see that Cameron Dye is credited as being the singer on them. This wasn't dubbed over in either case.
He is doing very well financially
Dye has done remarkably well throughout his career as an actor and a singer. From all appearances, the singing aspect was more of a sideline because the majority of his time has been dedicated to appearing in multiple film and television genres throughout the past last three-plus decades. His current estimated net worth as of the spring of 2020 is at $13 million. He earned his living and fortune through his work as a very talented and resourceful actor. There isn't a time in his career when he went long in between jobs and he's still active in the business to this day.
Final thoughts
Cameron Dye is alive and well today and he continues to entertain his loyal fans and followers with appearances in movies and television series. He is currently the part-owner and occasional acting contributor to his own theatre. He's built a remarkable career in the profession of acting throughout the past several years and he is still going strong today. We have a few new projects to look forward to in the near future. It's uncertain when the new releases of his most recent finished projects will be released because of the standstill created by the recent Coronavirus pandemic. It seems that much is on hold these days, but the shut-down can't last forever and when the situation breaks, there are three more film projects that we can see Cameron Dye perform in, we hope within the near future. Cameron Dye is one to keep your eye on because his career is far from over.