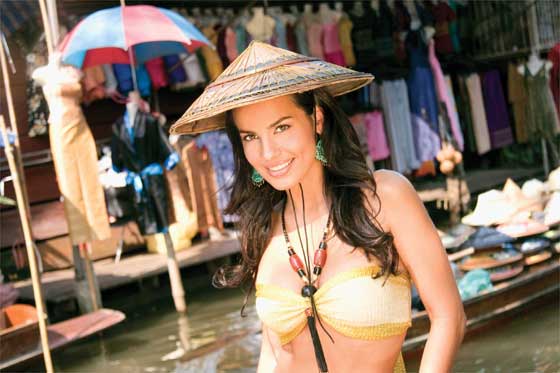 If you don't remember this show don't feel too bad. It was a hit for a while but eventually faded much like so many shows tend to do when their fan base decides to look elsewhere. During its run however it was fairly popular, but mostly because, well, it had very attractive hosts to bolster it for a time. Jules Asner, Brooke Burke, and Cindy Taylor all have their own sense of style and brought something to the show, but eventually it just wasn't enough to keep the interest of the public and it had to go.
Here's where the hosts from "Wild on E!" are now:

3. Jules Asner
Asner really hasn't been up to much since her stint on the show. She's written a book, starred in her own show titled Life & Style, and done some other work on television that was not entirely noteworthy but has still kept her busy. Out of the three hosts she was the first and least remembered. In truth she was another pretty face with talent, but on a show such as this it's a bit difficult get any real recognition unless it proves that it has at least some type of staying power. At times it was easier to believe it was the guest stars that made the show popular, while the host seemed to be more of a background fixture.
2. Brooke Burke
Fans were actually legitimately upset when Burke was replaced by Cindy Taylor in 2002, as it was believed Burke was THE star of the show and couldn't be replaced. Well that rumor was put to bed rather quickly. Since her stint on the show however she's been quite busy with being a mom, an entrepreneur, an actress, and fulfilling her many TV roles. Needless to say she hasn't really suffered since opting out of her spot on Wild On! and has even flourished in lieu of her hosting duties.
1. Cindy Taylor
So does anyone remember by now that the show was supposed to be focused on travel and not just the women that hosted it? If you don't then it's understandable considering that for much of the show audiences were allowed to ogle and perhaps even drool a bit over the women that were continually brought in to give the show its pep. Cindy Taylor was the last host of the show before it was finally cancelled, and since then has been fairly busy with cameos in major films and various TV roles. She's still keeping busy, but has kind of faded into the background in terms of her overall star power.
Conclusion
Whether or not you remember the show, it did air for several seasons after all, Wild On! was more of a stop-off point for the hosts than a true shot in the arm that their careers might have benefited from. To say that the show wasn't entirely popular isn't all that accurate, but to make the claim that it could have been a little more engaging is evidenced by its eventual cancellation.
Save
Tell us what's wrong with this post? How could we improve it? :)
Let us improve this post!