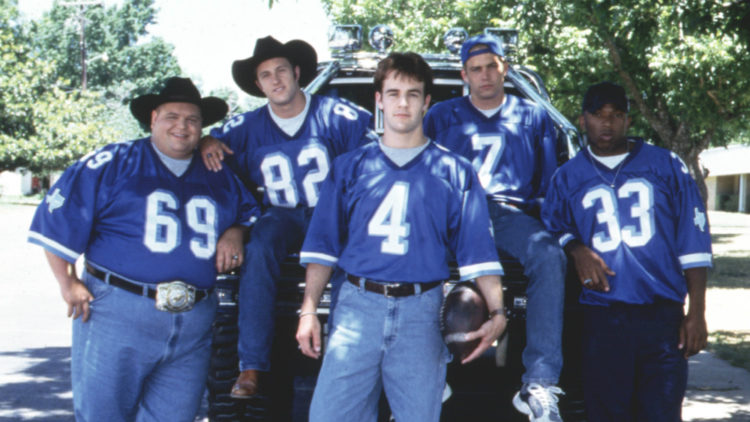 There are some things you just don't question about life depending on where you life. In Varsity Blues, football was a way of life for the characters and the town they lived in, and was meant to be taken seriously at all times, without fail. The harsh training methods, the continual emotional turmoil experienced by the players, and the absolute dedication shown during football season is what fanaticism is made of. A lot of us might know a town or city that is just as crazed when it comes time for football season, but we also know that some places do in fact make a habit of treating their star players with such deference that it becomes not unlike being a celebrity, as their ticket is bought and paid for the moment they touch that field and do something spectacular. Unfortunately there's always a price to be paid, and some guys come up short when it's time to move on.
Here's what the cast of Varsity Blues has been up to since the movie.
Jon Voight – Coach Bud Kilmer
Jon Voight is one of the best-known actors on this list since his resume extends well before and after the movie in a number of roles that have seen him turn heel as well as present himself as the good guy. As Coach Kilmer though he was one of the worst and showed that he could be the kind of guy that didn't care about anyone so long as they didn't wreck his chances of winning another championship.
Ron Lester – Billy Bob
Having been obese since childhood Ron had a gastric bypass and lost well over three hundred pounds. Unfortunately he suffered kidney and liver failure in 2017 and was put in hospice shortly after. His family requested that he be taken off life support not long after that, ending a career that was cut far too short it seems since he was such a beloved character.
Scott Caan – Charlie Tweeder
Tweeder was the kind of guy that did just about anything once so long as it seemed like fun. After the movie though Scott Caan stayed pretty busy, joining the Ocean's Eleven crew for a while and going on to star in the remake of Hawaii Five-O. He's still active to this day but the roles he's taken on have seen him mature quite a bit from his nuttier days in films like this.
Ali Larter – Darcy Sears
After this movie she moved on to projects like the Final Destination movies where she got to star in the first and second films. Then she would eventually make her way to the Resident Evil franchise, where she would stick around for a while and make her presence known . As Darcy she was kind of the tease of the movie, but as she matured Ali took on a lot more serious and powerful roles in which she was seen as more of an authority figure.
Amy Smart – Julie Harbor
Jules was that girl that was happy where she was and didn't seek to be known just because her brother was a star quarterback. Amy on the other hand has been in a long list of movies and has become very well known. From her time in Road Trip to Rat Race to The Butterfly Effect she's become a very well-known actress and someone that's reliable whenever she's cast into a role. She's still active but hasn't been seen in a lot of mainstream movies lately.
Eliel Swinton – Wendell Brown
Eliel actually was a football player that was well-respected in high school and went on to play for Stanford. He would then go on to play for the Kansas City Chiefs, but injuries kept him sidelined and eventually he went back to California to become a production assistant.
James Van Der Beek – John Moxon
James Van Der Beek is a very well-known individual and has done a wide array of pictures and TV appearances since Varsity Blues. One notable appearance came when he starred in an unauthorized video of the Power Rangers in which he played a disgraced Ranger that was attempting to find out where the Green Ranger had gone to. He's also given his voice talents over to the Disney cartoon, Vampireena.
Paul Walker – Lance Harbor
Paul Walker was a man that had a legacy building and was already a legend by the time the Fast and the Furious franchise had really gone anywhere. He was a teen idol at one point and he was fast on the way to becoming the kind of actor that most anyone would want for their movie. The tragedy that took his life was not only ironic in how it happened, it cut short a career and a life that could have done a lot more for the people around him.
It's sad to see tragedy affect those that made something so great, but thankfully they're going to be remembered for a very long time.