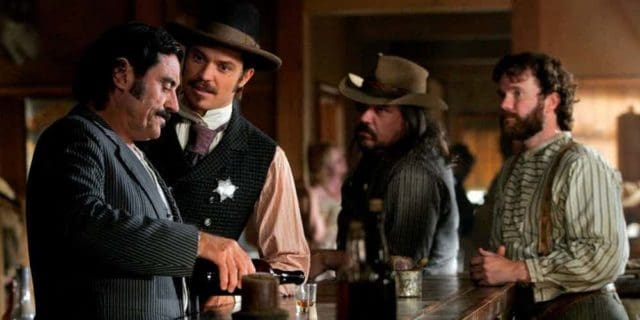 Deadwood was a place where, in the show, law comes only at the end of an argument, wherein the man, or woman, standing is the one who reaps the rewards of justice. That's a pretty way of saying that in Deadwood there was no real law when the show started, and there wasn't much of a law while it was running. Despite the increased use of profanity and the often brutal nature of the show people absolutely loved it. The all-star cast was another reason to truly get into the program since it offered up a wide variety of talent that has become kind of a benchmark for some shows that have been seen ever since. But perhaps the one biggest draw of Deadwood is that it took something that was real, mixed it in with fiction, and gave people something that was raw, real, and altogether horrifying in its delivery but still compelling in how it was handled. The rough life of the Old West is something that many directors love to pitch to people, but the follow through on it tends to get lost in translation at times. In Deadwood if you didn't understand then people didn't really care, the story would move on and things would continue to be every bit as brutal as they needed to be when it came to business as usual.
That kind of raw honesty in a show is hard to come by sometimes. But how did the cast fare after the show?
Anna Gunn – Martha Bullock
Anna already had a great career behind her but only a couple of years after this show it got a serious boost when she was cast in the blockbuster show Breaking Bad. From that point on no one had to ask who she was because as Skyler she was on everyone's mind. That show managed to take her to new heights that she'd likely never seen before. Her career since then has been just as rock solid as before, but lately it would appear that it's slowed down just a tad.
Powers Boothe – Cy Tolliver
One thing you can rely on Powers Boothe for, and have always been able to do so, is to offer some form of entertainment as the rough and tumble kind of guy that he seems to be. Even if he's not in a western he's bound to act like one of the toughest guys in the room, or at least the most authoritative. After Deadwood one of the biggest productions he was in was Hatfields & McCoys, the show that depicted one of America's most long-standing feuds in history. Sadly though, Powers passed away in 2017.
Kim Dickens – Joanie Stubbs
Kim has had an awesome career following Deadwood, as she's appeared in such shows as Sons of Anarchy, Fear the Walking Dead, and movies like The Blind Side and Gone Girl. She hasn't lacked for any work following Deadwood and so long as she can keep nabbing such great roles as she's had lately there doesn't look like any reason to think that she'll slow down.
Dayton Callie – Charlie Utter
This guy has had a very long career up to this point and after Deadwood two of his most notable appearances were as a main character in Sons of Anarchy and as a pivotal character in Fear the Walking Dead. Dayton has managed to play the role of the wise friend that never seems to be a full part of anything but is always considered to be valuable to everyone he talks to. He's kind of the outsider that became a part of the community in a way.
Brad Dourif – Doc Cochran
It's easier to say what this guy hasn't done than list all the things he has done. Brad has been a busy man throughout his career and if you don't recognize him as one of the many creepy guys that has shown up in TV shows and movies alike, then consider this, one of his most famous roles is the voice of a certain doll with orange hair and really bad temperament. If you really need it spelled out then you're not much of a horror fan.
Molly Parker – Alma Garret
Molly is another hard worker in Hollywood that's been seen all around in whatever role she can get. Thankfully however her acting talent is more than enough to make it seem that she deserves these many chances and she's convinced a lot of people, me included, that she is one of the best actresses out there to date. Her role in House of Cards and the movie 1922 were eye openers that proved she could do just about anything.
Timothy Olyphant – Seth Bullock
There's no real need to say it but I will anyway, Timothy Olyphant has been one of the biggest names in Hollywood for some time now. Ever since he came on the scene he's been one of the most sought after actors in Hollywood. Since Deadwood his career has only gone up and at this point he seems to have hit a slow spot, but it's bound to be just a brief hiatus as he continues to climb the ranks.
Ian McShane – Al Swearengen
Ian McShane is the kind of guy that you look to when you want someone that seems wise and yet is still capable of flying off the hook when he needs to. Since the show he's been keeping himself busy with projects like Death Race, Kung Fu Panda, and even an appearance on Game of Thrones.
So yes, every one of them has been doing quite well.