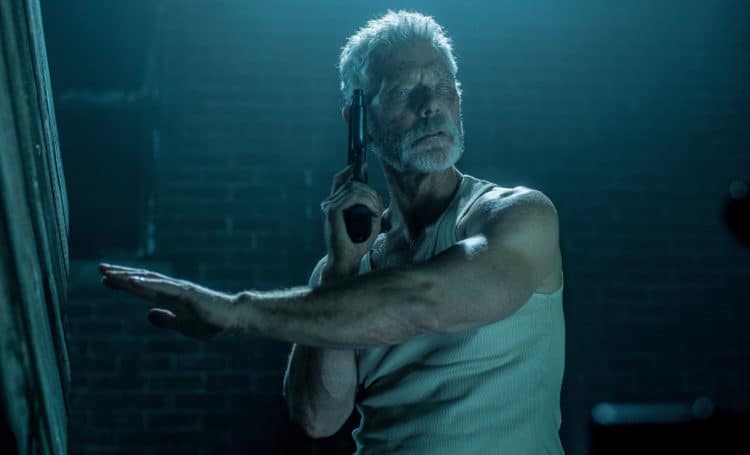 It's very easy to be torn when trying to reconcile how a person feels about the trailer to Don't Breathe 2 since for anyone that watched the first movie, they'd know that Norman was not an all-around good person. After all, he kept the woman that had ran over his daughter captive and had impregnated her so that she could give him another child. But there's not much excuse for the trio that broke into his house either, since, despite Rocky's desire to take her younger sister and escape her abusive mother, she was still a part of the break-in. To be sure, no one was in the right 100 percent in this movie, but seeing as how Rocky managed to get away after supposedly beating Norman and causing him to shoot himself, many probably thought she was the heroine. That's why Don't Breathe 2 might confuse a lot of people. After all, the newscast at the end of Don't Breathe did affirm that Norman had survived, and made it sound as though he'd defended himself against two burglars. That's not entirely inaccurate really, but obviously the full context couldn't be countered by anyone but Rocky, and she had no intention of sticking around.
But now that a second movie has emerged, and Norman appears to be the protagonist rather than the antagonist, one has to wonder what his game is and what the aim of the kidnappers might be. Mayhem already appears to be on the menu as the kidnappers don't appear as though they're going to be gentle in any way. But people are still confused and even kind of agitated when it comes to turning a supposed villain into what looks like a hero. It's nearly impossible to say that Norman was in the right in the first movie since he had a woman chained and pregnant after the courts couldn't deliver justice. One has to wonder just how long she'd been there and how a city-wide manhunt hadn't found her yet, but Norman's actions are still the most disturbing since imagining what the woman had to endure was all kinds of awful, even if she wasn't an innocent herself.
That's the whole thing with this movie and with the first one, there are varying degrees of guilt and innocence that mix and blend with one another in such a way that it makes it tough to decipher just who's really in the right and who's the worst evil in the room. Many would still likely point their finger at Norman because of what he did, and they wouldn't be wrong. But between Money, Rocky, and Alex from the first movie, there wasn't a completely innocent one among them, but many might have thought that Rocky was innocent because of her situation. Let's just say this, she took her lumps and made sacrifices to get what she wanted, and in the end, she came out the best of any of them. Norman, as twisted as he is and as faulty as the wiring in his head might be, still appears to be a different man in this next movie, as he seeks to protect instead of harm or torture, at least when it comes to the kidnappers.
But what's really twisted is that the kidnappers appear to know Norman or something about his past. And while the sequel looks to bring about a bit of redemption for the blind man one can't help but wonder just how this happened and why, and whether Norman has been exorcising the demons of his past while taking care of the young girl in the trailer. So far it does look like a revenge tale, plain and simple, since not only does Norman get beaten, but his house is torched as well. This is one of those odd stories where there are no unsullied heroes and the bad guys only appear to get worse with each movie since the trio in the first movie wasn't as horrible as they could be, but this was because Norman was already bad enough. The conflicting feelings that come when thinking about this story are somehow comforting since there's more of an effort to balance out the characters which creates real tension and makes it clear that there will be no clear dividing line between good and evil.
Those that like everything to be neat and tidy within a movie and wrapped up with a bow at the end might feel a bit anxious when watching this movie and even the first one since none of it is neat and tidy and there's no real way to say who's in the right and who was completely in the wrong. Some will do their best to justify their answers and move on, but there's always going to be that small echo of doubt, and that's what makes a story worth the effort, especially in this case.