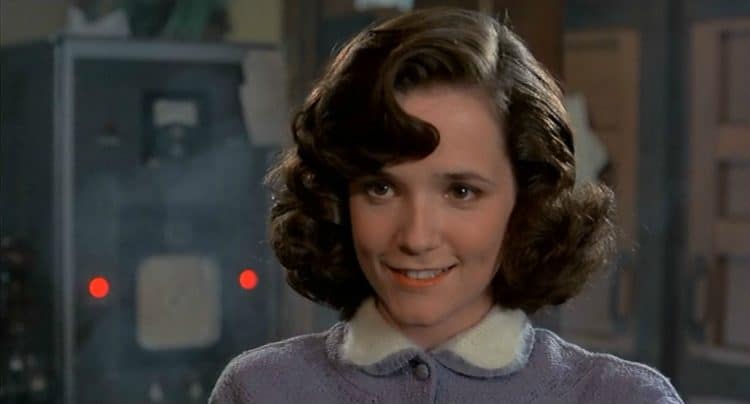 Lea Thompson has had quite a run as an actress and has also had some interesting roles throughout her career. She could play the doe-eyed teenager or the hardened fighter fairly well and has always been able to make people believe in her character to the point that she actually becomes that character in their minds. The reality beyond the screen is quite different most times since she seems like a very different person when she's not acting. That level of skill however has done her well in her later years just as it did in the 80s when she was still a young woman. Back then she was something of a heartthrob but still more like the girl next door rather than the exotic beauty that men fantasized over in their dreams. She was for the most part the wild and spirited young lady that caught peoples' attention simply because she knew how to bat her eyes and act the part she was given.
Here are some of her best performances in the 80s.
5. Howard the Duck
So many people have had a lot of different opinions about this movie that it's a wonder that it hasn't been remade yet just to refresh the rumor mills and gossip rags. Howard did have a cameo appearance in the post credits of the MCU but it hasn't gone much further than that. In fact the rumors that he might come back still seem to be just that for the most part, rumors. Lea however was the love interest in this story that, to some, was kind of awkward and more than a little disturbing since the idea of a humanoid duck and a human female getting together in this manner was a bit, strange.
4. All the Right Moves
It's easy to forget that Tom Cruise has been acting for a long time, at least until you see him as a young man in his prime in some movies. He and Lea Thompson were a great pair in this movie that was about a small-town football player that wanted to get out and see the world rather than being tied down as the rest of his family was. This caused a lot of tension obviously since his family was big into the tradition of working in the nearby steel mill and weren't bound to change. In movies like this it's noted that small towns and small town-living sometimes doesn't allow for a bigger worldview that can offer so much more.
3. Red Dawn
This movie played a lot on the effect of the Cold War and what it might mean if foreign invaders started moving in on the USA's turf. Obviously this representation was meant to catch America off guard by allowing the invaders to attack civilian targets which is seemingly a big no-no in many ways. Unfortunately it proves effective until the Wolverines start making their presence known, fighting back in an effort to show the foreign invaders that they're not going to take the desecration of their home lying down. Some people took this movie pretty seriously while others took it as it was, entertainment.
Being the object of someone's affection when they've got someone that loves them but can't fully admit it to that person's face is kind of an oblivious role it would seem. But throughout the movie it comes to the attention of the main character, played by Eric Stoltz, that he's going about things all wrong and that Lea Thompson's character is a desire, not necessarily a need. So when he finally regains his senses and falls for the friend that has been silently watching and has had his back for so long it's a nice ending since it shows that sometimes what we really needed was in front of us the whole time.
1. Back to the Future
Imagine your mother telling you that she didn't want you hanging around with girls that would go camping with you, spend time riding in cars, or seemed too loose for their liking. Then you get to go back in time and find out just why your mother would say such things. Lorraine was obviously kind of a wild child when her parents weren't looking and unfortunately her son got to find out up close and personal, thankfully though it didn't go that far since the feeling of not being right did manage to stop her after the first kiss. But to think of being warned away from fast women by a woman that used to be one is kind of funny and ironic in a way.
Lea Thompson is still one of the greatest actresses around since she knows how to get the audience on her side or turn them against her with just a few words and a lot of attitude.