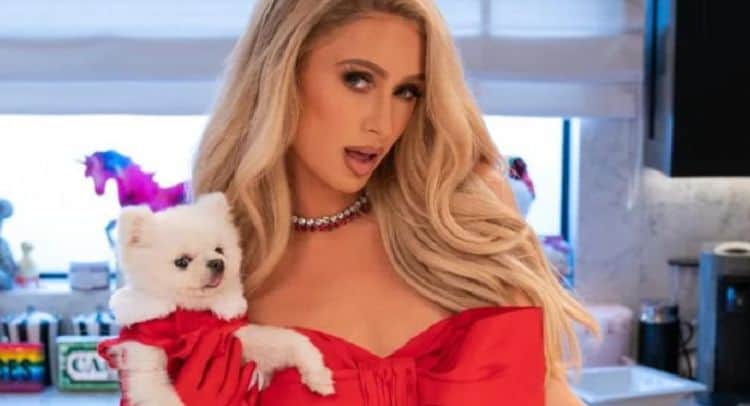 Does anyone get the feeling that Paris Hilton simply gets bored being rich all day? Yeah, real-world problems, right? Anyway, now she's apparently taken it upon herself to host a cooking show, or rather a chance for her and a few famous friends to giggle and cavort about the kitchen in their finery, getting feathers in the food and diamonds in the burgers while making it clear that while anyone can cook, some folks probably shouldn't. Imagining that seeing her in the kitchen is a common thing isn't hard, but imagining that she knows how to do more than turn on an appliance is kind of difficult since unless she's getting a snack or just strolling through this feels like a part of her home that Paris might not see much of considering that she likely has staff for this. As for her guests, it's likely the same, but one would hope when the cameras are off and they don't have to play the ditzy stars any longer that they would at least be able to zest a lemon without needing to ask Siri.
Oh yes, the jokes and putdowns could come fast and furious with this one since the idea of Paris doing much more than trying to sing or saying that things are hot is kind of a horrifying proposition. For someone that's known for frequenting nightclubs and trying to get people to believe that her ditzy blonde persona is just an act, spending more than a few moments in the kitchen is likely one of the most unbelievable things she's ever done, and this woman has actually acted in a couple of movies. If ever there was a time when a show might need to be canceled after one season, or before the season was up, this would be it, since not only is this kind of an affront to the senses, it's something that sounds even more repellent than the meals that are likely to come out of this kitchen.
It's not necessarily the hate for Paris Hilton that might drive people to say something about this show, it's the fact that there's really no work put into this, as it looks very much like an attempt of a very rich and extremely bored socialite to do something fun with her friends that have little to no value to the society she's pushing it on. Granted, some folks are going to find this funny and would tell others that don't like it to back off and not watch it. That's simple enough, and it's a good bet that plenty of people will do just this since whether she's intelligent or not, Paris Hilton has done plenty in her career to making it clear that even if she is smart she's not wise. The idea that she's written a book, started up her own business and done everything she has on her own not only sounds erroneous but is highly suspect since, like many that have inherited wealth, she's never had to struggle with adversity a day in her life. Had anything she's ever done flop, like her music career, she can lean back on the family fortune and keep trying until she gets bored again or gets it right.
This show kind of makes it feel as though she's hit 40 and realizes that if she wants to continue her time in the public eye then she's going to have to do something wild and outlandish to get the peoples' attention again since a lot of folks have grown tired of her over the years. It's not a love for cooking or even a smidgen of talent that's driving this show, it's the spectacle of it, and this is likely why people are going to flock to the show to see if she makes a fool of herself for her audience before passing it off as 'hot' or if she's, well, just going to make a fool out of herself. It's easier not to watch and remind ourselves that Paris is someone that was allowed to affect how people think and become a famous name, but again, there's a lot of belief that she's not quite as big of a deal as she's made people believe.
It will be interesting to see if Netflix will want to continue with this idea for a season 2 or if they'll do the reasonable thing, which is let Paris have her fun for a season before dropping her like a bad habit, which they're wont to do anyway with many shows. If they do end up keeping her on there's a couple of reasons that people would guess at, and neither one of them is because she has talent or even a clue as to how to entertain people. Seriously, there are a LOT of other shows on Netflix, pick wisely.