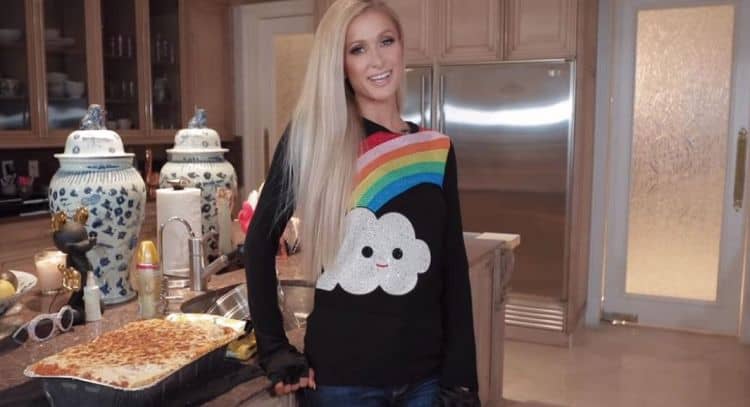 If you were around during the early and mid-2000s, you remember the days when Paris Hilton was the It Girl. Initially best known for her family's hotel dynasty, Paris got a lot of attention for attending various events and being the life of the party. But it didn't take long for her to show people that there was more to her than that. Often credited with being one of the first reality TV stars, Paris showed the world that she was much more than a socialite – she also knew how to create entertaining content.
Although a lot has changed since Paris first entered the spotlight, she hasn't lost her ability to grab people's attention, and her upcoming series, Cooking With Paris, is proof. The show, which will be released on Netflix on August 4, 2021, puts a unique spin on the classic cooking show. Paris may not be a professionally trained chef, but she isn't going to let that stop her from doing her thing in the kitchen. Cooking shows have a reputation for being somewhat intense, but viewers can rest assured that Cooking With Paris is going to be lighthearted. Keep reading to learn more about Cooking With Paris.
1. She Doesn't Really Know How To Cook
There are lots of people who didn't attend culinary school who are very talented in the kitchen, but Paris isn't one of them. Not only is she not a trained chef, but she isn't that great of a cook in general. Hopefully, however, she'll develop some skills along the way during the show. Realistically, she probably doesn't spend much time in the kitchen since she can easily afford to have someone else cook all of her meals for her. That, however, is part of what makes Cooking With Paris so fun. During the show, viewers will get the chance to follow Paris throughout the entire cooking process including her trip to the store to pick up the ingredients.
2. The Show Was Inspired By A YouTube Video
Some people may think the idea of Paris having a cooking show come out of nowhere, but it's actually not that random. Apparently, Paris has been thinking of doing a cooking show for a while. In January of 2020, Paris released a video on her YouTube channel titled "Cooking with Paris". In the video, she showed her subscribers how she makes her "famous lasagna". Despite her lack of cooking expertise, lots of people fell in love with the video and even felt that it was surprisingly relatable. This video has gotten more than five million views and eventually became the inspiration for the Netflix series.
3. The Show Will Feature Celebrity Appearances
Paris Hilton may be the star of the show, but she isn't the big-name viewers will get the chance to see. Paris' famous friends will also be joining her on the show to offer had guidance as she navigates around the kitchen. At the moment, there doesn't seem to be any information on who will be visiting the show. However, since we know that Paris has some pretty popular friends, it'll be cool to see who she decides to invite. Plus, there's no doubt that whoever she brings on the show is certainly going to add to the entertainment value.
4. She Will Be Cooking A Variety Of Things
Many people who like to cook tend to specialize in specific dishes, but that won't be the vibe on Cooking With Paris. Throughout the season, viewers will get the chance to see her make all sorts of different dishes. Unfortunately, though, she hasn't yet revealed exactly what kinds of things she'll be making. This will definitely put Paris' skills to the test and it's perfect to attract a wide audience. Viewers might also find themselves getting some new ideas for their own meals thanks to Paris.
5. Paris Is Also Working On Writing A Cookbook
If you thought Paris' time in the kitchen was going to stop with her TV show, you thought wrong. She plans to take things a step further by releasing her own cookbook. Although she announced that the book is in the works, there aren't any details on the kinds of recipes it will include or when it will be released. Paris has written a few other books over the years, but this would be her first time doing a cookbook. Since Paris is a pretty business savvy person, she is likely going to continue to find opportunities for herself in the cooking space. Maybe one day we'll even see her on a cooking competition show.
Tell us what's wrong with this post? How could we improve it? :)
Let us improve this post!