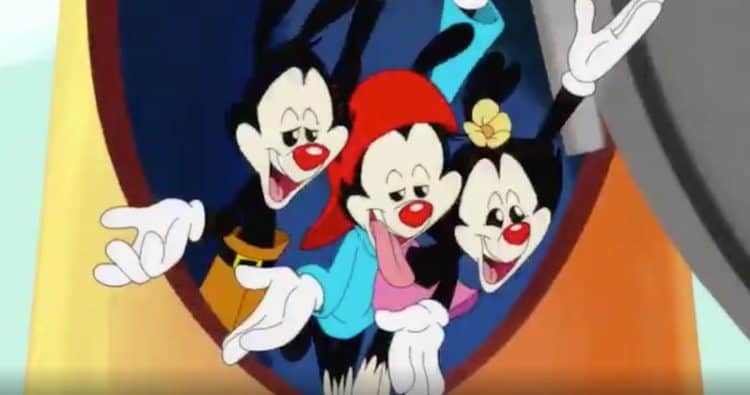 One question that any fan of the Animaniacs should be asking at this point is whether or not the show is going to be the same as it was when it first aired, or will there be a lot of changes that someone felt 'had' to be made? Let's be honest and say it this way, the Animaniacs took the same route as Looney Tunes from back in the day without going TOO far, since their humor was based upon many different time periods and went a little fringe at times, meaning it passed beyond the scope of the average kid that was watching the show and referenced movies and TV shows that a lot of kids probably hadn't watched at that point in their lives. Many adults probably understood a good deal of the content that was being displayed, and where the show managed to get it from, but when it comes to humor, the Animaniacs were always hilarious, but some of their content was taken and modified from sources that are anything but kid-friendly. This time around though it's easy to ask whether or not the humor is going to be the same or if PC practices are going to hamper the humor a bit when it comes to the overall material.
🎉 HAPPY BIRTHDAY ANIMANIACS! 🎉

To celebrate the 27th anniversary of the original series premiere, we're giving you a special behind-the-scenes look of your favorite voice cast at work.

Stream brand new episodes of #Animaniacs on November 20th, only on Hulu! pic.twitter.com/CQSIQo1lq2

— Hulu (@hulu) September 13, 2020
Steven Spielberg will be producing this reboot and we can expect to see Yakko, Wakko, and Dot this coming November, and it does sound like we'll be seeing Pinky and the Brain as well, and hopefully many of the other characters that made the cartoon so great. But considering the kind of humor that the show was known for back in the 90s it is fair to say that some things might change simply because the attitudes toward certain aspects that the show presented have changed. The whole idea of "Hello Nurse!", a phrase that was shouted by Yakko and Wakko quite often, might change simply because someone finds it offensive, but if it stays the same then it'd be nice to see. It's also easy to wonder if certain other characters will come back such as Slappy the Squirrel and the Goodfeather pigeons will return since they were also kind of fringe at times since they dealt with other matters in their own cartoons that some people might see as problematic. The issue that people have with animated shows though is kind of a silly point since not only are cartoons meant to be silly and over the top, but it's up to parents, not the cartoons or those that make them, to remind kids of what's real and what's not. So far with the Looney Tunes, it's already been seen that Yosemite Sam and Elmer have had their firearms taken away from them because heaven forbid cartoon violence lead to real-life violence. That might not be the only reason, but pleasing the mobs that want to dampen the joy of a cartoon series is beyond ridiculous.
The number of different issues and subjects that were taken on during the Animaniacs were usually covered with the maximum amount of humor, just like the Looney Tunes, since laughter and hilarity were what they were all about. An episode in which Wakko was given a performance by a clown for his birthday was hilarious since Wakko was deathly afraid of clowns. Imagine if Warner Bros. allowed a Pennywise moment to slip in there how funny it might be, especially since Wakko might prove to be more than even the infamous demon clown might be able to take given the fact that the Warner's have shown themselves to be among the craziest toons on TV at times. That's the point of the Animaniacs though, they take pretty much anything they come into contact with and make fun of it in a way that has people rolling by the time the episode is done. There's little to no heartfelt moments on this show since every second is taken up with laughter and the ability to make people's jaws hurt from laughing so hard. Yes, there were definitely moments when one cartoon or another poked fun at a subject that might have felt a bit taboo, but like all comedy, the moment continued onward and people didn't give the idea a second look since there was no need. Comedy is about being able to go fringe and come back after all, and if a person doesn't like it they don't need to watch.
It's been a little over two decades now since the Animaniacs was on the air, but it's fair to say that a lot of people are going to be more than welcoming when they return. Out of the many different cartoons that have been seen as popular over the years this feels like one that was slightly underrated, but always insanely funny.