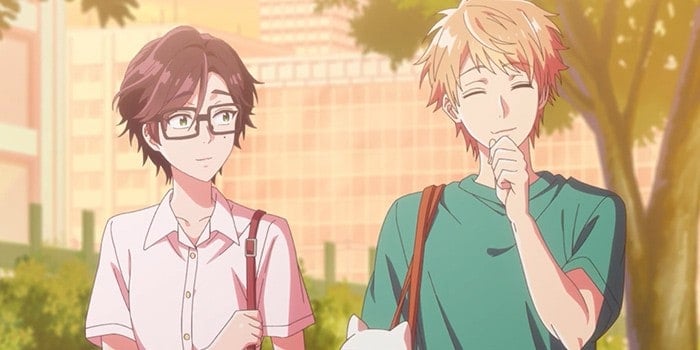 Wotakoi is short for Wotaku ni Koi wa Muzukashii, which has been translated to Wotakoi: Love Is Hard for Otaku for English-speaking audiences. For those who are curious, the franchise started out with a web manga published on the Japanese site Pixiv. However, it proved to be popular, so much so that it managed to make a successful transition to being published in the magazine Comic Pool. Since then, the success of Wotakoi has brought a number of other works into existence, with an excellent example being the animated adaptation that has had a single season so far.
Story-wise, Wotakoi lives to its name. In short, it focuses on the romantic relationships of six characters with a strong interest in anime and anime-adjacent media, thus making them otaku in the most often-used sense of that word. The most important couple would be Momose Narumi and Nifuji Hirotaka. Narumi is an office worker who conceals her status as a fujoshi, meaning that she enjoys male x male romances. Meanwhile, Hirotaka is much less concerned about other people knowing about his hobby, though to be fair, his hobby would be games. Something that tends to be much less stigmatized.
Besides them, the other four characters are Koyonagi Hanako, Kabakura Taro, Nifuji Naoya, and Sakuragi Ko. Hanako and Taro are another couple. Context-wise, Hanako is Narumi's senpai at her workplace who conceals her status as a famous cosplayer who specializes in cosplaying male characters. Meanwhile, Taro is Hirotaka's coworker with a taste for both heroes and bishojo but is less intense about it than the aforementioned characters. As for Naoya and Ko, they are university students who have just become acquainted with one another. Naoya is Hirotaka's younger brother who is concerned about his introvertedness. Being reminded of his brother what causes him to befriend the reclusive gamer Ko, though it is amusing to note that he doesn't realize that Ko is a woman until some time later. Together, these six characters are the focus of Wotakoi, so much so that other characters are irrelevant in comparison.
Here are what we know about the hypothetical Season 2 of Wotakoi:
Has Not Been Confirmed
For starters, it is important to note that a second season of Wotakoi has not been confirmed at this point in time. Due to this, interested individuals should treat everything that they read with a degree of skepticism because speculation is nothing but speculation.
The Source Material Is Coming to a Conclusion
In any case, one of the first things that should be mentioned is that the source material has come to a conclusion. Simply put, the last chapter has been released. As a result, the 11th of 11 volumes is set to be released in the near future. This is something that has important implications for the animated adaptation because source material can be a serious bottleneck. For those who are unfamiliar, the first season of Wotakoi covered the first four volumes. As such, it seems reasonable to say that if the people behind the franchise want to, they should be able to make a second season using the remaining source material. After all, seven volumes are quite a bit more than four volumes, meaning that things should be fine even if they decide to use an accelerated pace for this hypothetical season.
The Franchise Seems to Be Popular
Moving on, popularity is another extremely important factor when it comes to the chances of an animated adaptation getting a continuation. This is because the people behind these franchises aren't going to make more anime if they think that the costs of doing so will outweigh the benefits of doing so, which can mean either sales from the anime or sales from other components of the franchise brought about by the anime. Generally speaking, the public doesn't have a very good look at the relevant numbers, who are compiled by the relevant companies before being kept close to their chests for obvious reasons. Thanks to this, it is either impossible or next-to-impossible for interested individuals to crunch the numbers on their own. However, people can still get the occasional glimpse at what is going on by checking out various aspects. For example, it has been said that the manga sold more than 10 million copies as of August of 2020, which is a respectable number. Similarly, Wotakoi has received a live-action movie that managed to become number one at the Japanese box office on its opening weekend, which is quite impressive. Combined, it seems safe to say that the franchise is a relatively popular one, which speaks well of the anime's chances of being concluded. Something that is particularly true because of the manga being concluded.
There Are OVAs
Unfortunately, there is one good reason to suspect that there won't be a second season of Wotakoi. In short, the first season of the anime isn't the only part of the animated adaptation that has been released. Instead, interested individuals should know that not one but two OVAs have been released so far. On top of that, it has been revealed that there will be a third OVA, which will be packaged with the 11th volume of the manga that is set to be released in October of 2021. If things ended there, one would have cause for optimism. After all, it isn't uncommon for OVAs to serve as bridges for two consecutive seasons of an animated adaptation. However, interested individuals should know that the second OVA didn't just stick to volumes 4 and 5. Instead, it also covered parts of volume 8, which is quite the jump to say the least. As such, one can't help but suspect that the people behind the franchise are getting ready to wrap everything up with the third OVA, particularly since it will be released with the last volume of the manga.
Don't Expect Cast Changes
Having said that, whether Wotakoi will be concluded with an OVA or a second season, it seems safe to say that there will be no cast changes. As mentioned earlier, the series is focused on the six characters, meaning that there is just no room for further characters of importance to show up.
Tell us what's wrong with this post? How could we improve it? :)
Let us improve this post!