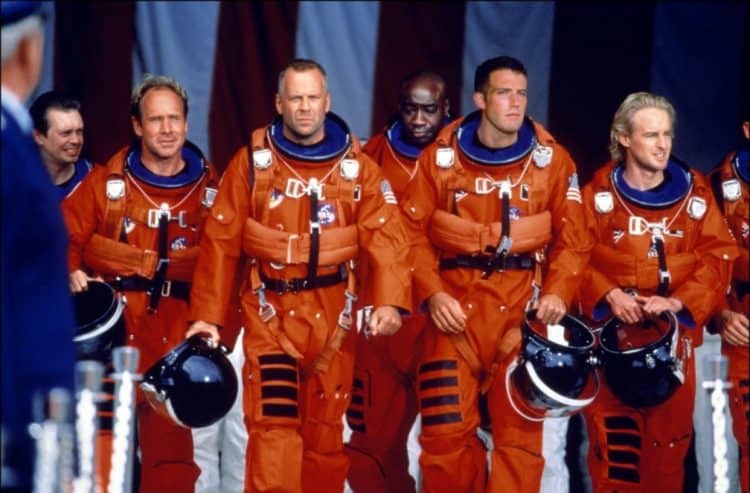 With all the movies about space travel and the more practical of the bunch that deals with NASA out there, one might think that film directors would do their research, schedule someone to come out and see if they're doing it right, or at least read a book or an online article about certain things. But in some cases that might spoil the drama and the fun of the movie, and a lot of people don't want that. But in some cases, the egregious errors that take place are hard for even the average viewer that knows how to research things to deal with, since the manner in which they're presented on screen tends to make some people roll their eyes as they realize that there's no way in hell that something like this would happen in real life, and that NASA, which is made up of some of the greatest minds in the world, might actually know a little better than the filmmakers. There's a good chance that they might get some things right, but there's also a chance that they're simply trying to push a movie, and might cut a few corners from a creative standpoint.
Here are a few things that movies get wrong about NASA.
5. Faster travel times for spacecraft are possible. Sure, if you want your pilots to be stains on the walls.
Velocity and the durability of the spacesuits and craft that are going to be used are aspects that NASA has considered for years and have taken many pains to bring up to code in the present to ensure the safety of their craft and pilots. But going any faster than we've seen happen in movies that are actually considered accurate isn't possible at this time since the acceleration would wreak havoc on the spacecraft and everyone in it, as there is at this time no way to speed up the process without doing irreparable harm. It's a nice movie fantasy to think about though.
4. NASA can send untrained individuals into space. No, not even close.
What you see in movies like Armageddon is a serious pipe dream since sending people into space that aren't even fit to run the gamut of tests that NASA requires for their astronauts is more than irresponsible, it's borderline homicide since the rigors of space travel are bound to be a little harder to take than anything that people might experience on earth. But on top of that, astronauts generally train for a while and are in great shape by the time they make their way into space. A group of untested individuals that are sent into space are bound to suffer in a number of ways, not the least of which is anxiety.
3. There are secrets that NASA is keeping about various space programs. Everyone has a conspiracy theory.
There might be a few secrets here and there that NASA and the government might not want us to know. But if there was anything truly disturbing it might be that loose lips would have already sunk that ship since keeping that kind of secret under wraps for so long feels as though it would have been forgotten by now or revealed to a public that might not believe it. Many people want to believe that there are a host of secrets that we're not meant to know, that John Q public isn't ready to know, but if that's the case, then it might be kept tucked away for a good reason.
2. The space suits are easy to get into. Not hardly.
In the movies, the more futuristic and simplified suits that have become easy to shrug into and out of, relatively speaking, might look kind of nice. But the current suits are apparently still rather bulky and are made this way to protect against severe temperature changes and radiation, and require a couple of people to help out when getting into and out of the suit. Slapping one of these things on isn't going to happen with any speed unless the person getting into it is a magician of some sort since the suit does require aid.
1. The jetpacks used can allow an astronaut to zip around space. Not even close.
It's not like the jetpack one might see in a James Bond movie, since the release of gas from the pack isn't going to be continuous, but will be measured and slight so as to help the operator change directions and move in the desired direction when they need to. It isn't a toy that's going to let them zip around from one location to another. Those packs that one sees in the movie are a bit of fantasy as well and are a constant point of irritation for those that work at NASA and those that have been into space.
NASA is still an interesting place, but it's not quite as fanciful as the movies make it out to be.