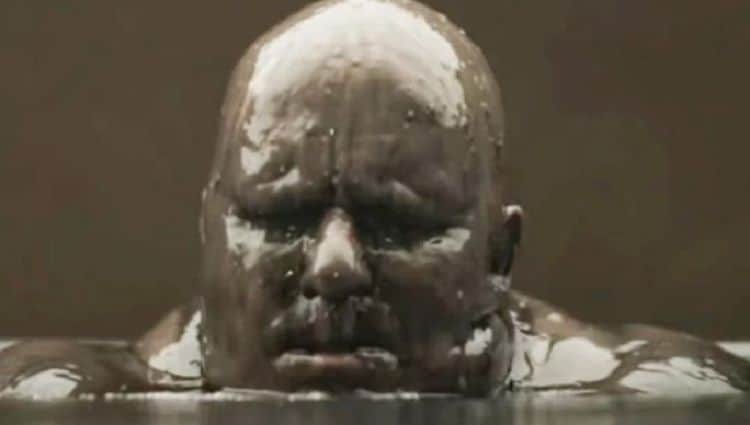 Stellan Skarsgard is kind of an intimidating actor anyway, but putting him in a bodysuit and allowing him to play the devilish and cunning Baron Vladimir Harkonnen from Dune is bound to take that characteristic to a new level since if anyone can remember any of his roles, Stellan is the type of actor that even the audience is scared of when he's playing the bad guy. Anyone that's read the novel Dune however knows that the character of Baron Harkonnen is even worse since it's not just his disgusting size and the lack of personal hygiene that makes him so repulsive, it's the fact that he's a master of deception and never has to get his hands dirty in order to get his way. Baron Harkonnen has come off as a kind of awkward character in the past two versions of Dune, even though the actors playing him were quite good at what they did. There's not much seen of him in the new trailer, and it's probably a good thing the trailer is already giving away a good chunk of the movie, even though there's still more to come no doubt. But what little of Harkonnen has been shown is kind of ominous since Stellan's voice is the type that, when used as he does, is downright creepy.
It feels a little awkward to talk of such a great actor in such a way, but the truth is that Stellan is a very creepy character at times that can use his voice and his acting ability to put the fear into just about anyone. His low, growling voice and his imposing figure help to give him the air of danger that he needs. And yet, he can also be such a warm and easy-to-like character as was shown in Thor. But for the role of Baron Harkonnen, he had to spend his time in the makeup chair and had to get the bodysuit affixed to his person to make it look as natural as possible, a process that typically takes hours since everything has to look just right. The upside about this is that because of his size, the baron doesn't have to do any walking since he has a specialized chair that allows him to hover and move about with a set of controls. That would make things a little more hopeful that there would be an apparatus conveying Stellan from one spot to a next when he's in full costume since otherwise, it feels as though he would be laboring about with the entire suit on since obviously the baron isn't going to be traipsing about naked. Yikes, there's an image you might not have needed. But Baron Harkonnen is written in as someone that knows the value of fine clothing, and as a result of his size is bound to need yards of fabric to cover his corpulent form.
The upcoming Dune movie is set to be released this coming October, so there's still a lot of time for people to talk and to wonder how many changes are going to come and whether this version will be as true to the book as people are hoping. There are bound to be a few changes that people will notice and that might be needed just to keep things updated, but the fact is that from the stellar cast to the apparent special effects, things are already looking up in a very big way since it looks like something that might be worth a look at least. There are plenty of people that are going to serve as naysayers simply because they're hardcore fans of the books, they fancy themselves film critics, or they're those that would rather stick to the original movie or the original idea that Dune is simply too expansive to be put into a single movie. That thought is a little ridiculous since any book can be made into a movie, a limited series, or a regular series. The idea isn't to do everything one hundred percent by the book but to stick to the source material as much as possible and make the necessary changes where they're needed. I might only be a writer and author, but as a fan of the movies, and of many genres, including science-fiction, there are a lot of things that have been easy to notice over the years, and one of those is that by listening to others and their opinions there's a lot to be learned, and there's a good bit to be discarded at times.
So far the trailer for Dune makes it look as though it should be easy to accept as the next and most updated version of a classic story, and the role of Baron Harkonnen has been given over to someone that knows how to be menacing without hesitation.