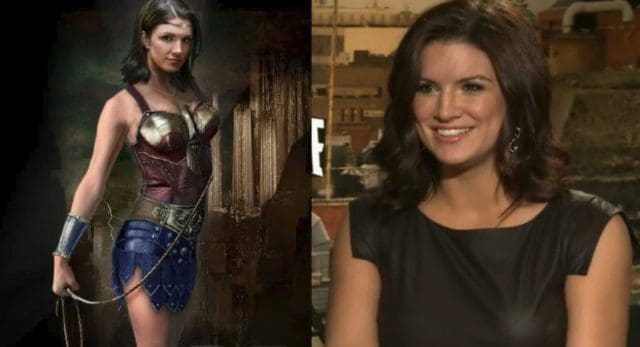 Gina Carano should be granted at least a chance to be in the next Wonder Woman movie since fans were speculating that she might have gotten the role in the first movie. Obviously that didn't happen as it went to her Fast & Furious costar Gal Gadot, but rather than be bitter about it Carano was very supportive and believes that Gadot was right for the part. On top of that Carano was never approached for a chance at the part so it's not exactly like she missed out on an opportunity. She does have the right body type that people might have been thinking about for Wonder Woman and is legitimately tough thanks to her MMA background, but she's also been heard to say that Gadot was someone she enjoyed seeing in the role.
Carano had this to say:
"I think people have an idea what they consider Wonder Woman. I definitely know (Gadot) has been training and there's so much more that goes into being a strong female character. I think people have their own idea, but I always like the underdog, I'm always rooting for the underdog. If the world says you can't do something, I couldn't care less because that's not how anybody should live their lives."
That alone shows the kind of character she has and should be reason enough to push for her to have a role in the next film, perhaps as a person of interest or even as someone that Gadot has to interact with on a constant basis. There are after all enough Wonder Woman villains, and shared villains from the Justice League, that could make an appearance in the next movie. Since it seems like Kate McKinnon has already been slated as the character of Cheetah, it might be beneficial to try and write in Carano as someone like Circe, a a powerful sorceress that's been known to duel with Wonder Woman more than once in the comics and could be a formidable foe that might give her a great deal of trouble. Anyone going after Wonder Woman is after all going to need some serious skills and possibly an ace in the hole so to speak in order to really trip her up. After all she took on and defeated Ares, the god of war, in the first film when she realized her full potential, so anyone else would need a serious trump card to keep her down.
At this point it's not so much paying Carano back for not casting her in the first movie, but it would instead be giving her a shot at joining the cast of one of the most popular movies that's yet to come. If Patty Jenkins does even half as well with this new Wonder Woman movie then she'll be on her way to legendary status since the first Wonder Woman was Hollywood gold, which is why it's still so confusing that it was snubbed at the Oscars. But if Carano can find her way into the second movie it should definitely be as someone important.