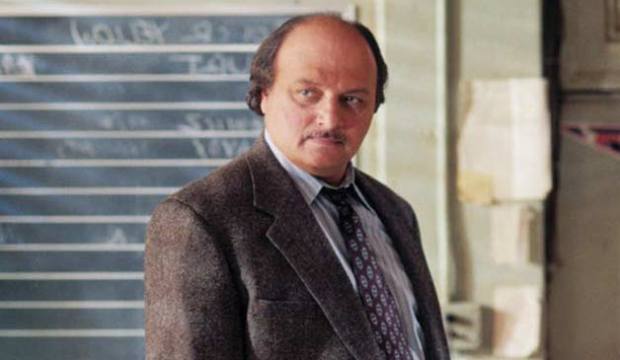 Unless you have watched the movie Die Hard or binge watched the television series NYPD Blue you likely have not heard the name of this very recognizable actor. Dennis Franz was a cultural icon at one time, in part for his unforgettable scene on NYPD Blue where he "shocked" viewers by appearing literally butt naked in the shower (sorry, it was only a shot from the rear). Anyone who remembers the rotund Franz may want to forget the scene, but once seen it usually cannot be forgotten.
Most of his roles had him playing tough, gruff characters like Carmine Lorenzo in Die Hard. But glancing through his filmography, you see that other than a few small roles and a few uncredited appearances on the silver screen, the larger body of his work comes from TV. His role as Detective Buntz on the popular police drama Hill Street Blues was relatively short-lived (two years) but fans of the show have not forgotten his good guy-bad guy character.
In 2005, Franz announced that he would be retiring from acting, choosing to focus on his personal life. However, several years later he would tell The New York Post that he would consider returning to acting if the right part came along. (How many times have we heard that from actors?) As of this date, that opportunity has not surfaced. But Franz will turn 75 in October, and there aren't many parts that suit his acting style. Playing a grumpy old person comes naturally to many retired actors.
He has an estimated net worth of $16 million, and while many modern actors make 5 times that much for a single movie today, it is enough for him and his wife to live a very comfortable life. In an interview back in 2005 he was quoted as saying, "I sort of made my mind up that this is where I wanna be. I just wanted to live an enjoyable, irresponsible, spend-time-with-my-family kind of life." But an uncomfortable truth about Franz's acting ability is that he doesn't have the chops to carry an entire show or movie all by himself. This is not a criticism, but it seems he knows his limitations. It is interesting that despite 20 years later, many people would remember him as he along with co-star Jimmy Smits were selected to present the 2016 Primetime Emmy Award to "Game of Thrones."
There is another reason for his decision to put his badge and gun in the drawer that can easily get overlooked. The majority of his work involved two major producers — Robert Altman and Steven Bochco. Bochco's recent death last year left no one Franz felt comfortable working with or had a history with. On a more personal level, an accident in his Idaho home in 2007 involving a chandelier and his sister had caused him to forego a personal services contract that actually may have been the comeback moment of his career.
People on the Franz Watch are likely to be disappointed about getting any future gossip from him. We often hear the phrase "life is good." In a New York Post interview, that is exactly how he summed up his post-acting life. He has a lakefront home in Idaho which he shares with his wife and does a lot of fishing during the summer months. The rest of the year he will travel to New York City and spend a month or two there catching up on the latest Broadway shows. He is a regular traveler, spending months in Europe, and has also been a more adventurous traveler, making vacation trips to Cuba, India, and Argentina. After slowing down and returning home, he has three grandchildren who demand his attention, and he spends a great deal of time with his family at his Idaho home.
If all this seems like an uneventful journey with Franz over the past 15 years, it is a question of how one defines "eventful." When you look at what he has done since retiring from acting (he claims he constantly has gotten offers which have been rejected) his "life is good" mantra is something we all dream about. At 75 he can go wherever he wants, do whatever he wants, sit back and enjoy his children and grandchildren, and his $16 million retirement fund gives him freedom from worrying about much of anything. He does stay in touch with former NYPD Blue co-star Jimmy Smits, someone he considers to be a fantastic person. The name "Bruce Willis" was not mentioned.
In many ways, the life of Dennis Franz can rightfully be considered the American Dream — including the white picket fence. His $16 million net worth allows him to enjoy his golden years, which is a far cry from his days in Vietnam where he served in the Army 81st and 101st Airborne divisions. Like many Vietnam Vets, he doesn't talk much about those days. He has been married to the same woman for more than 20 years, and when you consider that the NYPD Blue series lasted a dozen years, that is a long time for an actor to play a critical and dominating television role. Choosing to retire was an option, not a requirement, a reality many people find hard to find today.
So how do we answer the question, "What is Dennis Franz up to these days?" By using his own words — life is good. When you look at people of Franz's generation today such as Robert DeNiro, Sam Donaldson, Glenn Close, and others, there seems to be a need to remain in the limelight and continue the attention that had come to be so integral to their lives. When contrasted with the lifestyle Franz has chosen, you really don't have to wonder why a lakefront property in northern Idaho is really the place to be.