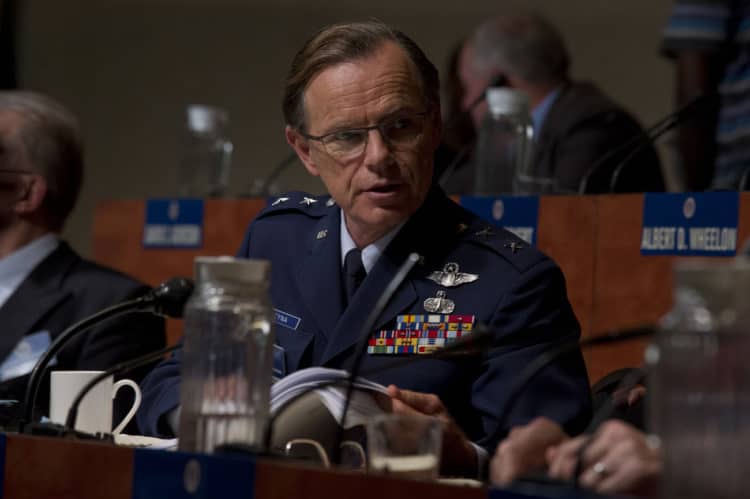 Bruce Greenwood has an on screen presence that is impossible forget. The talented actor has a way of commanding attention no matter what role he's playing. Over the course of nearly 40 years, Greenwood has built up a resume that includes dozens of acting credits and several main roles. Most of Greenwood's younger/more recent fans will probably know him best from his role as Randolph Bell on The Resident. Through this character, Greenwood has been able to show fans the true versatility of his skills. Here are 10 things you didn't know about Bruce Greenwood.
1. He's A Guitar Player
Acting may be Bruce's first love, but he's also deeply passionate about music. When he has free time, he loves to sing and play the guitar. Unfortunately, though, Bruce suffers from a serious case of tennis elbow which makes it hard to him to play without feeling pain.
2. He Brings A Chessboard Everywhere He Goes
Bruce Greenwood loves to play chess and brings a chessboard with him everywhere in case anyone is interested in a game. Greenwood has played against a lot of people over the years, but Will Smith might just be his most memorable opponent. Greenwood said that Will Smith beat him very badly and is one of the best people he's ever played against.
3. He Has A Hidden Talent
Bruce Greenwood is definitely a man of many talents, and some of the things he's best at has absolutely nothing to do with entertaining. One of his most interesting talents is actually his work in the kitchen. Greenwood says that he's very good at cake design and icing work.
4. He Doesn't Carry Characters With Him For Long
Some actors have a hard time letting characters go once a role is finished, but Bruce Greenwood isn't one of those actors. During an interview with Fresh Fiction, Bruce said, "I tend not to carry the characters with me for very long."
5. He's A Family Man
Bruce Greenwood isn't the type of celebrity who invites the public into his private life, but we do know that he's happily Married. He has been with his wife, Susan Delvin, since 1985. However, the two met as teenagers and when on their first date during the early 70s. They have one child together, a daughter named Breana Greenwood.
6. He Finished High School In Switzerland
Bruce has gotten the opportunity to live in several different countries. He was born in Canada, but moved around a bit while he was growing up. He lived in Switzerland for a little over a year when he was a teenager and ended up graduating from a high school in Zurich. As an adult, Bruce has continued to be a frequent traveler. He likes to use his time off from work to visit new places all over the world.
7. He Narrates Audio Books
Dialects are another one of Bruce's many interests. He loves to learn about different accents and ways of speaking. In fact, he sometimes incorporates random accents into his speech just for fun. Bruce also uses audiobooks as another way to enjoy his love of language. He has narrated two books on Audible including Islands in the Stream by Ernest Hemingway.
8. He Loves The Outdoors
Nothing is better than breathing in fresh air after spending a long day inside. This is something Bruce has appreciated all of his life. He is the type of person who enjoys spending as much time as he can outdoors. He loves to do things like play golf, go take hikes, go skiing, and go boating. Bruce also loves a good adventure and has even gone skydiving.
9. He's An Allman Brothers Fan
As a musician himself, Bruce also loves to see other musicians display their graft. He may not be able to play the guitar as often s he'd like, but he can still enjoy listening to his favorite songs. Bruce is a fan of the Allman Brothers and says that their album, Live at Fillmore East, is the greatest album of all-time.
10. He's Worked As A Diamond Driller
Before beginning his career in acting, Bruce held a lot of odd –but very interesting– jobs. After high school, he spent time working as a diamond driller in the Northwest Territories in an effort to earn money to pay for acting classes in England. One of his favorite jobs was working on a sail boat off the coast of Greece.
Tell us what's wrong with this post? How could we improve it? :)
Let us improve this post!