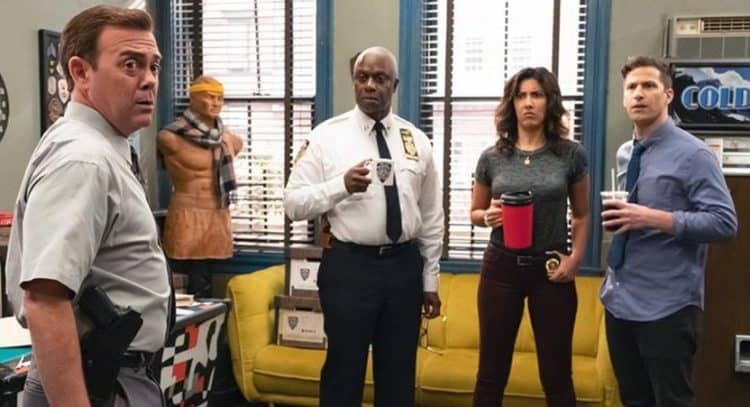 When Fox canceled "Brooklyn Nine-Nine" in May last year, the future of the show was hanging by a thread and fans could not hide their disappointment. Fortunately, they did not have to deal with the sad news for long because NBC came to the rescue and we are glad to watch season six. Still, that did not guarantee us that we would be having the series for long, considering the past which we know tends to repeat itself; NBC canceled Timeless, brought it back then canceled it again. With such a history, "Brooklyn Nine-Nine" was also of an uncertain future, and we had to settle for the weak reassurance from the cast members that season six would not be the last we see of the show.
True to the attempts of Andy Samberg at being confident, the show has been renewed thanks to its being a top-rated sitcom. It most probably will premiere in the fall, and the question is; what can we expect from "Brooklyn Nine-Nine" season 7? Let's take a guess.
Peretti will return
Chelsea Peretti who plays Gina Linetti will be coming back for the seventh season which is indeed welcome news for the fans who love the precinct's civilian administrator. Peretti announced on Twitter that she would be leaving the show and would therefore not do a complete season six. However, she assured her fans that her departure did not mean that they would never see her again. Dan Goor, the series' showrunner also tweeted that the emotional episode where she leaves was an attempt to live up to the "human embodiment of the 100 emoji" character. He also reassured fans that she would come back, joking that if at all she was hit by a bus and was back to work shortly after the accident, this was just a short break. Dan and Mike have kept their word, and it seems that we should expect to see more of Gina Linetti in the seventh season; we most certainly cannot wait for the "dance master" to do her thing.
Captain Holt will work towards being Police Commissioner
Captain Holt has been eyeing the Police Commissioner position for so long we thought that when season six began, we would be receiving the news that he got his dream job. Unfortunately, season six informs us he did not get the job, and by the time it gets to the finale, he still has not been made the police commissioner. With this renewal, we should expect him to keep pursuing the position especially when we remember him voicing his disappointment by repeatedly saying "I will not be the new police commissioner." We cannot help but feel for Captain Holt and hope we share in his moment of glory when he achieves the long-awaited victory.
The showrunners were clear about never leaving us on the edge as they did on season five when we kept wondering if Captain Holt realized his goal. They also admit they are afraid of promoting him to be the police commissioner wondering if it will present an opportunity to the furtherance of the series or a hindrance. Still, we hope this fatherly yet strict captain gets to be the commissioner soon.
Jake and Amy to start a family
Of course, the purpose of marriage is not just for the company but procreation too, and we expect Jake and Amy to honor this holy institution and tradition by starting a family. Besides, that time when they volunteered to babysit Terry's kids was enough experience for them to conclude raising kids is not challenging. We would love to see how they do with their own kids especially after the frantic calls for help they made to their colleagues for child-rearing tips.
Amy pursues her ambition to be sergeant
In season four, Amy took a sergeant exam after Jake supported her by having a mock exam calm her nerves. Amy was however afraid that if she got promoted, their relationship would change. Now that they are married, she is already in it for the long haul, and Jake has proven he will support the decision so why not be a sergeant; we know she is bright enough to pass the test.
Final Verdict
We all want happy endings in real life, and for our favorite cast members and "Brooklyn Nine-Nine" might as well give them to us. All the same, as we wait and see what the producers have in store for us, we can be sure that it will be the same fun show to watch.
Tell us what's wrong with this post? How could we improve it? :)
Let us improve this post!