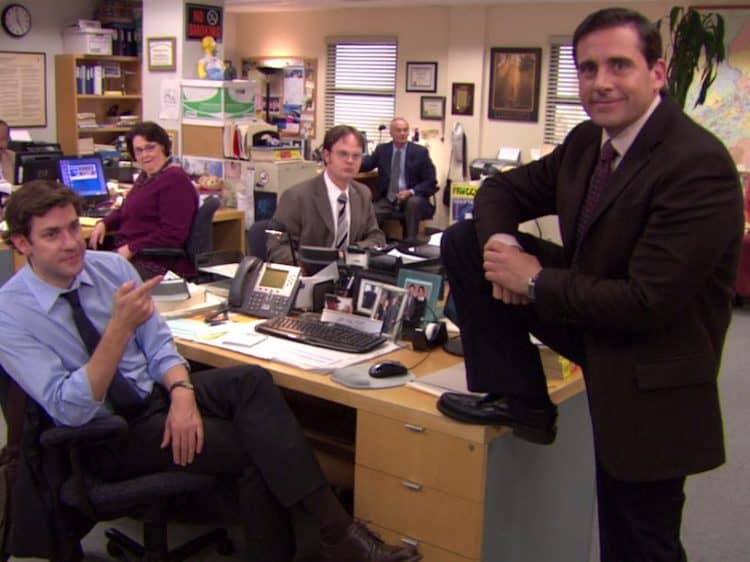 One can only imagine how an episode of The Office would have gone down if it had been filmed during or before the outbreak of the coronavirus, and it would have likely looked like what you see above. Michael would have probably been doing his best to reassure his people while his employees would be far more informed than he was, while at the same time Jim, the office practical joker, would be doing what he does best, which is being a prankster that somehow gets away with it and makes people second-guess themselves. Dwight would likely be right behind Michael as always in just about every decision, at least most of them, and would be doing his best to keep the virus away from himself while also being the same old Dwight that so many fans came to either love or hate. In other words it would be the same show with the new threat of the virus added in, and probably a few curveballs tossed into the mix such as people being asked to go home if they show any signs of being sick and people actively trying to get off work due to the need for social distancing. That sounds about accurate really since one can also imagine Michael locking his office in an effort to keep himself isolated while his workers have to communicate with him through the glass, and likely have to remind him that the only other way out is through the window.
https://twitter.com/AaronBaileyArt/status/1240495392804024320
The fact that humor is becoming a balm to many even as others state that there's nothing funny about the current situation is the reason why The Office would likely be a perfect show to watch during the pandemic since it's just hilarious enough to be worth a person's time and the kind of antics that the cast get up to are just fun to watch over and over again. Plus, imagining how they would react to the current situation in America wouldn't be too hard since watching them react to just about anything that affects everyone is a good baseline as to what might happen if the virus had been present at that time. Given the fact that most if not all studios have shut down at this time though it's very likely that we would have seen an interruption of this show as well during that time since quite a few projects have been put on hold as of now since gathering in groups of ten or more is being seen as a serious no-no when it comes to trying to keep the spread of COVID-19 down to a minimum. Imagine Dwight trying to quarantine the office, or going to other extremes in his manic way. That's actually kind of funny to picture no matter how serious the pandemic is at this time.
There are some that might point out that the cast of the show isn't all that big and might have even been allowed to keep moving forward, from a fictional sense, but in reality the show would have been postponed just as easily as any other since the idea of keeping anything running at this time if it's non-essential isn't all that popular with many people. A lot of folks are currently frowning upon those that are attempting to enjoy their spring break by flouting the mandate that people shouldn't gather in groups and should practice social distancing. So keeping a TV show running at this time is also seen as kind of an egregious mistake that is bound to keep the COVID-19 virus spreading like crazy. Still, it's fun to wonder what might have happened had this virus been around years before so that some shows could plan ahead and help the lot of us to laugh and enjoy at least a few interesting episodes that might have come from it. The idea of anything being humorous at this time is kind of hard for some folks to grasp but at the very least, enjoying comedy and continuing to laugh when we can is enough to keep some people moving forward since it's a way to alleviate some of the stress that many people are feeling at this time. Matt Davis of Big Think can give you a little more detail on why humor is important.
The Office wouldn't have been the only show to cash in on this idea obviously but it would have easily been one of the funniest since the deadpan humor and the manner in which jokes were delivered and received on the show was a big part of what made it so great back in the day. Each character would have reacted in their own unique way and the laughs would have been easy to produce since every one of them would have had some way to entertain the audience with their own brand of humor and reaction to the situation.